This year was one for the books, with historic award wins along with movie and TV firsts. Here's a look back at the biggest moments in LGBTQ+ pop culture for 2022.
Michaela Jaé Rodriguez won a Golden Globe Award
On January 9, Michaela Jaé Rodriguez became the first out transgender actress to win a Golden Globe. She took home the award for Best Actress in a TV Drama for her role as Blanca on FX's Pose (the first Golden Globe win for Pose).
Rodriguez wrote on Instagram: "This is the door that is going to open the door for many more young talented individuals. They will see that it is more than possible. They will see that a young Black Latina girl from Newark New Jersey who had a dream, to change the minds others would WITH LOVE. LOVE WINS. To my young LGBTQAI babies WE ARE HERE the door is now open now reach the stars!!!!!"
Amy Schneider's epic run on Jeopardy! concluded
Trans champion Amy Schneider was finally beaten in a game of Jeopardy! on January 26, ending her winning streak of 40 games with a total haul of $1,382,800. Her run was the second-longest after Kevin Jennings' record, making her the winningest woman contestant in Jeopardy! history. She was the first out transgender contestant to make it to the Tournament of Champions and wore a trans pride pin on the show. 
Schneider's now living the dream: she quit her day job, got engaged to her girlfriend, and the couple married in September.
Queer stars like Brandi Carlile and Lil Nas X wowed at the Grammys
Queer artists ruled the 2022 Grammy Awards ceremony in April. Brandi Carlile walked the red carpet with her wife (they kissed!) in a suit made of crystals and then performed her song "Right on Time" backed by rainbow lights. It was an epic lesbian moment and Carlile had six different nominations that night, including Record of the Year and two different songs for Song of the Year.
Lil Nas X also went into the night with multiple nominations, including Record of the Year and Song of the Year. His medley performance of "Dead Right Now," "Industry Baby" and "Montero (Call Me By Your Name)" in epic-as-always outfits brought the house down. 
Ariana DeBose made history at the Oscars 
Ariana DeBose became the first out queer woman of color to win an Academy Award for acting when she won Best Actress in a Supporting Role in March. She played Anita in the film West Side Story and acknowledged the moment in her acceptance speech (while wearing pants) after saying that she is openly queer: "To anybody who has ever questioned your identity ever, ever, ever, or you find yourself living in the gray spaces, I promise you this: There is, indeed, a place for us."
Laverne Cox got her own Barbie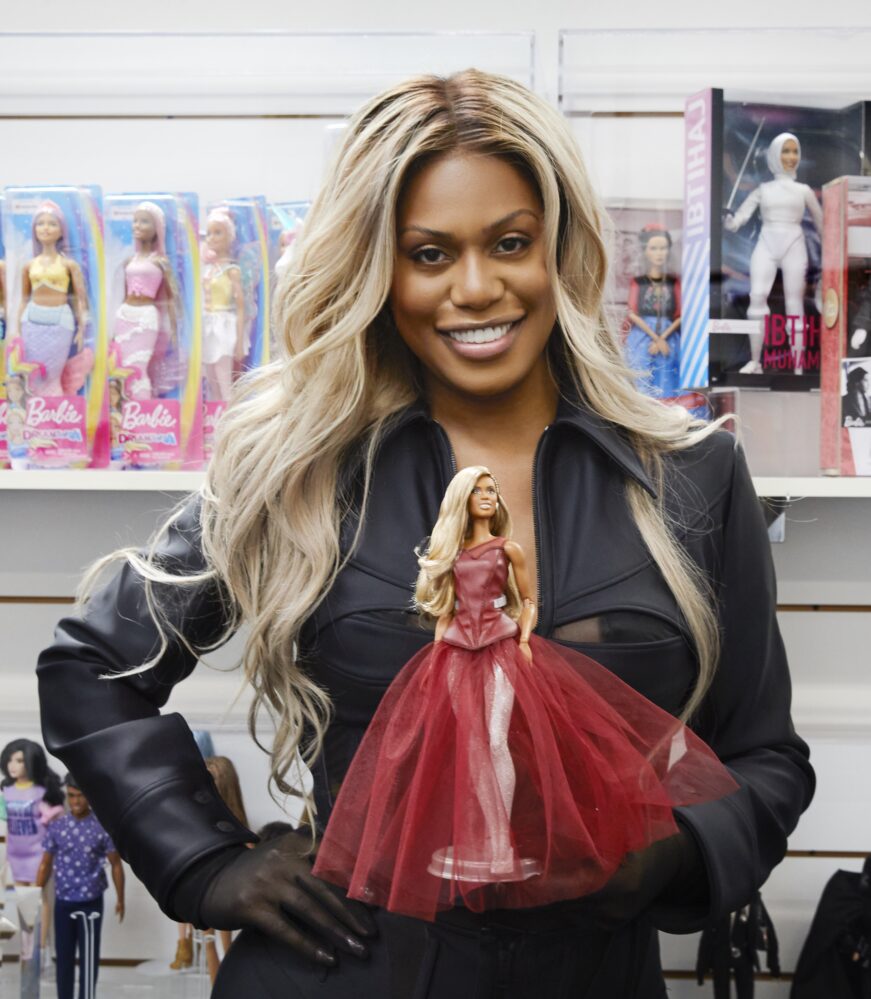 In May, Mattel released a Laverne Cox tribute Barbie doll – the first transgender Barbie. In Mattel's description, the doll is wearing "a triple-threat original design, featuring a deep red tulle gown gracefully draped over a dazzling, silver metallic bodysuit."
"I can't wait for fans to find my doll on shelves and have the opportunity to add a Barbie doll modeled after a transgender person to their collection," Cox said. "I hope that people can look at this Barbie and dream big like I have in my career. The space of dreaming and manifesting is such a powerful source and leads you to achieve more than what you originally thought was possible."
Lightyear had a queer character
Pixar continued its small steps towards LGBTQ+ on-screen representation with Lightyear, the Toy Story spin-off movie released in June. But it didn't happen without controversy. 
The queer character, Alisha Hawthorne, Buzz Lightyear's commanding officer and best friend voiced by out actor Uzo Aduba, is a more significant character than past small roles in Disney/Pixar films, and she is clearly in a relationship with another woman – unlike past characters that were perhaps ambiguously queer. Before the movie's release, Pixar employees went public with their anger over their employer cutting Hawthorne's same-sex kiss. The publicity worked and the kiss was added back in pre-release, a first for such a wide-release feature children's animated film. 
The movie was censored from being released at all in over a dozen countries, including Kuwait and Saudi Arabia, because of Hawthorne's inclusion.
Bros premiered
Bros, starring Billy Eichner and Luke Macfarlane, was a gay romantic comedy released by a major studio in theatres nationwide in October. It was a huge moment in LGBTQ+ representation in film. While the movie did have generally positive reviews, it flopped at the box office, failing to make up Universal Pictures' multi-million dollar investment in it. 
Eichner tweeted that "straight people, especially in certain parts of the country, just didn't show up for Bros." Even with 90 percent audience approval on Rotten Tomatoes, if non-LGBTQ+ people don't buy tickets to see an LGBTQ+ cast playing out LGBTQ+ storylines, we'll have a long road ahead for movie studios buying our stories in the future.
Molly Kearney joined Saturday Night Live
While we lost Kate McKinnon from the SNL cast at the end of this season, four fresh faces joined the show, including the first out nonbinary cast member, Molly Kearney. Kearney played Fern Dannley in Prime Video's A League of Their Own this year (a queer pop culture moment in its own right) and was also in Disney+'s The Mighty Ducks: Game Changers. They'll join Bowen Yang (who also had a role in Bros) and Punkie Johnson as out LGBTQ+ cast members.