It seemed like everyone was talking about gay films this year – or at least for the past six months. 2022 was the year that Bros and Fire Island entered the broader cultural conversation in a big way. But there were plenty of other delightful, interesting, and infuriating gay films released in 2022 – and I'm not even counting major queer-inclusive or -adjacent Oscar contenders like TÁR, The Whale, and Everything Everywhere All at Once, or smaller flicks that didn't leave much of an impression, like Three Month, They/Them, and My Fake Boyfriend, or those that are just beginning to screen, like Close and The Inspection.
The films listed below are the six 2022 films (in some cases, I'm going by the U.S. release dates) dealing directly with the gay experience that gave me the most to think about.
Bros
I'm going out on a limb here to say that while Bros was flawed in some significant ways – and all the noise around its failure at the box office was…annoying – I think this was probably my favorite gay film of the year. A lot – too much? – has already been written about this film and its star and co-writer Billy Eichner, so I'll just say that I actually think the film's flaws are part of what makes it important.
My impression watching Bros was that Eichner was working out some pretty significant personal issues through this story. Issues of internalized homophobia and the conflict between what we're attracted to – the kind of man gay culture idealizes – and what is right for us. A lot of what was in the film confirmed my previous impression of Eichner, but it also made me more sympathetic toward him. And while I don't think Bros resolved any of those conflicts in a particularly satisfying way – it gives in to some pretty unrealistic wish fulfillment, which is totally fine given the rom-com genre – it was interesting to see them playing out onscreen.
The film gets really close to dealing with these things in a way that we almost never see in mainstream movies, and not even that often in smaller gay films. The film frustrated the hell out of me, but also made me think a lot, all while managing to be quite entertaining. I don't think I've talked or thought as much about any other gay movie in a long time, and for me, that's a huge win.
My Policeman
This film is another that provoked me this year. But while Bros kept me thinking and left me with a greater appreciation for its characters and creators, My Policeman just pissed me off. On paper, it sounded right up my particular alley: British, a period piece, a dreamy leading man (Harry Styles), one of my favorite actors to emerge in the past few years (Emma Corrin). Having seen it, however, I think that if I never see a tale of gay misery told by someone who is not a gay man it will be too soon.
If I'm honest, I don't even know if this is a fair critique. The film was, after all, written and directed by gay men, and I don't know how author Bethan Roberts, whose 2012 novel the film is based on, identifies. What I do know is that Roberts based her story on a real-life relationship novelist E.M. Forster had with a married police officer. But while that love triangle was by all accounts largely amicable, Roberts turns it into a tale of vindictive jealousy.
The film largely centers the experience of a straight cis woman (Corrin) who ruins the life of her gay friend and then gets a redemption arc. I am not unsympathetic to the damage that homophobia and the closet have done to straight women who have found themselves married to closeted queer men. But I found Roberts's misappropriation of Forster's story galling, and the spectacle of gay suffering in the service of this limp drama insufferable.
Spoiler Alert
I have to say, I found the critical response to this tear-jerker a little puzzling. I'm not arguing that Spoiler Alert is one of the best movies of the year, but I do think that many critics were overly harsh on this sweet little film. Director Michael Showalter's film adaptation of TV journalist Michael Ausiello's 2017 memoir about his relationship with photographer Kit Cowan, who died of cancer in 2015, depicts the quiet, deeply felt story of a real, recognizable gay couple. That's a rare thing to see in gay films, which frequently operate in one of two registers: over-the-top hijinks or punishing misery.
Fire Island
I'm basically predisposed to like just about any Pride and Prejudice adaptation, but I'm pretty sure Joel Kim Booster's summer rom-com would have been an utter delight even if it wasn't built on the bones of Jane Austen. Where Bros struggled with some of its baggage, Fire Island managed to be fun and breezy, while still addressing the racism and class politics that run as wild as the deer in the gay vacay destination. The scene in which Bowen Yang's character takes Booster to task for not recognizing the differences in the way they each experience the world due to their looks stuck with me long after the credits rolled.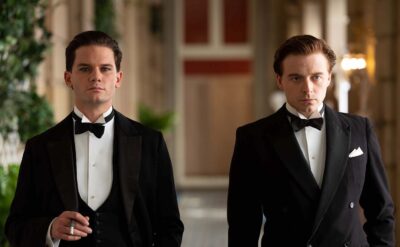 Benediction
For me, this period piece from director Terence Davies was something of an antidote to My Policeman. The film depicts the very gay life of British poet Siegfried Sassoon (Slow Horses' Jack Lowden) and incorporates much of his haunted verse grappling with the enduring trauma of serving in the first World War. The film is quiet and beautifully crafted, but also shows the glamor and loneliness of early 20th Century gay life as Sassoon embarks on complicated affairs and hobnobs with semi-out aristocrats and artists. As Vanity Fair's Richard Lawson points out, Benediction is also a fascinating companion piece to Fire Island and Bros. Where those comedies are a riotous celebration (and critique) of contemporary gay life, Benediction gives an "intricate and enriching…map of gay community" as a certain segment of British society experienced it in the early 20th Century.
Firebird
Neither as infuriating as My Policeman nor as transcendent as Benediction, this Cold War romance aims to be something akin to a Merchant Ivory film but falls short of the mark. Based on actor and writer Sergey Fetisov's memoir The Story of Roman, Firebird is about the doomed love affair between Sergey (Tom Prior, who also co-wrote and co-produced the film) and fighter pilot Roman (Oleg Zagorodnii). The two meet while serving in the Soviet Air Force in 1970s Estonia. Tragedy predictably ensues. The film has its moments; Prior and Zagorodnii are preternaturally gorgeous, and while predictable, the sad end to their story is adequately affecting. But, to speak in film review clichés, the fire never quite ignites, and this bird fails to take flight.