A Republican Congressmember suggested that it's not "legal" for the Catholic Church to require priests to get the COVID-19 vaccine, showing that the GOP's commitment to religious freedom may be somewhat limited.
Linking a story about how employees of the Holy See will be fired if they don't get the vaccine, Rep. Madison Cawthorn (R-NC) wrote, "This doesn't sound legal…."
Related: Here are 4 people the LGBTQ community should shun in 2021
Get the Daily Brief

The news you care about, reported on by the people who care about you:
It's unclear exactly which laws he was referring to – the Vatican is a sovereign state and international law doesn't bar it from requiring the vaccine.
Moreover, it's surprising that a conservative Republican would be calling for a law to ban a religious organization from doing anything, much less taking a measure to protect the health of clergy and followers.
"One shouldn't be forced against their will to be vaccinated," Cawthorn continued. "The vaccination is there for those who want it, and are in need of it due to medical vulnerabilities."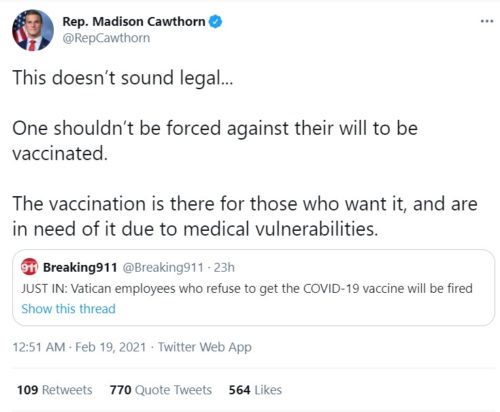 Commenters on Twitter roasted Cawthorn.
If the tweet is a result of a complete misunderstanding of what the Vatican is, it would be surprising considering Cawthorn's interest in European history. In 2017, he traveled to Adolf Hitler's vacation home and posted smiling pictures to Instagram, calling Hitler "the Fuhrer" and saying that visiting the spot was on his "bucket list."
He later said that he was happy to be there because the Allied forces celebrated "their victory over evil" and accused his critics of ableism by calling them "my opponents and the disgusting members of the media who would try and affiliate a disabled man, like myself, with a movement that would have had me exterminated."