LGBTQ Nation's Twitter Advocate of the Year award honors the most effective use of Twitter for LGBTQ advocacy.
This person engages with other users to educate and inspire; to uplift and to advocate. They create original content, share unique perspectives, and amplify the voices of underrepresented community members by leveraging the platform in new and unique ways.
Vote for the Twitter Advocate of the Year award
The nominees for 2020 Twitter Advocate of the Year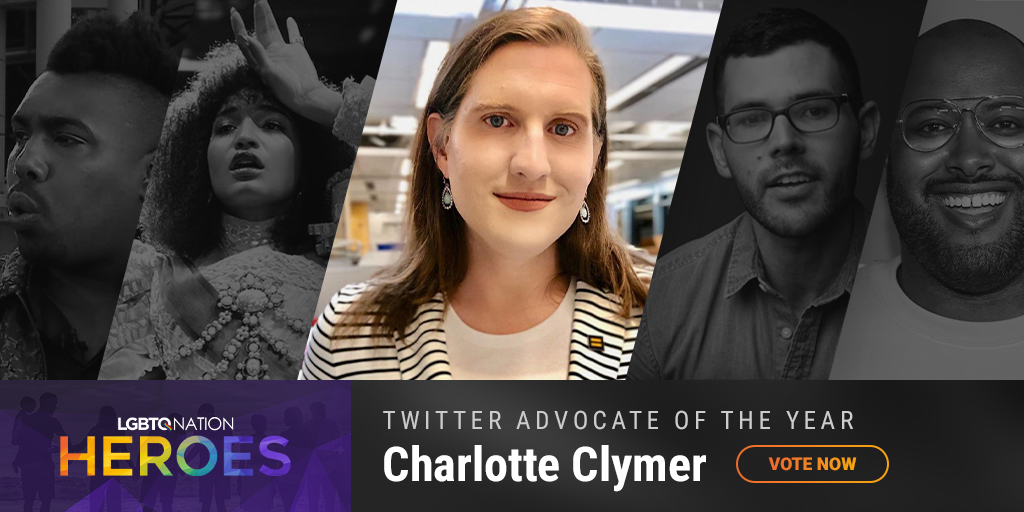 Charlotte Clymer
Charlotte Clymer is known for her astute observations on contemporary politics and legendary threads, which have become some of the most retweeted during the election season. Formerly a press secretary of the Human Rights Campaign, Charlotte has become the master of threads and the mind behind some of the funniest political tweets.
A proud trans woman, Clymer is a graduate of Georgetown University. As a former U.S. Army veteran and West Point Academy attendee, she was selected in the Truman National Security Project's Class of 2019.
Outside of tweets explaining, and criticizing, the ins and outs of American policy, she has appeared as a commentator on CBS News Sunday Morning and written in The Independent, Glamour, NBC News, and HuffPost among other publications. 
Vote for the Twitter Advocate of the Year award
Ira Madison III
Ira Madison III hosts the "Keep It!" podcast and writes for television when he's not posting avant-garde hit tweets.
Ira hosts the Keep It! podcast and writes for television shows like Netflix's Daybreak. With over 200,000 followers, Madison has mastered tweeting so much that you almost forget that they have written acclaimed work at MTV, Buzzfeed, Variety, GQ Magazine and other digital publications for over a decade. In addition to Keep It!, Madison is writing the audiobook serial series Black Panther: Sins of the King and produced the short video series Nikki Fre$h on Quibi. The Root named his as one of their "100 Most Influential African-Americans" in 2018.
Vote for the Twitter Advocate of the Year award
Carlos Maza
Carlos Maza pointed out anti-LGBTQ bias in his popular YouTube video series for Vox, but when the platform refused to protect him from white supremacists, he turned to Twitter to rally support.
Since his days at Media Matters for America, Maza has unveiled anti-LGBTQ bias online and in media, which led him to create the independent video series Manufactured Content.
His popular Vox video series "Strikethrough" made him an internet sensation (and the target of the far-right). Following a coordinated harassment campaign and contempt for YouTube's policies, Maza left the Google-owned platform, but has since made a defiant return in addition to continuing his critiques via Twitter.
Vote for the Twitter Advocate of the Year award
Saeed Jones
Saeed Jones is an award-winning author, on-air personality, and editor, masterfully articulating a queer perspective on current events in under 280 characters.
Jones published the 2014 poetry collection Prelude to Bruise, which earned him critical acclaim and a PEN Literary Award, and his 2019 memoir How We Fight for Our Lives received the Kirkus Prize and the Stonewall Book Award. He previously served as the LGBT Editor and Executive Culture Editor at Buzzfeed, and hosted their groundbreaking Twitter morning show AM 2 DM along with Isaac Fitzgerald from 2017 to 2019.
Vote for the Twitter Advocate of the Year award
Indya Moore
"Pose" star Indya Moore has used their platform to bring attention to LGBTQ rights and violence against Black transgender people.
An actress currently starring in FX's Pose and an unapologetic bastion for LGBTQ rights online, Moore has appeared in Vogue, Out, GQ, and on the cover of Elle. In addition to Pose, Moore has also acted in Queen & Slim, Steven Universe, Saturday Night Live, and the upcoming Escape Room 2.
They are a member of the legendary House of Xtravaganza, one of the oldest houses in ballroom culture that is still active. Moore's activism and fundraising campaigns on behalf of trans people via social media sites such as Twitter have earned them praise and attention, such as a profile in Variety.
Vote for the Twitter Advocate of the Year award