"Show me a hero and I will write you a tragedy," F. Scott Fitzgerald once wrote.
The nominees for LGBTQ Nation's Hero of the Year 2023 bear out the observation that heroism necessarily comes with sacrifice.
Vote now for LGBTQ Nation's 2023 Hero of the Year
Not every cop or soldier is a hero. Not every teacher or first responder is. Heroism is dictated by action and struggle. It's not defined by a job description.
Get the Daily Brief

The news you care about, reported on by the people who care about you:
It is defined by displays of courage, tenacity, selflessness, and love.
Nominees Richard Fierro and Thomas James stopped the Club Q shooter in his tracks last November, risking their own lives to save others.
Teenagers Libby Gonzales, Daniel Trujillo, Grayson McFerrin, and Hobbes Chukumba made a brave public show of trans joy with their Trans Prom on the National Mall in Washington in May.
In October, trans Thai media mogul Anne JKN rescued the Miss Universe pageant from misogyny and irrelevance with a pledge to transform it into a force for women's empowerment.
And for 365 "Days of Girlhood," trans actress and influencer Dylan Mulvaney battled transphobia with humor and transparency in the massively popular TikTok series documenting her transition.
Vote now for LGBTQ Nation's 2023 Hero of the Year
Richard Fierro and Thomas James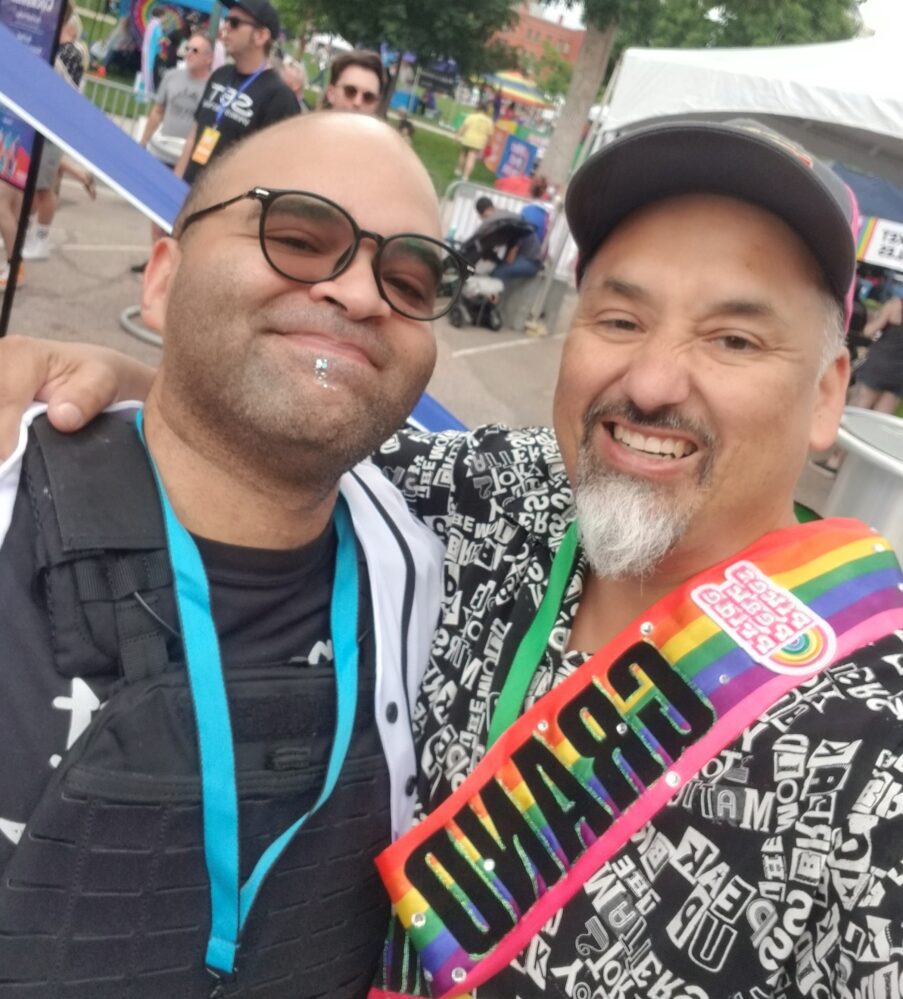 Just before midnight on November 19, the world changed.
That's when Anderson Lee Aldrich, 22, walked into Club Q in Colorado Springs and opened fire with an AR-15-style rifle.
Five people were killed and 19 others wounded in the hail of gunfire.
Richard Fierro was there with his wife and daughter and her longtime boyfriend to watch one of his daughter's friends perform.
From across the room, Fierro saw and then heard the flashes and staccato bursts of small arms fire. He hit the floor, pulling a friend down with him.
"I don't know exactly what I did, I just went into combat mode," the Army veteran told The New York Times. "I just know I have to kill this guy before he kills us."
Fierro raced for the gunman and pulled him to the floor.
At the same time, Thomas James, a Navy petty officer, charged forward. As Fierro took Aldrich down, James tore the shooter's rifle away and helped Fierro restrain him.
A still-unidentified trans woman stomped on the gunman with her stilettos, as Fierro beat Aldrich unconscious with their own handgun.
In a statement issued from the hospital where he was recovering from injuries sustained in the attack, James said, "I simply wanted to save the family I found. If I had my way, I would shield everyone I could from the nonsensical acts of hate in the world, but I am only one person."
Fierro and James were guests at Gov. Jared Polis' State of the State address in January, and Fierro was the Grand Marshal for Colorado Springs' Pride parade in June.
The Pride invitation brought the Army vet to tears, Fierro told the Independent.
"For them to open their arms to me, when so many right now are closing their arms to them, that was a beautiful, beautiful thing."
Libby Gonzales, Daniel Trujillo, Grayson McFerrin, and Hobbes Chukumba
It was a prom just like — but totally unlike — any other.
There were ungainly teenagers and jocks and nerds.
Parents took pictures of their blushing kids in formal wear.
There was awkward dancing and furtive PDA.
But this prom was on the National Mall in Washington, D.C., and it was organized by trans kids for trans kids. It was Trans Prom.
The outdoor dance last May was the brainchild of teenagers Libby Gonzales, Daniel Trujillo, Grayson McFerrin, and Hobbes Chukumba, who came together in February distressed with the politics around trans rights but determined to celebrate trans joy.
"I'm just a kid who likes to get his homework done, who likes to play the guitar, who likes to play with his friends," 15-year-old Trujillo told The Hill.
And dance.
"It's a moment for trans youth to relax and have fun, enjoy themselves, and revel in the gaiety of our encouragement," Chukumba said before Prom got underway. "It's a moment for transgender youth to be what they really are: youth."
From the stage, Gonzales addressed the 200 or so friends and allies gathered for the event.
"We want to be clear that no one made us trans or nonbinary. Not our parents, not our schools, not the internet, not our friends," she said.
"Our joy is ours, and today and every day, we celebrate, grow, and embrace it."
Anne JKN
For all her high-stakes deal-making, 44-year-old trans Thai media mogul Anne JKN is an unapologetic romantic, with billions of Thai bhat to back up her dreams.
"The power within is the most important," she told LGBTQ Nation. "The light you carry in yourself is the most important. You have to keep talking to yourself. 'Yes, it's possible. Yes, I am visionary enough to see it is going to be done.'"
What's she done over the past 20 years is build an unrivaled media empire in Thailand, the family she's always dreamed of, and a charitable foundation advocating for trans rights.
"Now I ask myself, 'What next?' When I have my entire business, I have my own family, I'm the mother of two, financially successful, and gained the strength from being myself. What next for me, really?"
That's when the Miss Universe Pageant came up for sale.
"This is my next move," Anne JKN thought to herself. The pageant was hers in October.
She calls it a "new era" for the 70-year-old organization, as a multi-faceted platform for women's empowerment.
"From now on it's going to be run by women, owned by a trans woman, for all women around the world," she told the audience at her first pageant as owner in January.
"To celebrate the power of feminism, diverse cultures, social inclusion, gender equality, creativity, the forces of good, and, of course, the beauty of humanity."
"I have the purpose of Miss Universe to elevate people to the next level," she said, "to be the best version of themselves."
Dylan Mulvaney
Actress and comedian Dylan Mulvaney came out as a woman in March 2022 with the memorable words: "It's day 1 of being a girl."
It was the opening to her year-long and captivating TikTok series "Days of Girlhood," featuring daily posts documenting her transition.
There was never a dull moment.
The clips, and Mulvaney's exuberant style, were a sensation, earning the actress a jaw-dropping half-a-billion likes to date — all for just being herself.
On the series' one-year anniversary in March, Mulvaney told Drew Barrymore the greatest contribution she can make "is trans joy, and comedy and talking about hard subjects and really intricate moments of a transition, and try to let everybody in to see that I'm not a monster. I'm not somebody that is trying to do anything but be myself and be happy."
"Days of Girlhood" wrapped on Day 365 with a celebrity-packed party at the Rainbow Room, but Mulvaney still keeps followers up to date on her progress and setbacks: on Day 500 she confessed to learning more about girlhood in the last four months than she did in her first 365 days.
But her break from daily updates also gives Mulvaney a chance to do what she loves best: perform.
"You know what's crazy?" she asks, shuffling into frame in a recent post.
"Before I transitioned, I was strictly a bottom. And now, I just keep topping myself. I mean, this look! C'mon!"
Exit stage right, with jazz hands.