Yesterday, the Justice Department's special counsel Robert Mueller announced an indictment of thirteen individuals involved with a well-organized group of Russian internet trolls based in Florida.
Representative Jerrold Nadler (D-NY) said that the indictment "should lay to rest any assertions by President Trump that the special counsel's investigation is a 'hoax' or a 'witch hunt.'"
As creepy as the conspiracy to influence the election is, it would not have worked without useful idiots in American media who helped disseminate fake news and biased coverage.
One of those useful idiots is Jim Hoft, the owner of Gateway Pundit.
Hoft is often called the "Stupidest Man on the Internet" because of his specious arguments and gullibility. For example, he ran a story that accused the wrong person of being a mass shooter who killed over fifty people at a concert in Las Vegas last year, just because the man was a liberal.
The indictment details how the Russian troll farm Internet Research Agency (IRA), based in St. Petersburg, wrote fake news stories that got traction on the right, in an effort to get Donald Trump elected.
Deputy Attorney General Rod J. Rosenstein said that the IRA "took extraordinary steps to make it appear that they were ordinary American political activists" and said that they called their efforts an "information warfare against the United States."
One of the tools the IRA used was the myth of widespread voter fraud, which undermines confidence in the election, angers white conservatives, and helps push for voter disenfranchisement. On November 2, 2016, the IRA posted on one of its Twitter accounts "#VoterFraud by counting tens of thousands of ineligible mail in Hillary votes being reported in Broward County, Florida."
That same day, Hoft wrote a story that cited the tweet.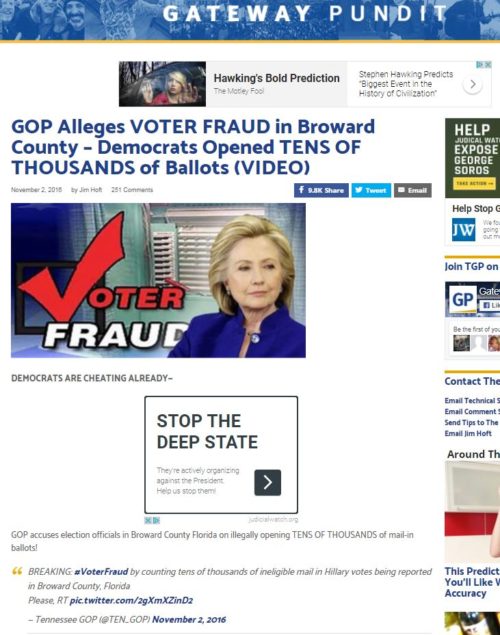 According to Media Matters, Hoft's article led to that fake news being disseminated on several other conservative websites, discussed on a talk radio station, and shared on Facebook.
Last year, Gateway Pundit got attention when the Trump Administration gave press credentials to one of its writers, Lucian Wintrich. Hoft said that Wintrich was sent to the White House to troll real journalists, which he did by making disruptive comments and asking softball questions.
Giving access to a disreputable site that was loyal to Trump was a sign of the White House's contempt for the free press. Not only did Wintrich found an organization called "Twinks4 rump," he was arrested last year for attacking a woman who disrupted a speech he was giving on white power.
Donald Trump tweeted yesterday that the indictment shows that the IRA started its "anti-U.S. campaign" before he announced his presidential bid. He stressed that there was no collusion between his campaign and Russia, although the indictment does not speak to that connection.
Russia started their anti-US campaign in 2014, long before I announced that I would run for President. The results of the election were not impacted. The Trump campaign did nothing wrong – no collusion!

— Donald J. Trump (@realDonaldTrump) February 16, 2018
Trump did not explain why a group of people engaged in an "anti-U.S. campaign" would choose to support his candidacy.