Queer representation on television has come a long way since Paul Lynde played everybody's favorite — and unacknowledged — gay uncle on Bewitched.
Now shows offer up well-rounded and out portrayals of LGBTQ characters of all kinds and ages.
Here are six that depict older community members with honesty, humor, and grace…
This Is Us: William Hill
As the favorite father of Sterling K. Brown's character on This Is Us, actor Ron Cephas Jones earned four consecutive Primetime Emmy nominations for his portrayal of the bisexual dad. After Randall is born and his mother dies of a drug overdose, heroin addict William abandons his newborn son at a fire station. Years later, they reunite and grow close, with William sharing his story of getting clean and coming to love another man. As Randall learns to forgive, William comes to grips with cancer that will take his life — and Cephas from the show — in a farewell episode that left fans sobbing.
Grace and Frankie: Robert and Sol
The premise of Marta Kauffman's Grace and Frankie, played by Jane Fonda and Lily Tomlin, is brilliant. Two straight couples, long-time friends, are turned inside out when the men from the foursome leave their wives — for one another. While they're not the stars of the show, Martin Sheen as Robert and Sam Waterston as Sol often steal it. They're a charming, funny, and fallible picture of domestic bliss. Nothing to see here except a couple of older men madly in love with one another, their children, and the wonderful women they left to be with each other.
Will & Grace: Beverley Leslie
The late, great Leslie Jordan played the pint-sized socialite frenemy of Megan Mullally's Karen Walker, a hilarious and outwardly closeted gay man regularly seen in gay bars and in the company of young gay men, whom he refers to as "business associates." Beverley vehemently denies he's "a homosexual," which is part of the gag. Still, it gives Jordan and Mullally a chance to love-hate one another with an unending series of insults like a gay battle rap crossed with a Comedy Central roast. Jordan will be missed at the reunion.
Pose: Pray Tell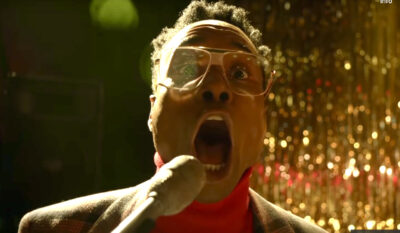 Like Madonna's Vogue, Ryan Murphy's Pose explores the New York City ballroom culture of the 1980's and 90's. Billy Porter's Pray Tell, aka Prayerful, is the emotional center of the story, emcee of the balls, a mentor to members of his own House of Evangelista and a father figure to the children of the ballroom. The character witnesses the toll of the AIDS epidemic before he learns he's HIV-positive himself, and activism becomes his saving grace. Porter picked up a leading actor Emmy for the role, becoming the first openly gay Black man to be nominated for and win the award.
Vicious: Freddie and Stuart
The Britcom Vicious stars Ian McKellan and Derek Jacobi as Freddie and Stuart, an elderly couple 50 years in the making, despite what appears to be a completely toxic, and wickedly funny, relationship. Freddie was a moderately successful stage actor when he met Stuart, who worked at a bar. Now the "trade" half of the couple tends to their Covent Garden flat and ancient dog, while Freddie waits for the breakthrough role that never comes. Both Sir Ian and Sir Derek are gay, bringing another layer of authenticity to the script by gay creator Gary Janetti. The theme song to the show is "Never Can Say Goodbye."
Tales of the City: Anna Madrigal
Armistead Maupin started his iconic Tales of the City in the San Francisco Chronicle as a serial newspaper column and conjured his characters in real-time from the fabric of the City circa 1978. At the center of the story, and the collection of flats and apartments at 28 Barbary Lane, was Anna Madrigal, the eccentric and weed-growing landlady, a mentor and muse to her collection of memorable tenants. It turns out she's also transgender; her name is an anagram for "A man and a girl." In the serial and books, and as portrayed by Olympia Dukakis on screen, she's wise and compassionate and a lodestar for loved ones navigating love and the losses to come in San Francisco in the 1980s. But Madrigal is a survivor: Dukakis reprised the role three more times after the first series in 1993, in sequels to the original story. In the latest version, for Netflix in 2019, a flashback to her younger self is portrayed by trans actor Jen Richards.