This is the third of a three-part profile of actress, singer, and civil rights icon Donzaleigh Abernathy, the daughter of  Rev. Ralph Abernathy and Juanita Abernathy, who were civil rights leaders and close allies to Dr. Martin Luther King, Jr. We spoke to Abernathy shortly after Georgia elected two pro-LGBTQ Senators, tipping the Senate to Democrats, and a mob stormed the United States Capitol as Congress certified the 2020 presidential election. [Read the first part and second part.]
Donzaleigh Abernathy was beyond disturbed when she witnessed Trump supporters, many of whom were avowed "white supremacists," storming the U.S. Capitol on January 6.
"There's no such thing as white supremacy," she scoffed regarding the concept articulated and worshipped by racists.
Like many Americans, she was "glued to the news" that day, and remained so for weeks. "I'll never forget looking at that photograph of that man sitting in Speaker Nancy Pelosi's office, and his foot on her desk," she says.
"Something in my head and in my inner voice told me to turn to the left. I looked and you know what I saw in the window in Speaker Pelosi's office, and aside from the window, I saw my father's face. And I was like, What?"
Related: 6 organizations to donate to in the spirit of Dr. Martin Luther King Jr.
She explained to LGBTQ Nation, "There was a photograph of Daddy, uncle Martin, John Lewis and James Forman of the Student Nonviolent Coordinating Committee (SNCC), and then Reverend Jesse L. Douglas, as they're marching in Montgomery for the right to vote. It's a plaque that honors [the late] Congressman John Lewis. Immediately, I personally felt violated. Totally violated. And at that point, it became personal to me."
"All of a sudden, I felt that I was growing a thick spine that was preparing me for the battle to fight. And I thought, This is my democracy," she recalled.
Her mood has lifted somewhat as Biden took office despite the pushback and has asserted himself in the presidency. She is "so happy that one of the first things our president did was to end the discrimination against transgender people in the military."
"I want you to know when something happens if we go to war – are you kidding me? Yes, I want transgender people to be there. Who's to say who's going to be there to save my life? Are you kidding me? They're going to know exactly what to do to save us and we need them."
As a religious person and the daughter of a renowned pastor, she is opposed to laws protecting people who claim religion as a reason to discriminate. "I don't think people have the right to discriminate and say it's because of their religious beliefs. That people cannot eat at restaurants or they cannot cater an affair for them? Or that [the Republican Party] would condemn an elected official for officiating a same-sex marriage that man lost his office?, referring to the GOP congressman who was censured for supporting a same-sex couple.
She's attended Black Lives Matter protests for years and was at last summer's All Black Lives Matter march "from Downtown [Los Angeles] to West Hollywood" that honored Black trans people. "I had two masks on and I was out there. I was like one of the older people there in the audience, but…it was important to be there."
Donzaleigh feels like she can breathe "a sigh of relief" under President Biden, but she's far from complacent about the fight for equality in America.
She was raised to know better.
Roots
Back in the 1980s, Donzaleigh was an actress struggling to find her footing and jump-start her career. In college, she had appeared on the TV mini-series Roots as an uncredited extra, as one of the slaves being auctioned. But above-line roles weren't offered to her as quickly as one might assume based on her family name. She had to go out and earn them.
After college in Boston and her stay in New York, Donzaleigh did the Black theater circuit back in Atlanta, where she married her first husband, George C. Bosley, who worked in film at the time. Despite being told she needed to focus on her front-of-camera work, she still did behind-the-camera work as well.
While performing at Atlanta's Alliance Theater, she caught the eye of Beverly Poitier, the eldest daughter of trailblazing actor Sidney Poitier, the first Black man to win an Academy Award for Best Actor. Beverly spurred Donzaleigh to audition for In the Heat of the Night, the television show based on the 1967 film that Sidney starred in.
The role in In the Heat of the Night didn't materialize, but Donzaleigh would move to Los Angeles, where she worked with Sidney who was directing Ghost Dad, starring Bill Cosby. The film would be Poitier's last in the director's chair. She would make it into the film as a cast member, her first billed appearance. That led to an appearance in Murder in Mississippi, a television film on the murder of civil rights activists in 1964. She would also move on to a new relationship with Iranian-born actor Dar Dixon, who she married.
Donzaleigh is billed alongside Julius Tennon (who would become a recognizable actor in his own right, also known for marrying Viola Davis and starting the production company JuVee Productions with her) in the show Ned Blessing. In an August 1993 issue of Jet Magazine, she's profiled and mentioned under a picture of boxer Evander Holyfield and right above a J.C. Penney ad featuring a then-unknown Shemar Moore.
The show would last just five episodes, but Donzaleigh's career would last for decades to come.
Although she didn't get the School Daze gig, Donzaleigh's dear trans friend, Brandy, would meet Phyllis Hyman on the film's set, and when Hyman took a liking to jewelry that Brandy put together for a scene, they would become friends.
"I started designing jewelry for [Hyman] because she liked the jewelry I made for her scenes in School Daze," Brandy told LGBTQ Nation in a separate interview. "When I really sat down and really started to try to design and stuff, I didn't know anything, I used to take the hot glue gun and make jewelry, and one day she liked what I was making, but she picked it up and when she dropped them, they fell apart.
"She said, 'Don't give up, you're trying, you just have to find the right material.' I eventually did," Brandy said. "We stayed in touch and when she would come to town to do performances because she lived in New York as well, she would always send for me and I would go back in forth to New York [too]."
She would work with the actress until her death in 1995.
Brandy already had political organizing, film production, and leadership under her belt. There were no limits to what Brandy would do.
Magic City
Eventually, she would do less behind-the-scenes work on films and transition to another pivotal role. "I became a makeup artist and after I stopped doing films, I went to… you ever heard of a club called Magic City?"
Brandy became one of Atlanta's most famed straight strip club's makeup artist for 25 years.
"I changed the whole look of strippers you see now — [back then] they didn't wear no makeup. But because I was a 'drag queen' or 'tranny', I put lashes on 'em, I beat their face, and I made them look like goddesses. And, you know, men like androgynous-looking women. I was able to change the eyebrow area and get strippers to wear makeup, and next thing you know, the whole industry changed. All of a sudden now, dancers were wearin' makeup, big ol' hair. Because you had a few queens in the dressing rooms making these girls look like performers."
The chic club look that Brandy takes credit for made its way into music videos. Behind the scenes of Atlanta's reinvigoration of hip-hop in the late 1990s and 2000s, led by artists like Ludacris, OutKast, T.I., and Usher, was a trans woman making stars out of the video vixens who would appear in their music videos.
"After a while, other girls in this club started looking at the other ones makin' more money, and they did and eventually it caught on. Then those girls would go to Florida, then next thing you know, entertainers came to the club, saying, 'They're so beautiful…' Next thing you know, they're your housewives," Brandy laughed. "They [would] say, 'Now you're lookin draggy,' but it caught on. You can't go nowhere now without seeing everybody in full drag lash."
"And we started that, I started that. I was one of the first drag queens to ever work at the clubs and we changed it ya know?"
Brandy's prominence in Atlanta as a makeup artist grew. Eventually, she began being asked to judge pageants and beauty competitions. "They used to call on me and ask me to judge all these different pageants and I would just nitpick and [contestants] hated me. When I would come sit at the judge table, they'd be like, 'Ohhh here she go again…' Then they'd say, 'Well, why do she get to judge? She don't know what it's like to wear our shoes and do what we do' and stuff like that. So that kinda pushed me to say, okay, well if I can talk about it, I can do it too.'"
So she entered one. "The first pageant I ever entered I won, evening gown, sportswear… and I didn't have any help," she laughed. "I was by myself and I did it. I proved it to them that what I was judging them on, I meant it — and I stood behind it."
"I performed for like, 10 years maybe, on and off, and I won some pageants. I was the first Miss Black USA At Large, which was for big girls, I was Miss International At Large."
In her true hustler form, Brandy did a lot outside of her work in nightlife. She was once denied a job at a MAC Cosmetics store because the white manager didn't want "Black drag queens looking [workers] at her counter." Unbeknownst to the manager, Brandy had mentored a white employee that she had already hired. So she kept working at it, and eventually landed a job with the company, and run the store's #1 counter within six months.
She would also return to film and TV sets, dress up many of television's top reality stars in shows like Single Ladies, Real Housewives of Atlanta, and Braxton Family Values, and even serve as a makeup and hairstyle artist on the blockbuster Hunger Games: Catching Fire in 2013.
But she stayed at Magic City for 25 years, until she "had a spiritual kind of a thing" and retired in 2019.
"I think the art and creativity part helped save me… from not having as many problems as some other girls have, because I was always creative and creating something. So, I could do your makeup, I could do your hair, I could design your jewelry. Every movie I worked on, I drove. In one movie, I was location [scouting].
"I was one of the types of people that when someone would say, 'What are your skills?' and I'd be like, 'What do you need?' [laughs] and then I'm like 'Oh, I can do that!' and 'I can do that too!'"
Brandy never lost her desperate love for acting. She has watched Donzaleigh and some of her classmates go on to have success in front of the camera — such as Jasmine Guy, who she considered her best friend in high school and would work with later on School Daze. Brandy even drove Guy to her audition for the Alvin Ailey School of Dance.
The audition was successful, and Guy's acting and dance talents would lead her to appear in Fame, the aforementioned School Daze, and most notably, A Different World.
"She got this scholarship to go to New York and that's how her career started. And I told her, 'I may not go with you but you'll be the hare and I'll be the tortoise, the turtle, and I'll keep on going.' My dream was always to be an actor…"
Although it took her longer than Guy or others, Brandy is currently taking acting classes in between a full-time commercial driving job. She's far from giving up on her goals — she's more confident in them, even, thanks to Donzaleigh and Dar Dixon.
"That's why I said Donzaleigh is my mentor, I'll pick up the phone and ask her about something I had in class, and she'll send me her auditions… So I still give her advice. I call on her and her husband Dar and ask them for advice, and her husband is kind of the one who encouraged me and gave me the steps. I will never forget. I would say, 'Dar, I want to act.' He gave me a list and said 'When you're ready, and you've done these things, let me know,' and I laughed because he was pushing me to do the work.
"Dar has always treated me as a member of the family, he never looked at me as gay or trans he just always loved me and accepted me. The whole family has, really."
Brandy remembers Juanita Abernathy fondly, who always encouraged her to be herself. "Mrs. Abernathy would always tell me to hold my head up and be proud of who I was. I miss her so much. When she passed, that was a big chunk out of my heart…I loved Mrs. Abernathy," she told me, choking up. "I loved her. If anybody ever said anything to me out of the way, she would quickly set them straight.
"She told me about Bayard Rustin, and he was a part of the Civil Rights Movement and he was an openly gay man. He's the one who introduced Dr. King to Mahatma Gandhi and nonviolence. People don't realize a lot of gay people, we're very spiritual on the inside. It may not come out but, we're the glue that holds the community together, but it's never talked about."
"A lot of white people runnin' stuff"
Today, at age 61, Brandy grew up and came into herself before the understanding of transgender identity even became known in mainstream society. Her experience in the immediate post-Stonewall LGBTQ community remains vastly different from what the collective LGBTQ community looks like around the country today.
"I see a lot of white people runnin' stuff but I don't see that many Black people runnin' anything," she explained, "and I know a majority of the money they get in the United States for Black people, for Black trans women, goes to white organizations. I don't think they have our best interest at heart. They've never been through the struggles that we've been through. They'll say that they have, but theirs is in another way."
While there are Black leaders of LGBTQ organizations, such as Alphonso David, a Black gay man who is president of the Human Rights Campaign, Brandy doesn't believe recent diversity efforts are adequate enough.
After all, she reminds us, "if it wasn't for the black drag queens in New York, there wouldn't be no gay rights movement, because they're the ones that started it. And I know a lot of people took credit for what actually happened in New York but when the piece started to come, their families came and got them and took them away from the scene, and the people that were left tried to take credit for what Black drag queens did."
Two of the best-know self-identified drag queens who were among the many who took part in the revolt were Marsha P. Johnson, who was African-American, and Sylvia Rivera, who was of Puerto Rican and Venezualan descent.
She also sees that many of the legal and political battles that Black people fought about in the Civil Rights movement paved the path for legal and political recognition of the LGBTQ movement.
"So at the end of the day, Black people have opened the doors that white people have taken advantage of," Brandy said, "but I don't dwell on who took advantage of it, because I feel like if you build a bridge and you walk away, basically whoever comes and needs to go across the bridge, they'll go and they'll go do your thing. That's the whole purpose, to me, for us to have our freedom and our equality — but it's still a struggle."
Harpers Ferry
While she may be more recognized for her familial ties, Donzaleigh's career as an actress and entertainer is filled with notable parts in award-winning television shows and in blockbuster films over the last 30 years, including the Civil War film Gods And Generals (2002) where she starred alongside Robert Duvall and Jeff Daniels, which brought her to Harpers Ferry, West Virginia.
"That's something that has helped shape who I am today, being the reality juxtaposed [next] to Hollywood names. All coming together in that moment there, in Harpers Ferry, where John Brown had his insurrection. That was tremendous."
Later, Donzaleigh would write a play about the Niagara movement, a civil rights push that preceded the days of Dr. King and Dr. Abernathy by 50 years. Her play was once performed in Harpers Ferry, and her sister, Juandalynn, who resides in Germany where she sings in operas, joined the show.
Then, "Some white supremacists, they surrounded us as we are commemorating John Brown, the Niagara Movement, which would be the predecessor for the NAACP," she said, "and I've written a play about all about the past — and again, it was the past meeting the present. It was like being slapped in the face."
Just like January 6. "These SWAT officers had come from Washington, D.C. and there were members of Congress there, we were literally surrounded by the white supremacist groups. Insane, it was like the insurgence. It was an incredibly tense moment. But a moment that I will never forget, never forget."
The slaps to the face, and far worse, continue to come, but they're only proof that the country is moving in the right direction.
Donzaleigh was once offered a recording contract by an A&R executive who heard her lead a recession of "We Shall Overcome" — as "we used to sing it," she described it — but used the opportunity instead to selflessly "push [people] to help her sister," and didn't pursue it. Having been taught focus on one thing all her life, Donzaleigh wasn't ready to venture into another business.
She realized recently, though, that not singing "was one of the regrets I had," she said.
Donzaleigh was the lead vocalist for a choral project recorded virtually during the pandemic, "The Listening" that came out in January and aimed to spark conversation about inequality. It incorporates Dr. King's 1967 speech, "Beyond Vietnam: A Time To Break Silence" and features hip hop artist Wes Felton. It's yet another creative way that Donzaleigh is setting the stage for the future.
"Oh, my goodness, 'The Listening' is a magnificent piece of music, that [composer] Cheryl B. Engelhardt has created," Donzaleigh boasts. She dedicates her performance to her late brother, Ralph III, to whom she made a promise before his death that she'd give singing another try.
"I'm humbled and honored to have been chosen to be a soloist in this, and I don't know how he did it, but I have an engaging husband," she says of Dar Dixon, who connected the two and suggested Donzaleigh as the lead for the recording after they went to a live performance of it.
"This piece is kind of like Hamilton, and it's also like an opera. So I hope that she can go do more like this and do a whole opera or operetta or a stage piece like Hamilton, because she's that talented."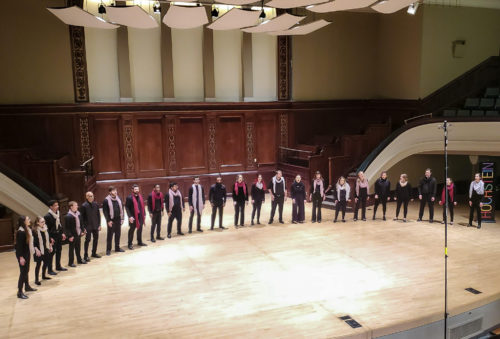 LGBTQ Nation also spoke to Felton, a hip-hop artist and educator hailing from the Washington D.C. area. He, too, is proud of the project, especially in light of the events on January 6.
"Being from D.C., it's a very political town… I'm surprised it took as long as it did for something like that to happen, I'll be honest — at least for someone to try that," Felton said. "But also, the other side of it, I've jogged or like, walked in that area a million times. I've even been a guest at the Capitol multiple times, in a suit, and it's always someone on you like white on rice. So, for me, to see how those people were able to access the grounds of the building. For me, it was shocking but not shocking."
Felton stresses "the impact it has on people of color, and even the LGBTQ community," among other marginalized groups.
"We live in a society where there are still people who want to control and the social construct of everything. When they were doing that work, they were doing it with the vision that people here right now, like you and I, would finish it. And folks behind us would finish it," he told me. "Because America's still a young country. That's why people like Dr. King and those working on projects like 'The Listening' will always be relevant. There's always gonna be a struggle for freedom. As long as there's one person being suppressed or being subjected to… conforming, there will always be people like Dr. King."
For Brandy, in addition to her acting ambitions, she has high hopes for the intersection of Black and queer people as well. "There's been this separation between the Black gay community and straight people in our community. Hopefully in the near future – hopefully – all communities can come together. The Black gay community can come together with the Black community, and then eventually…"
She praises current Atlanta mayor Keisha Lance Bottoms for her "unprecedented" embrace of the thriving Black LGBTQ community, especially compared to the difficulties the community faced under previous mayors going as far back as Andrew Young. "She's taking a chance after the other Black mayors in our city," Brandy noted, "They wanted your vote and… they'll meet with you privately, but it's never broadcasted, you know?"
"I think that's where my voice is really gonna be, with all the wisdom I've gathered through the years, I think that if I do become an actor then I'll really be able to share my wisdom in a positive way to help other young gay people and trans people," Brandy said. "Because it's hard out here, and I hear a lot of people telling young people 'Just be yourself' or 'Just be expressive,' and I'll be like, 'I don't believe that.' Because people say one thing, but they're not gon' stand by and support you, they're not hiring you. So they're telling you that in the press, but when it comes down to reality, it's a different story."
For now, "I'm a tractor-trailer driving drag queen and an actress," Brandy said, "waiting for my auditions."
"Young people are going to have to create a better planet."
As for Donzaleigh, at the age of 63, there's nothing she's more clear about than the duty her generation has. The day LGBTQ Nation spoke to her, she remembers getting awakened to a phone call from a teacher, "Talking about doing a Zoom with her kids who are inner-city kids who have lost hope and are impoverished. And I said, 'Yeah, you can count on me forever. I'll be there.'"
She knows "there will be difficult days ahead," but she wants people to know: "We cannot be afraid. We cannot run and hide. We need to be forthright and strong and be proud of who we are and our and our past, our ancestors, and know that we stand on their shoulders."
"I'm an artist. I'm not a politician. I give back because of the world that I was raised in and it was taught to me, 'Much is given; much is expected.' So I will forever and, for the rest of my life, serve humanity."
One example of Donzaleigh's impact on society in practice is a school that she helped into fruition, the New Roads School, which helps groom the next generation of African-American leaders — figures the likes of Amanda Gorman, our latest inaugural poet, who captivated a nation with her performance at Biden/Harris Inauguration.
"I have known Amanda since she was six years of age, her and her twin sister, Gabrielle," Donzaleigh beams, recalling her "shock" at seeing Gorman on the Inaugural Stage before reciting "The Hill We Climb."
The "beautiful thing" that distinguishes "this Black Lives Matter and the LGBTQ community movement" is "greater diversity than we had in the civil rights movement — and we were integrated then, but we have even more now. And we've come together."
"I have faith in young people, you're going to have to take the reins because you're going to inherit a better climate, you're going to have to create a better planet. And the responsibility is on you."
Learning that I am young, black and gay, she addressed me and my generation directly: "You all are the future. You are going into a world where I cannot go. I mean, I'm going to live. But I mean, I don't know how old you are, but let's say God gives me 40 more years. That would be wonderful because God's not going to give me 60 years."
"Daddy and Uncle Martin decided that they wanted to create a better world for us, their children. And they did. And now, we're going to have to do the same thing."
Related: The lessons my Uncle Lloyd taught me belong to Black History Month