Bob Ahern, the Director of the Getty Images archive, is the caretaker of a vast collection of LGBTQ history. While some of the most famous photos from queer history are part of the archive, there is also an untold number of lesser-known pictures that haven't been displayed publicly.
Ahern is sharing some of his favorite photos with LGBTQ Nation for pride month. Fifty years after the first pride parade, festivals nationwide have been canceled, but a look back through the years at parades from around the country proves one important thing… We will persevere and we will win equality.
Related: Pride in Pictures: I felt like I was being represented
Christopher Street Liberation Day, 1970
Dated June 28, 1970 this photo of the first Stonewall anniversary was taken in by photographer Fred McDarrah, the then Director of Photography for the Village Voice magazine.  McDarrah, who's regular beat was covering the artists, musicians and the movers and shakers of underground New York in the '60s had been present at the Stonewall riots, documenting the scene through just a handful of pictures. He would go on to chronicle the changing faces of gay life in New York – from the early marches to the more celebratory parades of the 1980s.
Gay Pride 1975
Stonewall, some six years earlier, meant that that gay life was now out on the street and to be seen, as reflected here in another photo from Village Voice veteran Fred McDarrah. This time a notably relaxed and informal portrait of parade-goers as they pose, smiling straight camera, during the sixth annual Gay Provide March in New York. Photo dated June 29, 1975.
Gay Pride 1984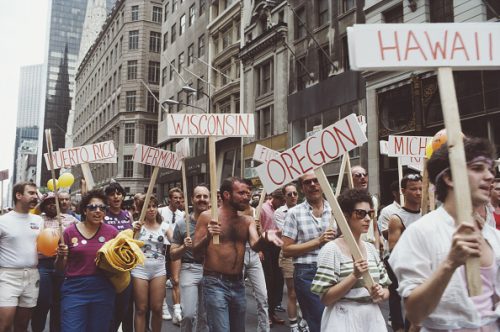 By the 1980s parades had become much larger affairs. Gay life across parts of America was becoming more integrated and major cities were hosting their own events. In this color photo shot by freelance photographer Barbara Alper, we can see the geographic diversity of the U.S.  in one frame as parade-goers convened in New York. But by the mid-1980s the world was also in the midst of combating HIV/AIDS which would cast its shadow over the decade and beyond.