Americans buy nearly 600 million pounds of candy for Halloween. That's a lot of candy!
And a lot of that candy is really queer.
Here are some of the gayest candies out there. Hand them out for Halloween to make your neighborhood a little bit more queer.
Skittles
Let's get the most obvious gay candy out of the way: Skittles.
The candy is a rainbow, and for decades Skittles told Americans to "Taste the rainbow."
And it's not just that their candy looks like a pride parade in a bag, the company has put out a special Pride Month bag of Skittles with no rainbow for two years now because "Only one rainbow matters this pride. Give the rainbow, taste the rainbow."
Mike & Ike
Introduced in 1940, this fruity candy was named after two men, but no one talked about their relationship.
Theories have developed over the years about how the candy got its name, but in 2012 the company settled the rumors by announcing that Mike and Ike were breaking up as part of an ad campaign to attract young people to the brand.
Consumers could buy boxes of candy with one name or the other scribbled out and little stories about how they didn't have enough time for each other were found in the packages.
It may sound like a silly ad campaign, but Tony Perkins of the hate group Family Research Council got pretty angry about how "sexualized" the candy had become:
It's just another subtle example of society chipping away at the value of marriage. And I don't know what's more disturbing — that advertisers think divorce appeals to kids or that sexualizing candy will make people buy more. After a year-long build-up, the company will reveal if the couple reconciles. Until then, look for Mike & Ike to have a distinctly liberal flavor.
Arnott's Gaiety
It's pretty obvious why this Australian candy is on the list.
Pez… in a George Takei dispenser
Pez might not be all that gay, but it is if you eat it out of George Takei's neck.
Zipfelmann, the gay chocolate Santa
https://www.facebook.com/PennyDeutschland/photos/a.700586603303601/1858102507551999/?type=3
Sure, you'll have to wait for Christmas and fly to Germany for this one, but a gay chocolate Santa in a rainbow wrapper is worth it.
Last year, the German supermarket Penny Markt released Zipfelmann ("tip man" because of his pointy hat) after an announcement on Facebook, to promote "Diversity, tolerance and love."
The candy was mostly ignored in the U.S., except for an angry Breitbart article that can be summarized with: "lol gays grumble Christian oppression grumble if liberals are so tolerant why don't they tolerate homophobia grumble grumble mosques in Europe."
Ki Ki
The next time you and your friends have a kiki, bring along this Croatian candy.
Of course it's fruity, but unfortunately there's no tea flavor.
Gummy Bears
Yes, it's an obvious joke about a gay subculture: bears, like burly gay men.
Eat these, and you too will feel so optimistic.
Swedish Fish
A less obvious joke about a gay subculture: candy for Scandinavian drag queens who turn. it. out.
All pink Starburst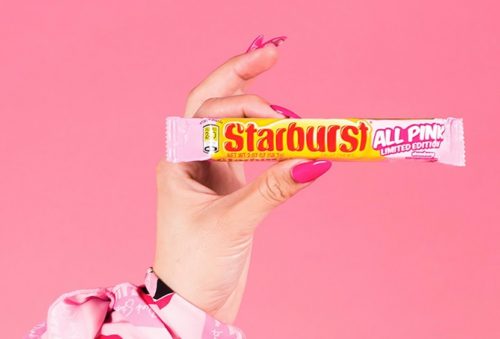 If you like the pink, Starburst has you covered.
Fans of Starburst know that the pink ones are the best, and in 2017 Mars released limited-edition, all-pink packages of Starburst so that people would stop throwing away 3/4 of them just to get the pink.
It was so popular that Mars brought all-pink back in 2018, along with some pretty lesbian merchandise.
Candy Queer
This image was found on a website with no additional information.
Dura Foods is a Korean company and the writing is in Korean…. Those are the only clues about its origin.
What is this queer candy like? And can people still buy it? This one will have to remain a mystery for the moment. (Until you tell us in the comments.)