AppleTV+'s musical parody Schmigadoon! returns for its second season on April 5, picking up some time after harried NYC doctors Josh (Keegan-Michael Key) and Melissa (Cecily Strong) returned from the titular magical land of show tunes and corny dance numbers.
As we see in the first teaser trailer, which dropped earlier this week, Josh and Melissa find themselves dissatisfied with the tedium of their ordinary lives after their adventure in the gleefully silly and simple world of Schmigadoon. So, decked out in early 20th Century country drag, they set out to return to the mysterious town.
But where the first season of Schmigadoon! was a send-up of squeaky-clean Golden-Age Broadway musicals like Brigadoon, Oklahoma!, and The Music Man, Season 2 takes on the darker, dirtier world of 60s and 70s musical theater. Here's every reference we've spotted in the teaser so far: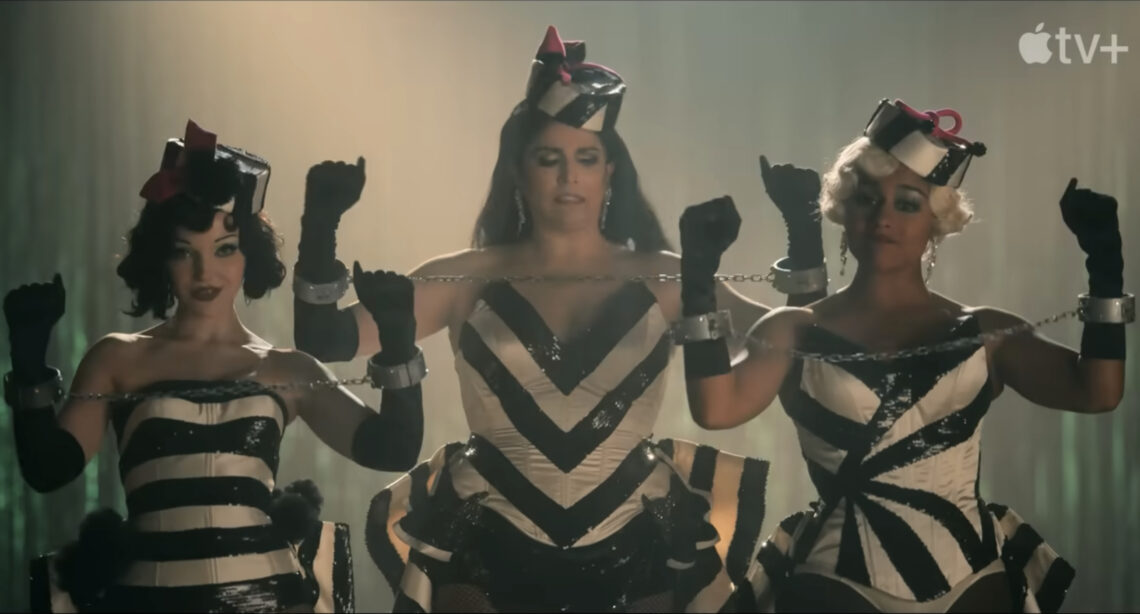 Chicago
Upon returning to the wilderness where they first stumbled upon the quaint small town of Schmigadoon, Josh and Melissa find instead a dark urban landscape known as "Schmicago", clearly a reference to the 1975 Kander-Ebb-and-Fosse musical Chicago.
That show seems to be the primary target of Season 2's satire, with Key's character ending up framed for the murder of a Jazz Age-type showgirl. Jane Krakowski returns this season as an unscrupulous defense attorney modeled after Chicago's Billy Flynn, and at some point it looks like out stars Dove Cameron and Ariana DeBose join Strong's character for something like a cell block tango.
Cabaret
The new season's other major influence seems to be Kander and Ebb's other blockbuster Jazz Age musical, Cabaret. Much of the cast can be seen decked out in garters, suspenders, corsets, and not much else, just like Cabaret's Kit Kat Girls. Cameron's character, meanwhile, a dead-ringer for Sally Bowles and DeBose, is reportedly set to play a version of The Emcee. (And the presence of Alan Cumming, who won a Tony for playing The Emcee on Broadway, certainly adds an unmistakable meta touch.)
Sweeney Todd
Speaking of Cumming, the out Tony-winner appears to be doing his best impression of Sweeney Todd, wielding a meat cleaver alongside Kristin Chenoweth in Mrs. Lovett mode.
Annie
Chenoweth's character might also be a stand-in for Miss Hannigan, the boozy orphanage proprietress in Annie. A scene in the teaser finds her dancing with what very well could be some lovable hard-knock orphans.  
Hair
Apparently, Schmicago exists in a Jazz-Age-of-Aquarius time warp. The teaser features some very prominent and very anachronistic flower children (led by Tony-winner Aaron Tveit), straight out of the groundbreaking 1960s rock musical Hair. Tveit's character even invites Josh and Melissa to "get naked," a reference to Hair's notorious nude scene.