It's never too late to come out.
That's the message from this group of celebrities, newsmakers, and one music exec, who shared their true selves with the public in the seventh, eighth, ninth — and even tenth! — decades of their lives. Whether you're out and proud or curious and questioning, take inspiration from these 11 brave men and women who came out later than most.
1. Meredith Baxter, 75
Age she came out: 61
Year she came out: 2009
Where she came out: On The Today Show, in the Advocate and People magazine
When the thrice-married and three-time Emmy nominee and mom from Family Ties learned the tabloids got hold of a lesbian cruise story about her, Baxter took matters into her own hands. "I didn't want some tabloid to take the story and make it up," Baxter said during an interview with Today's Matt Lauer. "I wanted it to be in my own words."
Two years later, she told Oprah: "After coming out on national television, I felt unburdened and that's the way I feel now," she says. "I don't have anything I'm trying to hide."
2. Victor Garber, 73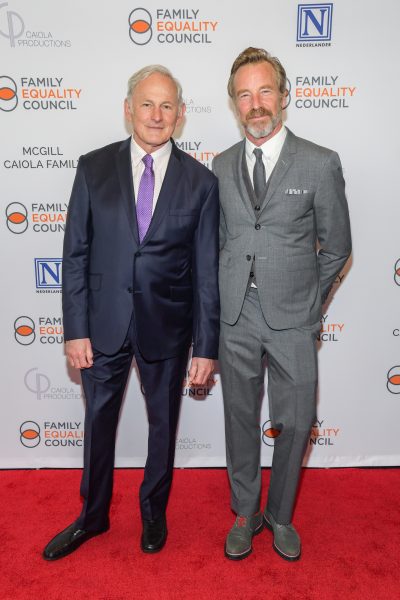 Age he came out: 63
Year he came out: 2013
Where he came out: In a TV Critics Association press tour interview
You know him as the man who designed the Titanic and went down with ship, and from dozens of roles in movies and on TV. Less known in 2013 was Garber's sexual identity, publicly revealed when the blog Greg in Hollywood asked if a Wiki entry on Garber's page about his "partner" was "something that's public, that you've confirmed."
Garber was surprised but answered: "I don't really talk about it, but everybody knows." And he was out.
Garber and Rainer Andreesen married in 2015.
3. Caitlyn Jenner, 73
Age she came out: 65
Year she came out: 2015
Where she came out: During a television interview with ABC's Diane Sawyer
"I've been thinking about this day forever," the one-time Olympian and Kardashian dad said to Sawyer at the start of their interview. "My brain is much more female than it is male," the 65-year-old explained.
"I'm not gay. I've never been with a guy," Jenner added, before identifying as asexual. "For all intents and purposes, I am a woman."
4. George Takei, 85
Age he came out: 68
Year he came out: 2008
Where he came out: In an interview with Frontiers magazine
Asked by the now-defunct magazine why he decided to come out at that moment, Star Trek's Mr. Sulu responded: "I think it was more the political climate. Society has been changing. Today gay teens are now feature stories in Time Magazine — that generation thinks being gay is just a part of society. The world has changed dramatically."
In a recent interview, Takei says he was also prompted by California Governor Arnold Schwarzenegger's rejection of a bill to legalize same-sex marriage in the state. "I was so angry that I spoke to the press for the first time as a gay man at the age of 68."
5. Richard Chamberlain, 88
Age he came out: 69
Year he came out: 2003
Where he came out: In his autobiography
In Shattered Love: A Memoir, The Thornbirds actor and Dr. Kildaire heartthrob said he hid his sexuality to protect his privacy and career, but while he was writing the memoir, it "was as if an angel came in and put his or her hand on my head and said, 'Richard, you've been barking up the wrong tree here. All your self-dislike of having grown up during the 1930s, '40s and '50s, that was when being gay was totally verboten.' Suddenly, deep, deep within my bones, I realized that I had been lying to myself, like society had been lying to me, and that there was nothing wrong at all, nothing wrong with me."
6. Holland Taylor, 80
Age she came out: 72
Year she came out: 2015
Where she came out: An interview on WNYC radio in New York
In the interview, the Two and a Half Men star wanted to avoid labeling the conversation a "coming out."
"'So have you come out?'" Taylor asked rhetorically. "No, I haven't come out, because I am out. I live out." Taylor did reveal she was in a relationship with a much younger woman, whom she didn't name but the world would later learn is actor Sarah Paulson, 32 years her junior.
"There's a very big age difference between us, which I'm sure shocks a lot of people, and it startles me," Taylor said. "But, as they say, 'If she dies, she dies.'"
7. Lily Tomlin, 83
Age she came out: 73
Year she came out: 2013
Where she came out: In People magazine
Tomlin refused to buy into the orthodoxy of "coming out" for years, plus, she says, "My mother would have died. Literally." So the Grace and Frankie co-star waited until 2013 to officially tie the knot with her longtime partner Jane Wagner at a courthouse in the San Fernando Valley, followed by an intimate ceremony with friends a few days later.
Of her mother, who died in 2010, Tomlin told the Telegraph: "Bless her heart, she was Southern, basically fundamentalist, but she was very witty and sweet and kind, and she adored Jane."
8. Susan Sarandon, 76
Age she came out: 75
Year she came out: 2022
Where she came out: The Tonight Show Starring Jimmy Fallon
Forever young Sarandon's admission in 2017 that she is "open" was followed by last December's confession to Fallon: "I'm bi, so…"
The blurt came with a side-eye to the audience and a not-so fresh joke from Fallon: "You mean you like dogs and cats," to which Sarandon replied, "I'm fluid. I'm very fluid, where animals are concerned."
The gag preceded the premiere of Sarandon's latest role in NBC's Monarch, so the moment was likely far from spontaneous, but the cat, as they say, was out of the bag.
9. Clive Davis, 90
Age he came out: 80
Year he came out: 2013
Where he came out: In his autobiography
In legendary record exec Davis's memoir, The Soundtrack of My Life, the producer for Whitney Houston and Billy Joel, among countless others, revealed his "bisexual life" for the first time. His first sexual encounter with a man went down during "the era of Studio 54."
"On this night, after imbibing enough alcohol, I was open to responding to his sexual overtures," writes Davis, who describes the same-sex encounter as "welcome relief."
He is divorced and has had multiple relationships with both sexes.
10. Joel Grey, 90
Age he came out: 83
Year he came out: 2015
Where he came out: People magazine
Broadway and Cabaret legend Grey fathered two children, including actress Jennifer Grey, but had known and acted on his attraction to men since he was young. But like many in his generation, Grey doesn't "like labels."
"But if you have to put a label on it, I'm a gay man," he admitted.
The fact wasn't a secret to family and friends: "All the people close to me have known for years who I am," Grey told People, yet "it took time to embrace that other part of who I always was."
11. Maybelle Blair, 96
Age she came out: 95
Year she came out: 2022
Where she came out: The Tribeca Festival in New York
The woman who inspired Madonna's character in Penny Marshall's 1992 hit A League of Their Own took the opportunity to reveal her sexual identity at the premiere of the TV version of the story.
The real-life "All The Way Mae" said, "I hid for 75, 85 years, and this is basically the first time I've ever come out." She added: "In our day, you wouldn't dare tell your family or hint to anybody that you were gay. It was the most terrible thing in the world."
But the All-American Girls League changed her life, said Blair. "I went back to Chicago, and I got on the team, and I'll tell ya, it was the most amazing time of my life, because they asked me to go out to a bar," she recalled with apparent glee. "Well, it turned out to be a gay bar, and I was never so happy in my life."