It's no secret that LGBTQ venues have faced crises over recent years, particularly throughout the pandemic. For example, in 2020, there were only 16 lesbian bars left across the United States. In London, meanwhile, a City Hall report from 2017 revealed that London had lost 58% of LGBTQ venues since 2006.
It can't be expressed often enough how important it is to protect these venues – but that doesn't just mean bars and clubs.
The gay club scene provides joy for countless LGBTQ people on a daily basis, as members from all areas of the community tear up the dancefloor until the early hours to some of the most iconic anthems. However, noisy bars and congested clubs aren't everyone's vibe, and quieter queer spaces have become increasingly popular, as they allow people a space to feel accepted while remaining in their comfort zone.
LGBTQ Nation spoke to queer people around the world about why quieter spaces, such as bookshops and cafes, are important.
Alex, 34, is bisexual, and he says a "sense of ease" comes from being in a space actively catering to LGBTQ people, admitting he feels able to let his guard down in these venues more than others.
One of his favorite quieter queer spaces is a bookshop, which is also a sober space.
"Bar culture is so heavily entwined with dating culture, so it can be very uncomfortable and alienating if you're not looking to date, but simply meet new people," he explains.
"It is just wonderful to have a space for people who actively don't drink alcohol to socialize without the need to be around it, or worse, pressured into consuming it, which so often happens in bars."
He says the "natural friendly vibe" that arises from having a bunch of LGBTQ people in such a venue means he's guaranteed to have at least one baseline thing in common with those around him, which isn't always the case in the wider world.
With LGBTQ venues experiencing closure at heartbreaking rates, Alex stresses the importance of protecting venues that serve the community, especially those with free entry where drinking alcohol isn't necessary.
"Such spaces have been vanishing for a while now, and it's a real shame that effectively, one has to pay an entry fee to find connections and socialize within that community."
Alex is unsure how we can protect our favorite quieter queer spaces. But, he does know we need to show our support for them in whatever ways we can. Whether it's sharing stuff online, volunteering to run events, or even just starting a dialogue with the people who run the space to see if they are open to help or ideas, "we must cherish these spaces while we can."
Mariana, 30, lives in Montreal, Canada, and is pansexual. She agrees that quieter queer spaces are "sacred" and believes we need more of them, and the venues themselves shouldn't be afraid to shout about what they have to offer.
"There's a big opportunity for libraries, art museums, and coffee shops to host accessible events that foster these connections within their local communities, providing a safe space for minorities to come together authentically.
"I think we would all be better off if we could have a place where we can drop all of our armor and fear of being judged, to simply be with one another," she added.
Mariana, who was born in Mexico, recalls finding her entire community via a library and community center offering art workshops. She grew up at a time when homophobia raged, so she understands why things like music, sculpture, and painting can bring people together.
"The art brought us together as we navigated the unspoken rules of the society we lived in, while blossoming and supporting each other within our identities," she says, explaining that these venues allowed groups to have intimate conversations about philosophy, politics, and their personal lives.
"To this day, I much prefer being able to gather in a sober quieter environment that allows me to properly hold space for my friends and loved ones, that allows for that gift of vulnerability to occur, without the pressure to consume any substances or feel deafened by the music, which is often too loud at bars, and ends up forcing the involved into superficial conversation."
Mariana isn't the only one who isn't a fan of loud music, as Rebecca, 21, is a lesbian who cherishes gay venues like Gay's the Word, a London bookshop.
She describes the space as somewhere that educates folk of all ages by being a "vital symbol of strength and education in our community."
"I have taken so many friends there who never knew it existed, and it always makes people cry," she recalls, adding that clubs previously made her feel threatened as a young queer woman, championing daytime queer venues as the future.
While Rebecca acknowledges that clubs are important so queer people can celebrate nightlife safely in a place where they are the norm and make the rules, they are also calling for more venues that are protective of lesbian and queer women.
"It's heartbreaking to see queer venues facing closure, and for them to be used only by cis/straight people who are 'curious.' Younger generations then have no chance at experiencing such safety, especially at a time when homophobia and transphobia rates are on the rise."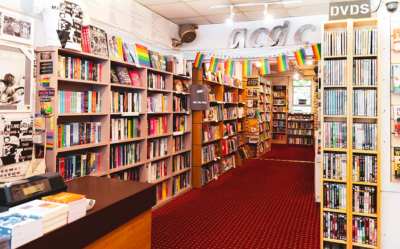 So, how can we protect these wholesome queer safe spaces? Well, Rebecca believes they need to be promoted, so LGBTQ people know they are there, while also ensuring their doors are open to everyone, regardless of labels, with staff showing utmost respect.
"I think people are scared of having negative experiences with certain queer spaces sometimes having a reputation for negative behavior towards queer people. But, their role is to provide that safe space. And I worry that others won't see themselves as welcome there."