A gay couple's dachshund named Whitney Chewston is not homophobic, her owners want you to know, despite how she earned her internet fame.
Whitney Chewston memes have been shared online for over a year, and they usually involve a picture of the dog with a homophobic statement on top of it, as if the canine just doesn't like LGBTQ people.
Related: Lil Nas X had the perfect response to a homophobic meme about him
The best-known picture of the dog used for the meme shows her in front of a glass of red wine. The picture came from a 2019 post on her Instagram account and was originally captioned: "Wednesdays are for a little wine. Like if you agree!"
 

View this post on Instagram

 
According to KnowYourMeme, in March 2021 iFunny users posted that image with the words "not too fond of gay people" on top of it. Within the next few months, the meme went viral on Reddit, Instagram, and other social media platforms.
"She's not homophobic in real life!" said Logan Hickman, one of Whitney's owners, said in a March 2022 video. "Her dads are gay. It's interesting, almost ironic, her voice on Instagram has always been kind of sassy and a little gay, so it's very ironic that she's branded as homophobic."
"But Ben [Campbell] and I were actually talking about it, it's more satire than it is anything," he continued. "Through satire and this meme, we're kind of exposing when people who just aren't up with the times and people who aren't very forward toward gay people."
Hickman said that they didn't learn about the meme until just a week before he did the video, and the memes had since multiplied. People used several photos of Whitney with various homophobic messages, and most seem like they're poking fun at homophobia and not just spreading homophobia. Many of them use statements that the people saying them often don't even know are anti-LGBTQ, like that they're "not homophobic" but they "just don't agree with the lifestyle."
Someone went so far as to make a fake Washington Post story with the title "This dog is the new face of online homophobia" and attributed it to journalist Taylor Lorenz, the reporter who got national attention for her story last month about the anti-LGBTQ activist Chaya Raichik and her "Libs of TikTok" account.
Other versions of the meme show Whitney learning to accept gay people.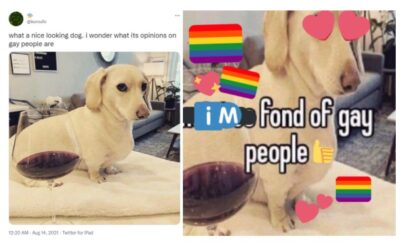 Even Lil Nas X has asked to see the meme.
"We are here for it," Hickman said, adding that since mostly LGBTQ people were creating the memes, he "knew that it was satire."
It "makes fun of people who are actually homophobic."