Originally published by The 19th
After general elections on Nov. 2, the U.S will still only have five out transgender, nonbinary and gender-nonconforming Black elected officials currently serving in the country.
Andrea Jenkins, a Democrat that became the first Black trans woman to be elected in the United States in 2017, won reelection to her seat on the Minneapolis City Council representing Ward 8. Phillipe Cunningham, another Democrat on the Minneapolis City Council, lost his bid to represent Ward 4 for a second term.
Get the Daily Brief

The news you care about, reported on by the people who care about you:
Stanley Martin, a Democrat who just won a city council seat in Rochester, New York, will join the country's shortlist as one of the country's few Black trans and nonbinary elected officials once they enter office in January. There is one race is left to watch: The primary election for Mariah Moore, a Black trans woman running for New Orleans' City Council, on November 13.
Trans people are gravely underrepresented in elected office, and those who make it into positions of power are usually white. Fixing the deep economic disparities experienced by LGBTQ+ people, especially for Black and Latinx trans women who also face some of the highest rates of violence, is necessary for trans people to gain more representation in public office, candidates and advocates tell The 19th.
Still, the barriers for running for office are myriad. Many trans people don't have the ability to think about running for office while experiencing homelessness or housing insecurity, or while facing the threat of being killed during an especially violent year, Jenkins told The 19th.
"A lot of trans people are trying to live on the streets. We've got to stabilize people's living situations, employment situations," she said. "It's hard to run for office if you can't pay rent."
The National Black Justice Coalition celebrated a record number of Black LGBTQ+ people elected into office on Tuesday, as six other candidates alongside Jenkins won their races. An out Black LGBTQ+ person was elected in Montana for the first time, and an out LGBTQ+ Latinx person was elected in Michigan for the first time, according to the Victory Fund, which works to elect LGBTQ+ officials.
More Black LGBTQ+ candidates have also steadily been running for office in the United States over the past four years, per data gathered by the Victory Fund. But trans people of color, Black trans people in particular, need more support in order to gain political office, advocates say — especially financial support.
"Black trans potential candidates are even less likely to know the rules of the game," said Victoria Kirby York, deputy executive director of the National Black Justice Coalition. First-time candidates may have a smaller network, less money, and less access to time-saving resources like voter databases to reach likely supporters, she said.
Trans candidates of color may need a stronger support network to deal with handling the normal stressors of running a campaign, on top of worrying about those abuses and rising attacks against Black and Latinx trans women, said Annise Parker, president and CEO of the Victory Fund.
"One of the biggest things that holds women back is they're physically afraid," Parker said. "That is magnified for trans women. That fear of abuse on social media, verbal abuse, physical abuse — that fear holds a lot of folks back."
Jenkins agreed, saying that some harassment that she's experienced would discourage others from running for office.
"I think you've got to have a really tough skin to put yourself out there in public life," she said.
Jenkins navigated tense encounters with protesters this year while working to accommodate their demands, including leaving the city's memorial George Floyd Square alone. She led initial calls for action following his murder in a neighboring ward and received a security detail in 2020 alongside two other council members.
Kirby York said that Jenkins sounding the alarm over racism that Black people face in Minneapolis and the United States is the perfect example of why electing Black trans people is important.
"She was able to bring the full complexity of who she is to the decision-making table around these conversations around violence, particularly police violence," Kirby York said. "That battle cry came from a Black trans woman who was elected as vice chair of that city council in that moment."
Jenkins said that she plans to focus on building out the city's resolution declaring racism a public health emergency, and to keep working on what she sees as a seven-year effort for Minneapolis to address specific racial disparities for Black residents.
The majority of trans elected officials in the United States are serving at local levels — in state legislatures, city and neighborhood councils, and school boards. The majority of those officials are also white. Of those officials, the Victory Fund devoted the largest amount of money to the campaign of Tyler Titus, a Democrat running for Pennsylvania's Erie County executive.
Titus, who would have been the first trans and nonbinary person in the country to hold that title, lost their campaign to Republican Brenton Davis on Tuesday.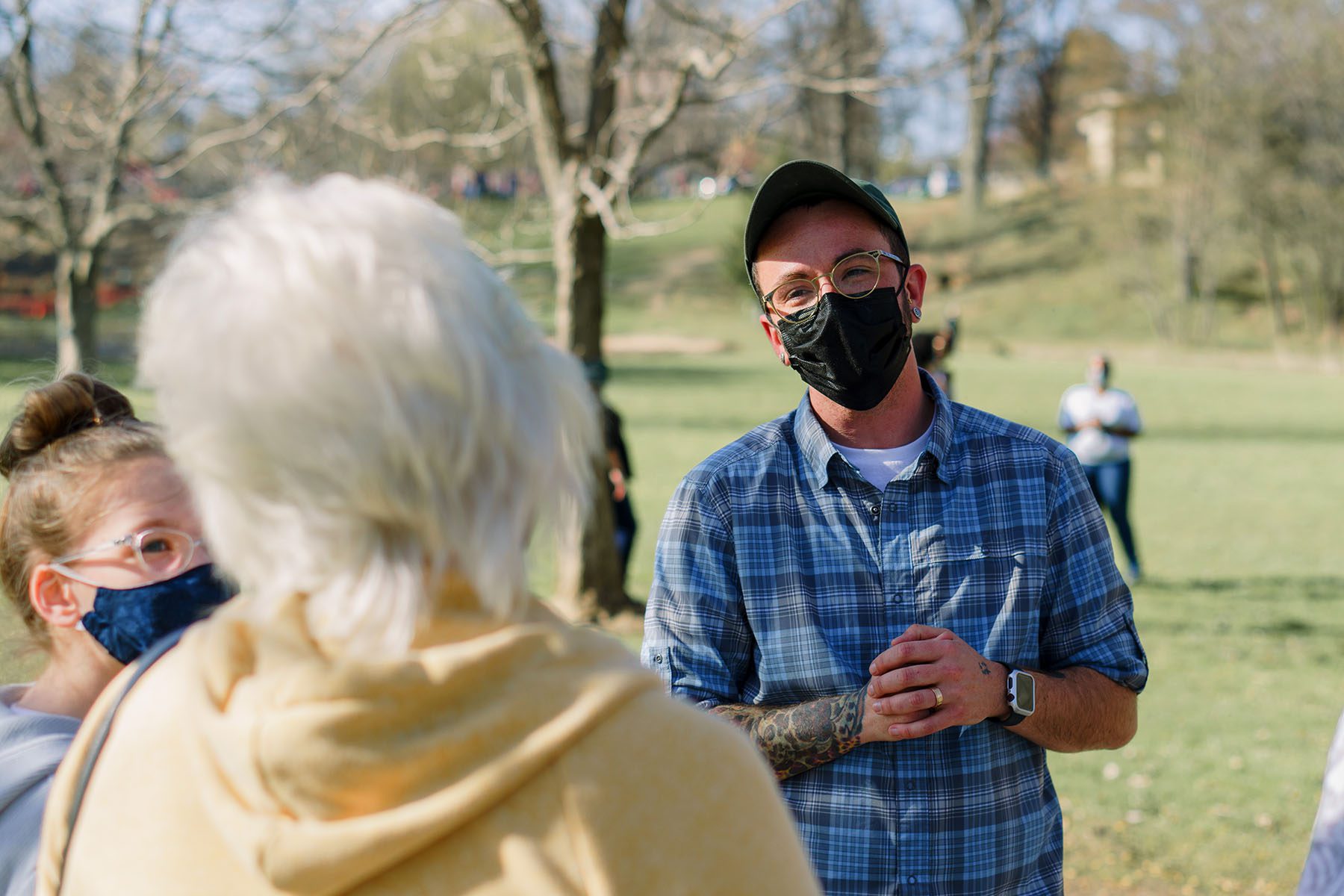 Titus said that they think about the privileges that allowed them to rise to their current political status, as a white person who's often perceived as cisgender on the campaign trail and when knocking on doors, "all the time."
"Even though I've been so out and loud about who I am, I still am perceived and received primarily as a cis white male. And that is what has allowed me to get here," they said. "I am responsible to break down other barriers."
The Fund put more than $283,000 behind Titus' campaign, Elliot Imse, the vice president of communications for the Victory Fund, said over email. That's more than $200,000 than the organization raised for any other candidate.
Titus, previously the first trans person elected in Pennsylvania history as Erie School Board president, led their campaign announcement this spring by sharing something deeply personal that affects many trans youth: They tried to end their life at 16 due to bullying.
They said that they led the campaign with their experiences as a trans person because diminishing themself to make other people comfortable would be failing those who can't afford to be so out.
"I'm very privileged in the sense that I have a solid support system … and when I didn't take advantage of those privileges, other people then had to take on those battles, to push against the policies, the legislation that was harming people," they said.
Parker told The 19th that the Victory Fund saw Titus' race as its most crucial one this year because they would have held one of the highest political positions in the country for trans people — plus Erie County is "a swing district in a swing state."
Two of the top four candidates that the Victory Fund raised the most money for this year were people of color, Imse said — Liliana Bakhtiari, a nonbinary Muslim candidate running for Atlanta's City Council, and Moore. Bakhtiari's race heads to a runoff election later this month.
The Fund raised $19,400 for Bakhtiari's race and $17,500 for Moore's race, Imse said.
At least three out Republican trans people currently hold office, per the Victory Fund, in Illinois, Massachusetts and California. A few more are independents, while most are Democrats.
Five of the eight trans people who were up for re-election on Tuesday regained their seats, including Del. Danica Roem in Virginia, and two trans men were newly elected as nonincumbent candidates — a significant milestone, since only a handful trans men hold office throughout the country.
Having trans people in those elected positions is even more important when so many battles over trans rights — like bills targeting trans youth — are taking place at the local level, said Vivian Topping, director of advocacy and civic engagement at the Equality Federation, a coalition of statewide LGBTQ+ organizations.
When elected officials work with another trans person, Topping said, it can also afford them a deeper understanding of what trans people are actually like — which in turn affects policy. One of those policies is reproductive rights, as Jenkins sees abortion access as a trans and gender-nonconforming issue — not just an issue that affects cis people.
Jenkins said that although the number of Black trans people in office is "very small," it's still encouraging — especially when considering that Black trans people make up a relatively small part of the population.
"I think that political power is growing in the trans community and will continue to," she said.