Tweets from out satirist Randy Rainbow making jokes about rape and others that are being criticized for racism, antisemitism, and transphobia have gotten attention this past week on social media.
Rainbow, 39, is known for his parodies of popular showtunes, where he changes the lyrics to make a political (and usually anti-Donald Trump) statement. He appeared on a 2018 episode of RuPaul's Drag Race and his YouTube channel was nominated for Emmys in 2019 and 2020 for Outstanding Short Form Variety Series.
Related: Gay Trump supporter goes into hiding after his racist tirade is caught on video
Get the Daily Brief

The news you care about, reported on by the people who care about you:
But a spreadsheet of tweets from 2010 to 2016 has been shared on Twitter that shows another side of Rainbow, depicting Black and Latino people as thieves and murderers, ridiculing transgender women, and using anti-Semitic language.
The dozens of tweets were online when this article was written but appear to have been deleted minutes before publication. Rainbow's account is still up.
Black people were a common target for Rainbow in the tweets, like when he made a joke about "black noise" in his building.
And made fun of stereotypically Black names.
Or retweeted the n-word.
And made a stereotypical joke about fried chicken.
He also wrote bizarre jokes in which Black people were portrayed as drug dealers.
And violent.
In one tweet, he made fun of the Civil Rights movement by equating it to eating ice cream.
He also made jokes about Hispanic people, including this dehumanizing joke about height.
He called Mexicans lazy.
And made jokes about them stealing.
Rainbow also attacked Asian people, like referring to actor B.D. Wong as a woman (based on the stereotype that Asian men are feminine).
He also made stereotypical jokes about their genitalia.
Some of the jokes were antisemitic, like when he used the word "jewed" to refer to saving money.
In this period, Rainbow wrote frequently about transgender people, usually trans women.
Others just used the t-word gratuitously and made little sense.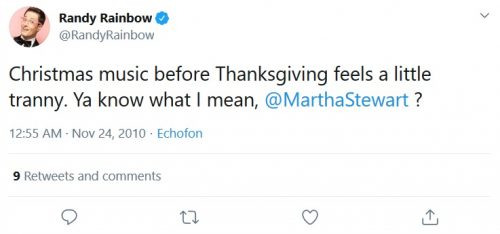 He described lesbians as humorless and masculine.
In addition to making fun of groups of people, he liked jokes that trivialized rape.
More examples can be seen on other sites.
Rainbow has not responded to LGBTQ Nation's request for comment at the time of publication. This article will be updated if he does.