The Department of Interior removed "sexual orientation" as a protected class from internal ethics guidelines, arguing that the category is not necessary for legal protections.
A 2017 ethics guide for DOI employees lists principles that employees are expected to follow. One of them is "You shall adhere to all laws and regulations that provide equal opportunities for all Americans regardless of race, color, religion, sex, age, or handicap."
Related: The Supreme Court is going to rule on LGBTQ job discrimination. This could end badly.
During the Obama administration, that list was "race, color, religion, gender, sexual orientation, age, or disability."
The words "sexual orientation" were crossed out in red in a draft of a letter obtained by the HuffPost that was sent by then-Deputy Interior Secretary David Bernhardt in August 2017.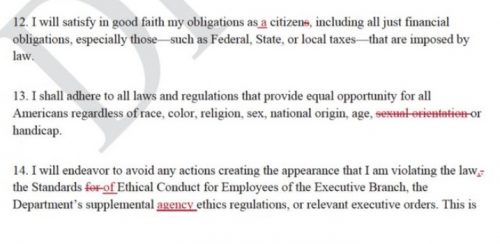 A spokesperson for the DOI said that the words "sexual orientation" are not necessary in the expression and are already covered by the word "sex."
"Per the Equal Employment Opportunity Commission, under Title VII the term 'sex' includes gender, gender identity, transgender status, sexual orientation, and pregnancy," the spokesperson said, calling the elimination of the words a "non-story."
In 2012, the EEOC ruled that Title VII's ban on discrimination "because of sex" includes LGBTQ people, since discrimination on the basis of sexual orientation or gender identity cannot be separated from discrimination because of sex.
For example, if a company fires a woman because she is transgender, it is discriminating against her because, unlike cis women, her sex assigned at birth does not match her gender identity. Another way to think about it is that the woman isn't meeting gender stereotypes associated with her sex assigned at birth, and discrimination on the basis of gender stereotypes has already been accepted by courts as a form of sex-discrimination.
The problem with the Trump administration's logic is that they have been forcefully arguing against that interpretation of Title VII. There are currently three cases before the Supreme Court on just that matter – does "because of sex" include LGBTQ people? – and the Trump administration has been arguing against that interpretation, saying that Congress never intended for "because of sex" to include discrimination against LGBTQ people.
The Trump administration has held to the notion that the word "sex" in discrimination law refers only to sex assigned at birth, which they say cannot be changed.
Even though the guidelines don't create or eliminate any legal rights, LGBTQ advocates say that they're still important to creating an inclusive workplace.
"Departmental mission statements and guidance documents do set a tone for employees and for overall operations," said HRC's Robin Maril in a statement. "Removing these protections sends a dangerous signal to workers and supervisors that non-discrimination protections are no longer a priority."
Moreover, Maril said that removing inclusive language from the guidelines could lead to discrimination in the use of federal funds.
"To the extent that the Department provides federally-funded programs and services these statements do hold individual workers accountable to deliver these services in a nondiscriminatory way," Maril continued. "Sex, sexual orientation, and gender identity are not explicitly covered in statute in the context of federal funding. If these protections are omitted in the context of program administration it could increase risk for discrimination for these groups."