Utah is one of several states where conservatives are preemptively trying to ban hormone blockers and other medication for people under the age of 18, effectively preventing transgender youth from seeking medical transition or receiving proper medical treatment. The leader of those efforts is State Representative Brad Daw (R).
Daw's sister, Christy Florence, says her brother needs to reconsider his position. In a special opinion to the Salt Lake Tribune, Florence "implores" Daw to "to leave the decisions of medical care to the parents and medical professionals."
Related: Miss Utah will be the first bi woman to compete in Miss USA
Daw is currently serving his third straight term as the representative of House District 60, covering the north part of the Orem-Provo, Utah metropolitan area. His biography describes him as "a husband, father, engineer" and farmer's son. His Facebook page also includes an entire album featuring pictures of "Brad & Family", with his wife and children.
His sister, her transgender husband, or their children – including one who is also trans – are not included.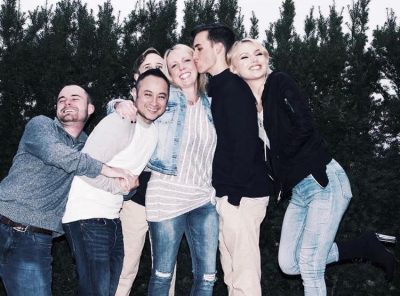 In addition to being the spouse and mother of trans people, Florence is one of the founder of Mama Dragons, an organization that offers "support for mothers with LGBTQ children." Citing her personal experience, in addition to having "sat with families of transgender youth and heard their stories", Florence opins that she has "a deep understanding of what is required to physically, medically and emotionally transition."
"This legislation is unnecessary and punitive. It will cause harm to an already vulnerable and struggling population," she writes.
Like bills proposed across the country, this measure would prevent transgender youth from legally receiving hormone therapy treatment, including hormone blockers, meaning they would be forced to wait until they're 18 to seek gender affirming treatment – after the effects of puberty are complete.
Daw previously said that the purpose of his bill – which has not been actually proposed in the state's legislature yet – is to prevent transgender minors from "changing their lives permanently." Daw was asked to sponsor the bill by the conservative interest group Eagle Forum, according to KUTV.
"It's a hard bill to run. I don't relish it, but I see the necessity of it," he said earlier this month. He maintains, however, that the proposal will be made "with love and compassion and understanding."
Florence's article implies that Daw lacks all of those things. "He is my brother," Florence writes. "He knows my daughter and he knows my husband; but he knows little to nothing of their journey. He knows little about the journey of any transgender individual and their family."
"We have offered to be a resource for him and to help educate him on this important and sensitive issue. He has yet to take us up on the offer," she continues.
She doesn't only publicly ask Daw to reconsider, but other lawmakers in Utah who may be in support of a bill like Daw describes as well. "Attempting to legislate into a space that the medical community is already handling very well doesn't make sense. Legislators are not doctors…" Florence says, ending her article by saying to them that "this is an opportunity to do the right thing and keep our precious children safe and happy, and to honor their beautiful diversity."
Utah doesn't track data surrounding hormone therapy or gender reassignment, so there's no data indicating that trans youth are endangered by having the option of these medical treatments. Florence, however, cites data that shows supporting transgender children, as opposed to taking medical options away from them, can actually save lives. Children with affirming families "have a 52% decrease in suicidal thoughts, a 48% decrease in suicide attempts," and Florence argues this bill would only hurt those families.
"These families know their children and what is the very best for them," she says.