A gay man who was targeted by a scammer on Grindr says that he can't even report the crime because of the government shutdown.
Dalton Tannehill, 23, said that he thought he found a sugar daddy on Grindr. Instead, all he met was a scammer.
The scammer, who went by "James," said that he wanted to help Tannehill with his financial troubles. James asked Tannehill for his Social Security number and bank login details, and Tannehill sent them.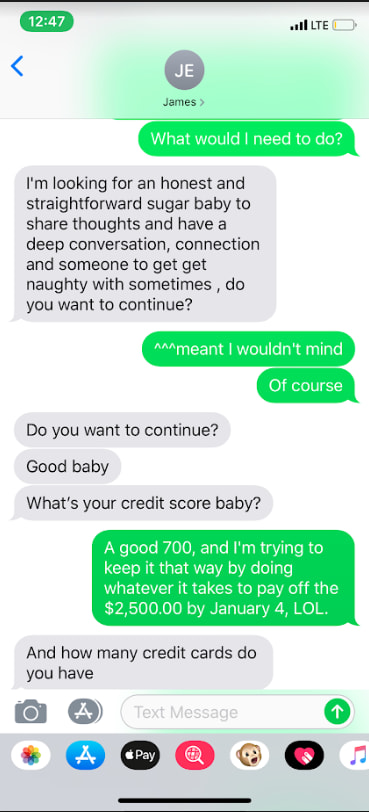 Tannehill said that he was worried that he was falling for a scam, but then he saw a $2,480 transfer into his account. That was the money James promised to send to cover Tannehill's credit card debt, so he thought James was a legitimate sugar daddy.
Related: This woman scammed Republicans by pretending to be a black Trump supporter
James asked Tannehill to apply for several credit cards, and he did.
"I felt he did me this favor — I might as well spend at least $1,000 to be paid back again," Tannehill told Buzzfeed. "No worries, I assumed, since the payment went through the first time."
James then told Tannehill to buy a $1000 gift card at Walmart with the new credit card and to send the code on the back, and James promised to pay him back.
After Tannehill did that, James became agitated and sent more requests for more gift card codes. He sent multiple text messages when Tannehill wouldn't respond fast enough.
Tannehill said that "reeked of sketchiness" and he blocked James's number.
Then he found out that the $2480 transfer from James was retracted a couple days after it was made, which is probably why James wanted him to move fast with sending gift cards.
Now he's finding that he can't report the scam because the Federal Trade Commission is closed.
Two websites for identity theft run by the Federal Trade Commission – IdentityTheft.gov and FTC.gov/complaint – are now showing messages that say that they're down.
"Due to the government shutdown, we are unable to offer this website service at this time. We will resume normal operations when the government is funded," one of the websites reads.
This doesn't mean that victims just have to wait to report the crimes, it also means that it could be harder for them to recover.
"In general, when there is a claim, say, a new card opens under victim's name, the retailer or bank doesn't initially believe that the victim is, in fact, the victim," said cybersecurity analyst Robert Siciliano, who works for Hotspot Shield.
"They're inclined to think that victim is trying to skirt responsibility. Having government-issued documentation gives the victim the basis to file a claim."
The IRS is also closed, and an IRS form can be used to deter fraudulent tax refunds in cases of identity theft. Identity thieves often steal their victims' tax refunds.
"This opens the door for a criminal to dive deeper into the victim's identity and cause more financial loss, which in the long run will result in more time expended in cleaning up the mess," Siciliano said.
Identity theft was the second biggest consumer complaint in 2017, according to the Federal Trade Commission.
And the Sugar Daddy Scam is on the rise. According to Sugar Dating 101, red flags to watch out for include a potential sugar daddy asking you to send bank information (they don't need your information to send money), asking you to open a credit card or another bank service, asking you to buy something that they promise to pay you back for, and offering you money without first meeting.