Josephine Baker was born into poverty in St. Louis in 1906. Her family was so poor that she was put to work at age eight.
She went on to become one of the highest paid entertainers in the world, share a relationship with Frida Kahlo, and become a Chevalier in the Légion d'honneur.
Now streets are named after her in France, as well as one of the municipal swimming pools in Paris.
Baker became famous as a dancer. But her role as a spy is less known.
Leaving America, becoming French
Born in 1906, Baker started working as a live-in domestic for wealthy white people when she was eight-years-old. She dropped out of school in the fifth grade. At age thirteen she got married for the first time, working as a waitress and dancing on street corners for money.
At fifteen she was married for a second time, and shortly after she left for New York. She spent several years performing in Harlem clubs and in chorus lines on Broadway. It was during the Harlem Renaissance that, according to her biographer and son, she had one of her first relationships with a woman, blues singer Clara Smith, before heading to tour Europe at age 19.
At 19, she sailed for Europe to tour with a troupe, which she left when offered a spot in La Revue égre ("The Black Variety Show"). Baker was in Paris when France was in the midst of its négrophilie craze – literally "love of blackness" – a time when white audiences, who associated blackness with pre-modernity, were flocking to museums to see objects stolen from France's African colonies and listening to African American jazz music.
The act that made her an overnight success would, hopefully, never see the light of day in 2018. In what was called her dance sauvage ("savage dance"), she performed in a skirt made from rubber bananas, descending from a tree on stage and dancing, among other things, the Charleston.
She performed for the next decade in Europe, earning the acclaim of world-renowned intellectuals and artists like Pablo Picasso and Ernest Hemingway. She recorded songs and starred in films. By 1927, she was one of the most photographed women in the world and earned more than any entertainer in Europe.
Josephine Baker was huge.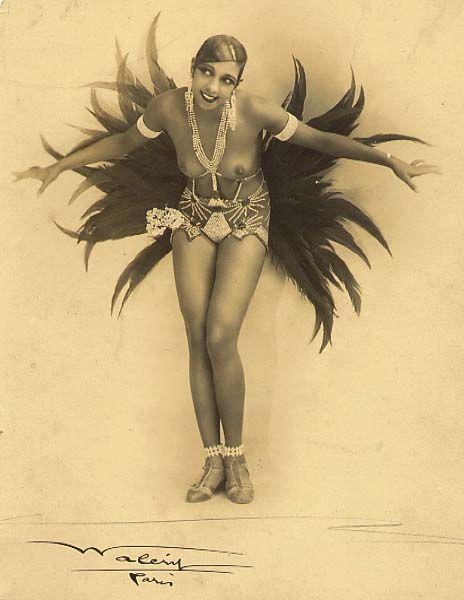 In 1936, she returned to the U.S. and appeared in a Broadway show. She got bad reviews, with the New York Times calling her a "Negro wench," and was soon replaced by another dancer. She went back to France, married an industrialist, and became a French citizen.
Because no matter how openly racist Europe was, she found it more free than American apartheid.
"One day I realized I was living in a country where I was afraid to be black," she later said. "It was only a country for white people. Not black. So I left. I had been suffocating in the United States… A lot of us left, not because we wanted to leave, but because we couldn't stand it anymore… I felt liberated in Paris."
World War II
In 1939, France declared war on Germany after the latter country invaded Poland.
Baker supported the war in several ways. She performed shows in north-eastern France to keep the troops' morale up. She funded a refugee center. She refused to perform in Paris when the Nazis occupied it.
And she was a spy.
Shortly after the war started, she was introduced to Jacques Abtey, an army intelligence officer. He was trying to recruit "honorable correspondants" who could get information that others couldn't.
According to Abtey, she said:
France made me what I am, and I will be eternally grateful. France is nice, it feels good to live here for people of color because there isn't any racist prejudice. Have I not become the beloved child of Parisians? They have given me everything, especially their heart. I gave them mine. I'm ready, captain, to give them my life today. You can put me to work as you wish.
One of her first assignments was to get information at receptions held at the Italian and Portuguese embassies to find information about where Mussolini's troops were headed, about Japanese politics, and about German agents in Paris.
In 1940, Germany invaded France and the army reorganized as the Resistance. Baker then provided cover for Abtey because, since she was so famous, she could travel more freely.
Abtey took on the identity of Jacques Hebert, whose visa said he was an "artist who accompanied Madame Joséphine Baker." In the occupied zone, he could collect information about German troop positions and send it back to Free France on sheet music, encrypted and written with invisible ink.
In 1941, she left France, ostensibly to pass by Spain and then tour in Latin America, but she instead headed to North Africa to help the Resistance. This time, she traveled without Abtey because he couldn't get a visa.
Baker continued to attend receptions held by foreign dignitaries. After she got home at night, she would write down what she heard and pin it to the inside of her bra.
"These papers would without doubt be compromising if they were found," she told a biographer after the war. "But who would dare strip-search Josephine Baker?"
Later that year, she got a nasty infection and was hospitalized in Morocco for a year and a half. She continued to collect information in her hospital room and tried to convince visiting American dignitaries to support the French Resistance.
Even though she wasn't fully recuperated, in 1943 she produced shows and gave the proceeds to the Resistance. She even auctioned off a gold Croix de Lorraine offered to her by General Charles de Gaulle in Algiers and gave the money to the Resistance.
In 1944, she was officially inducted into the French Air Force. She was already a pilot, but now she had the rank of second lieutenant.
After the war ended, she was honored with the Medal of the Resistance and, in 1957, she was honored with the Croix de guerre and inducted into the Légion d'Honneur.
She adopted eleven children and continued for the rest of her life to speak out against racism. When she performed in the U.S., she faced institutionalized racism, had trouble booking a hotel, and turned down gigs because she refused to perform for segregated audiences.
In 1975, she became the first American woman to receive French military honors at her funeral.