It was the beautifully romantic moment they had been hoping for, when Janine Fleming proposed to her partner, Jen McInerney, in front of the Eiffel Tower in Paris, while on a vintage motorbike.
"That was a bit of a nod to my beautiful dad, he used to ride around Paris on a vintage motorbike," Fleming said.
Their joy at Australia's historic vote in favor of same-sex marriage was also captured and published on the front page of their hometown's newspaper, in Ballarat, The Courier.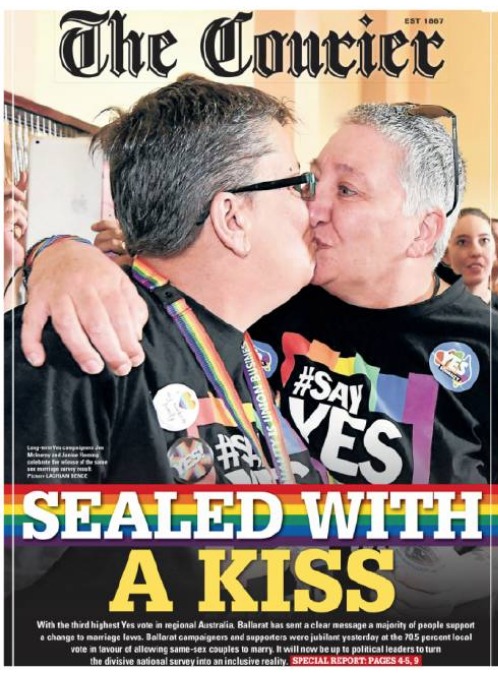 When the photograph of the couple kissing in celebration was posted to Facebook, it received some homophobic comments, but none more personally hurtful than one from the jeweler who made the couple's engagement rings.
"Disgusting!" wrote Dan Murnane, of Meticulous Jewellery. "Why show it! (sic)."
"I told him that Jen and I were travelling overseas and I was planning to propose in Paris,"  Fleming told Gay Star News. "He knew that we were a same-sex couple and gave me no indication at the time that it wasn't ok."
"I've got nothing against them and I didn't vote against them, I just didn't need to see on the front of the paper, I just looked and it and I thought 'yuck,'" Murnane said when contacted by The Courier.
"It's like a packet of smokes with a rotting foot on it, I don't smoke and I don't want to look at it. I have nothing against them personally and nothing against the gays, the whole kissing thing was a bit yuck," he added.
Because nothing says "I have nothing against them personally" like objecting to a mild form of affection in celebration of potentially life changing news, and comparing their love to a rotting foot.
"When I realized what he wrote, my stomach dropped," Fleming said of his comment.
She said she cried, and that she and her fiance considered returning the rings. But she didn't want to let him rob of her that moment where she slid the ring on her partner's finger and she said yes.
"What that meant to us in that moment, when I put that ring on her finger I thought, No, I'm not going to let someone take that feeling away from us," she said.
The postal survey on marriage equality was nonbinding, but Prime Minister Malcolm Turnbull has said that Parliament will not break for the holidays until legislation is passed legalizing same-sex marriage in the country.
The couple plans to wed sometime in early 2018. Already people have come forward to offer their services to help them have a magical wedding day.