Whether you're looking for some good books about bisexuality to read during the next Bisexual Awareness Week, you're craving some bisexual romance books, or just want some books with bisexual characters, our list of the best bisexual books has got you covered.
Our list includes helpful reference books for bisexual readers, bisexual YA books for younger readers, as well as literary classics that are considered some of the best bisexual books of all time. These bisexual books not only feature inspiring bisexual characters and compelling bits of bisexual romance, they also provide smart, funny, and heartwarming insights into bi life that'll make readers feel more knowledgable and less alone, whether during Bisexual Awareness Week or any other time of year.
Jump to your favorite titles:
Non-fiction reference
Essay collections
Autobiographies and memoirs
Literary Fiction
Bisexual YA Books
Non-fiction reference
This book is not only the first winner of the first Bisexual Lambda Literary Award in 2006, it also shares a lot of useful information and is friggin' hilarious, especially for fans of snark. It is divided into sections — beginner, intermediate, and advanced — so it really has something for everyone. It includes the authors' own personal experiences along the way, so it never becomes dry or academic. There are also all sorts of useful content, like a guide to Bi film, that you won't find elsewhere. And because it is written for bisexuals by bisexuals, bisexuality is not just a token mention, it is the real focus. And it is very very funny, sarcastic, snarky, and generally just fun to read.
This book is a bit dry and academic, collecting the results of various scientific studies about bisexuals, bisexuality, non-monogamy, and cultural perceptions of these ideals. But it's important to understand how science works for and against bi people. Since bi people are usually excluded from many scientific studies — apparently too much of a variable for research in genetics, parenting, and pretty much anything else — Fox explains what science does know about bisexuality. It's a great resource for people who have homophobic or biphobic relatives, friends, or coworkers who keeps insisting science is on their side.
Related: Bi culture beyond the cliches & stereotypes 
This book specifically looks at the bisexual community, by going to bi picnics, conferences, support groups, and performances. It also looks at bi history. The book is especially great for those who feel like they're the only bisexual they know of. For those who always felt there must be a bi community out there somewhere, this book can show where it has existed, why it's not always easy to find on one's own, and how to find it, making the world a much less lonely place.
This book brings the theory. It can get boring to listen to the same stories of invisibility, stereotypes, and coming out over and over again. So this book gives a series of explanations for why we face these things and how to overcome them. It is more academic than some of the other books on this list, but it is also vital because it includes multicultural issues that often are overlooked when we focus solely on biphobia.
More distinctly political than most of the books on this list, Bi: Notes for a Bisexual Revolution feels like a manifesto for bisexual people who have been often marginalized, exploited, and discriminated against. It may be a bit muddy in places, but it's still a solid read for the political-minded among us.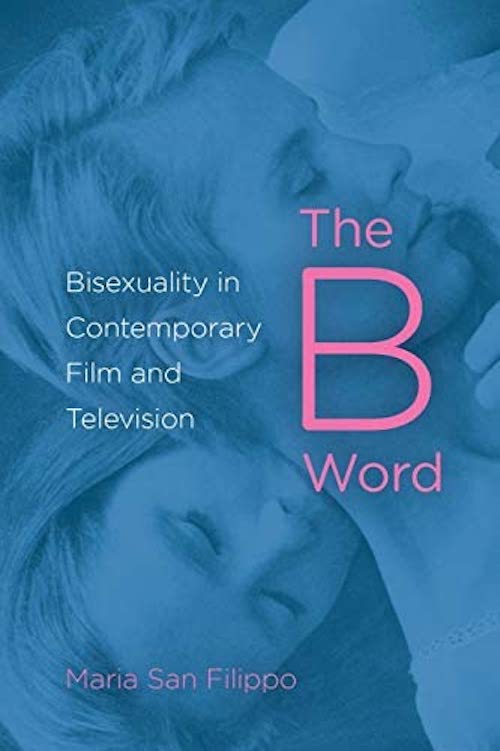 This is truly the "missing manual" of queer studies and media critique, digging into the way bisexuality is treated — and often mistreated — in film and television. The topic may sound dry, but San Filippo beings a sharpness to her writing that keeps this dive into everything from art cinema to vampire movies engaging.
Debuting initially as an advice column on the Bisexual Resource Center's website, this book collects a pick of the best of Upland's columns in one place. Both humorous and thoughtful, this is a great book for those seeking to better understand their own bisexuality or that of others. What's more, behind Tiggy Upland's quirks and wit, you'll find a large dose of kindness.
Essay collections
In this groundbreaking anthology first published in 1991, more than seventy women and men from all walks of life describe their lives as bisexuals in prose, poetry, art, and essays. It's one of the most famous books about bisexuality and still one of the most important; despite some dated content, it's a seminal collection that still deserves to be read!
Related: 3 excellent under-the-radar shows to stream on Bisexual Visibility Day
This book shattered the idea that there was a "typical" bisexual by challenging the stereotypes that still plague us today (namely that some people think we're very very slutty). The book is a collection of personal stories, and you can hear from bisexuals in their own words about bi invisibility in the LGBTQ+ community and among straight people. It includes a history of bi activism in the USA (until 1991), and while it's getting a bit dated, it was one of the first books that made bi people feel at home and among their own people.
This book is very eclectic. Its essays include personal stories, poems, academic research, theory, film criticism, and history. But it confronts head-on the controversy around the term bisexuality – is it inclusive or does it exclude trans people? Does it revolutionize gender or just reinforce binary? How does the term bisexuality interact with queer? And where do trans people and other gender benders fit in the bisexual world? Great questions in a great anthology.
No bookshelf on bi issues should be without this on it. Robin Ochs is not only the tireless face of bi-activism, but when she does something, she does it well. This book is no exception. Getting Bi collects 220 separate essays on the subject that cover the gamut of bi experience, including a substantial number of non-western writers and experiences. The essays, written by bisexuals from around the world, give an international context to discussions about bisexuality that are so often limited by a Western (and American) worldview.
Reading them provides not only self-understanding as a lone bi person, but also as a part of something bigger and worldwide. The book also confronts assumptions and biases that white Americans may have when speaking about conditions, situations, and cultures of bisexuality in the countries where the authors lived. While it was updated in 2009, it's surely due for yet another edition in the future, particularly to look into the rise of pansexuality and the many changes that have impacted the LGBTQ+ community in the last decade.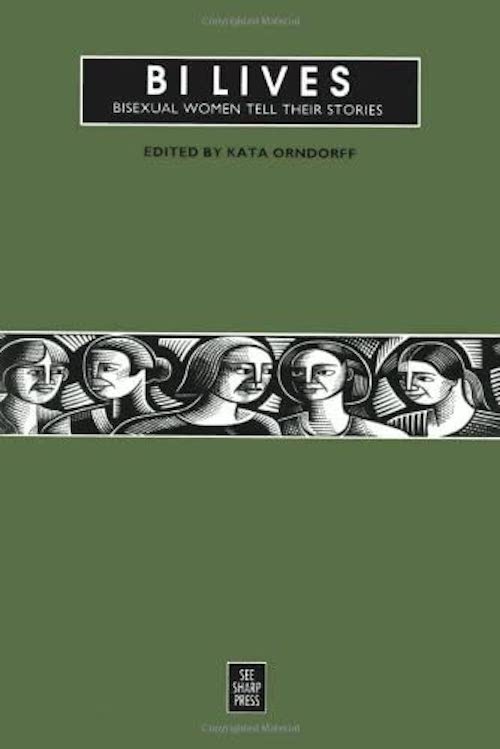 Bisexual women have issues of their own, namely an American culture that values female bisexuality if it exists for the pleasure of men, but denies female bisexuals their own sexual agency. The author interviewed numerous bisexuals of different stripes, including women of color and bisexuals living with disabilities. The transcripts of these interviews make up this wonderful collection that hits all sorts of issues around bisexuality in the lives of everyday women. Some interviewees are out, some are not. Some have been victims of abuse. Most have faced discrimination from the gay and lesbian portions of the community and sexism from their straight friends and family. Even though it can tread on the depressing, the diversity of the bi community (good and bad) is important to understand.
Bi men face their own issues, namely exclusion and derision by gay men and the utter invisibility of bisexuality in men outside of the pervasive "sleazy married guy" trope. The men in this anthology come to bisexuality from various life paths: Some previously identified as straight, some as gay. Some came out as bisexuals at an early age, and others are still closeted, even to their closest friends. They talk about bisexuality in the era of AIDS and the intersection with bear culture (the authors previously did a bear anthology). Even bi women could benefit from this reader in better understanding the bi community's male half.
Autobiographies and memoirs
The bi community spends so much time trying to combat the stereotype that all bisexuals are slutty, that some bi folks inadvertently condemn sex, sexuality, and any bisexual who is not monogamous. This autobiography of a bisexual polyamorous woman challenges the idea that there's something wrong with wanting male and female partners simultaneously and that a person who wants such things cannot be successful and happy. This controversial book asks the reader to challenge their own feelings about monogamy and hopes that there can be a space for bisexuals of all stripes, not just the monogamous bi poster children.
New York Times columnist Charles M. Blow's memoir takes readers on a beautiful and often challenging story of coming of age as a black bisexual man in the deep south. This is a powerful, potent story that feels all the more important in the Trump years.
This is not a book one should share with their grandmother to explain bisexuality. This selection of essays by Allison Moon is full of bawdy, sometimes graphic tales of her coming of age as queer in the 1990s. The sexual content, however, will ring true to any reader. The stories twist and turn, in rhythm with Moon's own better understanding of herself and her interests.
A beautiful autobiographical picture of growing up in Chicago as a Hispanic woman. Castillo, a feminist bisexual woman, tells a heartfelt and personal story of both her and her son's coming of age in America through a Hispanic lens. While the chapters touching on her bisexuality and polyamory may be of the most relevance on this list, it may be Castillo's openness about her son's arrest and incarceration that will stick with readers the longest.
Related: What's it like to be visibly bisexual? It's others constantly telling you who you are
Openly bisexual actor Alan Cumming is known for his witty, uncompromising performances on stage and screen. These qualities come through in his compelling memoir, which examines the mystery behind his grandfather's 1964 abandonment of his family as well as the underpinnings of the anger and violence Cumming experienced from his father. With fearless honesty and wit, Cumming shares his personal journey through these mysteries and how both figure into his depression, the end of his first marriage, and his current-day disposition.
Cho's work has distinguished her one of the most visible bisexual and Asian American comedians of her time. But her memoir takes a more serious tone as it recounts the addictions and unhealthy relationships she developed after being bullied as a child and spending her adolescence in the company of fellow outcasts. Her books also recounts the hardships she has faced in the entertainment industry as well as her matter-of-fact observations about romantic and social life as a queer outsider.
Literary Fiction
The biggest "bi" in this graphic memoir is "bipolar," as author Ellen Forney explores her creative life since her diagnosis with bipolar disorder. Fear not that this book is on the wrong list, however: Marbles also digs deep into the other "bi' in Forney's life, talking frankly about her bisexual identity.
Quite possibly Woolf's most over-the-top book, it follows a poet who stops aging and starts changing sex from man to woman over the course of 300 years. The bisexual author's examination of dual genders has made it a hit among feminist and transgender readers, but Woolf's curious descriptions of natural and physical beauty throughout the book make it imminently re-readable, even in the modern era.
While Steven Spielberg's 1985 film largely erased the novel's bisexuality, the early chapters of bi poet Alice Walker's epistolary novel unambiguously depicts the protagonist, a young poor Black woman named Celie, having a night of sapphic love with a confident Black jazz singer named Shug Avery. The book's focus widens to show several women who achieve self-determination despite misogynist oppression, cementing its place as an American classic, even as it remains one of the most banned books in the nation.
When 17-year-old bisexual Elio Perlman becomes smitten with his father's 24-year-old art history research assistant Oliver, their pairing awakens romantic and sexual feelings, unlike anything Elio has ever experienced. Aciman's 2007 novel differs its 2017 film adaptation in that the novel follows Elio into adulthood as he meets up again with Olivier. Though Olivier has married a woman and is raising a family, the romantic connection between the two men endures, continuing the novel's slow-burn sense of erotic longing for those who seem out of reach.
Related: The writer behind the new bisexual Superman has turned death threats into donations for LGBTQ youth

Bisexual YA books
Young Henry Montague's stuffy father expects him to grow up and take over the family's estate, but Henry would rather spend his time gambling, drinking, and carousing with men and women. So, before he's forced to oversee his family's land, Henry decides to enjoy one last year of hedonism, traveling across Europe with his younger sister Felicity and his best friend Percy. However, Henry starts developing feelings for Percy, just as a turn of events makes Henry question his lifelong comfort and privilege.
A direct sequel to her 2015 debut novel Simon vs. the Homo Sapiens Agenda, Albertalli's 2018 novel follows Leah, a fat, sarcastic drummer who has to deal with body image, social anxiety, and self-esteem during the end of her high school days and while coming to terms with a secret that she's kept even from her closest gay male best friend: She's bisexual and has unexpected feelings for a close friend. The book normalizes queerness in a myriad of refreshingly matter-of-fact ways.
Lara has had a years-long crush on the sweet but dumb football hunk Chase, but she also fondly remembers the romantic feelings she felt last summer with a girl named Jasmine. Naturally, when Chase expresses interest in Lara, Jasmine unexpectedly appears in their high school, leaving Lara in a love triangle that forces her to re-examine her thoughts on friendship, love, and sexuality.
Talented soccer team captain Sebastian Hughes is grateful that his coach doesn't force him to hide his bisexual identity. But his openness threatens to overwhelm him when his former best friend — a gay Muslim, Pakistani-American named Emir —becomes part of the team. Though the book centers almost entirely on its male characters, the team camaraderie and Sebastian's self-doubts ring true.
Related: It's BiWeek. Here are some words you should know.
Skye Shin — an unapologetic, fat bisexual teen — joins an internationally televised competition to become a K-pop star, even though it flies in the face of her mother's strict Korean cultural expectations of how young girls are supposed to act. While the book's depiction of the K-pop industry provides plenty of compelling drama, Shin must also navigate her feelings for her fellow competitor Henry Cho. She emerges as a plucky hero who defies expectations, even as she's asked to compromise herself while pursuing stardom.
While we've done our best to include books about bisexuality, books with bisexual characters, bisexual YA books, and bisexual romance books in our list of the best bisexual books, we're always on the lookout for more of the best books for bisexual readers. If we've missed any, please let us know. Bisexual books make a great way to celebrate Bisexual Awareness Week and bisexuals all year long.
This article was first published on Bilerico.