"They're back" is NBC's tagline for its new promotion to herald the upcoming 9th season of Will & Grace this fall.
Except for a short, presidential-campaign-focused mini-episode last September, fans of the fabulous foursome have not seen them except in reruns for 11 years. That all changes at a date to be announced this September.
Even better: NBC has upped its order for the season from 10 to 12 episodes.
Debra Messing spoke emotionally about the show Saturday at the GLAAD Media Awards in New York, where she was honored with the Excellence in Media Award.
"I'm very emotional," Debra Messing told the crowd. "When Vice President Biden said to Meet the Press that Will & Grace had done more to educate the country about LGBT issues than anything else — besides the birth of my son, that was the proudest moment of my life. And I think tonight's the third."
RELATED: Watch Debra Messing and other stars celebrate LGBTQ media at New York City awards gala
Messing gave a hint of the direction the show will take when it returns in a recent interview.
"It's a whole new world now where being gay and lesbian is not something that people are hiding like they did when we started almost 20 years ago," Messing told HuffPost. "I think that there's an opportunity to now celebrate all the other initials of LGBTQ. It will be great to come out of this next round and feel like we're normalizing an even larger segment of underrepresented people on prime-time television."
x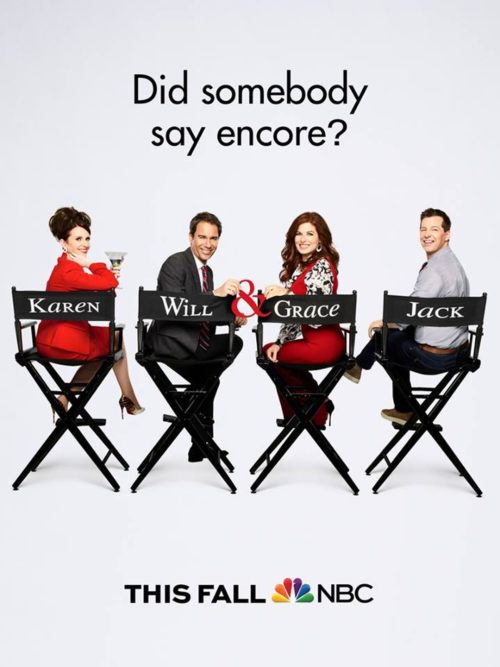 In addition to new promo posters, which costar Megan Mullally tweeted to her fans and followers, NBC released a promo clip with short bits of new scenes, as NewNowNext reported.
And fans of Karen's maid Rosario — played by Shelley Morrison — will be pleasantly surprised as well!
https://www.youtube.com/watch?v=wDe934lJlqY