Keith Haring created some of the most iconic artwork of the 20th century and played a key role in the LGBTQ rights fight.
Haring's sister, Kay A. Haring, is out with a new children's book that shares the story of his brilliant life and career, called Keith Haring: The Boy Who Just Kept Drawing.
The book is illustrated by Robert Neubecker.
Kay Haring told The Huffington Post that she has always wanted to do a project like this to honor her brother, who died as a result of complications from AIDS in 1990 at the age of 31, and recently found the inspiration to finish the decade-long project after joining a writer's group.
She said the hardest part was figuring out what to include, with so much life to draw from, even if he did pass away at a young age.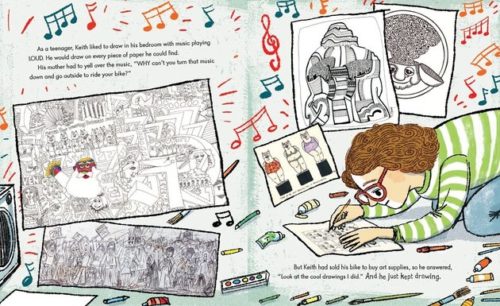 "The actual content of the story was easy to write about. I wanted to give children an example of his generosity and his easy going, fun-loving personality," she said. "There were dozens of scenarios I could choose from where he gave away his artwork or his time to benefit others. Over the years there were a few situations that stood out to me as hallmarks of Keith's dedication and his care for other people. The difficult part of a story like this is to edit it down to a reasonable length."
Haring gained notoriety initially through his street art, such as his famous mural "Crack is Wack." He eventually made the move into galleries and has become one of the most collected artists of his generation. His work responding to the HIV/AIDS epidemic helped bring attention to the issue.
She hopes the book will inspire those who read it to go after their goals with the determination she saw in her brother.
"Dream big, work hard, give back!" she said.
She pointed out that his "drive to share art with people, to paint and draw where all people could experience it, is demonstrated by the murals he did on the streets in New York and in the subway and the six-story building he painted at the Necker Children's Hospital in Paris, France."
She added that "he did these, as he often did, for no compensation and in the early years, he painted without permission and often was fined or criticized. But that didn't stop him."
She is donating 25 percent of the proceeds of the book's sales to Youth Advisory Committee, an organization in their family hometown, Reading, Pennsylvania.