We recently heard an inspirational saying: Life isn't about waiting for the storm to pass. It's about learning to dance in the rain!
As inspirational sayings go, this isn't the worst. Life often sucks, and if you wait for everything to be perfect to be happy, you'll literally never be happy.
Related: I'm vaccinated. Can I go to Pride now?
But five weeks ago, Brent got his first COVID vaccine shot. And two weeks after that, he came down with "COVID arm," which is one of the side effects that occur in about one percent of those vaccinated.
The rash hasn't been too bad, but his arm has regular flare-ups of incredible itchiness. The only thing that helps – and the only thing that's made it possible for him to sleep – is the antihistamine Benadryl.
But one thing we didn't know before he started taking Benadryl is that it's a really powerful drug. And when you stop taking it, you go through really powerful withdrawal symptoms, which include an inability to sleep.
Basically, Brent has become the Little Old Lady Who Swallowed the Spider.
Only now, a couple of days before our second round of shots has the itchiness finally subsided. We're praying it doesn't come back, but there's about a one in two chance that it will (though it's likely to be less severe).
And we've come to the conclusion that while it sounds nice to go out and dance in the middle of a rainstorm, it's hard as hell to dance with COVID arm.
It's really hard to cut loose and be free and happy when you want to scratch your skin off. Although a cool rain, in general, does sound kind of soothing.
At times, Brent's pain and frustration have been all-consuming, and it's given us both insight into how hard it must be to live with truly chronic pain or any frustrating disability.
Meanwhile, regular readers know that we're a gay couple who are also digital nomads, indefinitely traveling the world (and working remotely) since 2017.
Then came COVID, which completely upended our lives, along with everyone else in the world.
The difference was, we no longer had a home to hunker down in. So we rented a villa in Puerta Vallarta, Mexico, and spent much of the past twelve months staring out at the admittedly impressive view of Banderas Bay.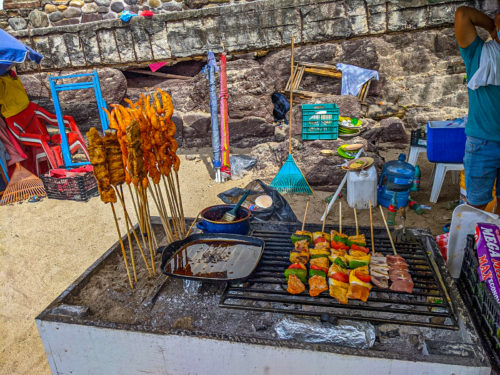 But now that we'll soon be fully vaccinated, we're about to start traveling again, picking up where we left off. Next stop Istanbul, Turkey.
Michael has been making the preparations: applying for a Turkish visa; scheduling COVID PCR tests that must be done 72 hours before our arrival in Europe (complicated by the fact that it's a 20-hour flight and a ten-hour time difference); filling out and printing out Dutch health forms (because we're passing through Amsterdam) as well as Turkish ones; and, finally, downloading and completing the Turkish government's COVID tracking app.
Traveling overseas in mid-2021 is a complicated process, but we're totally okay with it. For the time being, travel should be hard. Precautions should be taken. This pandemic is far from over.
Even so, we're eager to head back out into the world, especially now that studies have shown that vaccinated folks are at very low risk of transmitting the virus.
For one thing, much of the world needs travelers. Living in Puerto Vallarta, which is hugely dependent on tourism, we saw how badly COVID strangled the economy. In a country without a strong social safety net, if there's no work, many people don't eat.
Talk about trying to dance in the rain! As frustrating or annoying as things have been for the two of us lately, things have been much, much worse for many people in most of the rest of the world. That's why we made a point to donate much of our stimulus checks to a Mexican foodbank.
Things are bad in Turkey too. They've done a reasonably good job of fighting COVID, and now they're desperate for visitors to come back and jumpstart the local economy.
Obviously, we're not traveling again out of any kind of self-sacrifice. Yes, we're making a point of going to places that want us to come, following their guidelines, but we've always tried to travel responsibly. We try to shop locally, and also minimize our carbon footprint, staying up a year in different parts of the world.
But ultimately, we're traveling now because we want to and because it's our job. We've always wanted to go to Istanbul, we're fully aware of the political situation (and will address that later). So we've decided now's the perfect opportunity to go.
We're trying to, well, dance in the rain.
COVID was, and is, terrible. But those who can are moving on – while hopefully helping out the rest of the world to move on as fast as possible too.
At the same time, after Brent's bout with COVID arm, we even more understanding for those who have been affected by this terrible disease.
Sure, dance in the rain if you can. But have some sympathy for those who are still sitting off to one side, for whatever reason, waiting a little longer for the rain to stop.