Donald Trump may have won reelection if not for LGBTQ voters, a new LGBTQ Nation analysis shows.
If LGBTQ people had all decided to stay home instead of voting in this year's election, Trump would have won 289 electoral votes and Joe Biden would have lost with 249 electoral votes.
Related: Here are 85 ways Joe Biden can help LGBTQ people without going through Congress
While the LGBTQ population is much smaller than the cisgender/heterosexual population, LGBTQ people split for Biden at a much greater rate than the general population did. According to a new poll of LGBTQ voters, 81% voted for Biden while 14% voted for Trump.
Applying the poll's results to the states that Joe Biden is projected to win and using vote totals from the AP, LGBTQ Nation found that four of the states Biden won – Arizona, Georgia, Pennsylvania, and Wisconsin – would have gone for Trump in the absence of LGBTQ voters.
Those states represent a total of 57 electoral votes, giving Trump more than the 270 electoral votes required to win the election.
The table below shows how much each of the four states' vote total would swing if LGBTQ people had not turned out to vote at all.
The resulting heterosexual/cisgender map would look like this: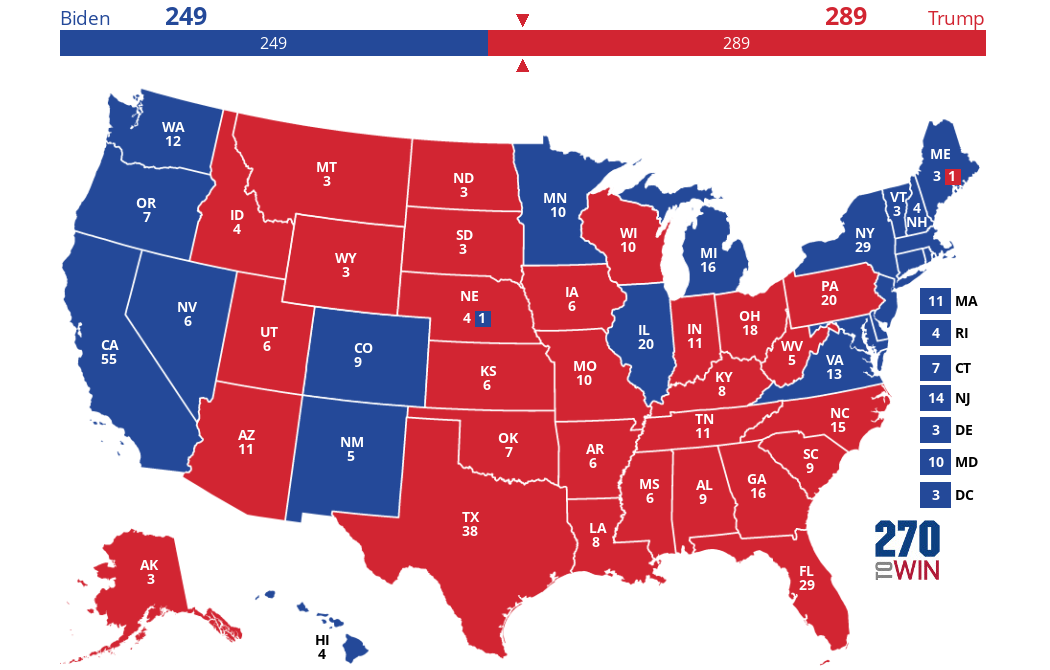 The analysis assumes that 5% of the voting population identified as LGBTQ, the same number that CNN's exit polls in 2016 found. This number is lower than the 7% found by the New York Times's early exit polls in 2020, but CNN's exit polls' results are more in-line with other surveys on LGBTQ voters.
Moreover, if the New York Times's 7% number is more accurate, it would only skew the four states above further toward Trump in the absence of LGBTQ voters and almost swing Nevada in his favor as well.
Also, the analysis assumes that LGBTQ people in each state voted largely the same way, mainly because good state-level polling on LGBTQ voters during the 2020 election does not exist yet and may never exist. But that would only affect the final result if any of the four states above had a much larger population of LGBTQ Republicans than the national average.
Last, the final vote totals may change in the above four states as votes continue to be tallied and contested.
Despite how small the LGBTQ population is, this election was close enough that LGBTQ votes may have made an enormous difference, making Trump a one-term president and helping to elect Biden.
The LGBTQ population's disproportionate support for Democrats may have even pushed close, down-ticket races blue as well. The Democratic Party would be wise to remember this.