People are giving a Cartier ad a side-eye for describing two young men who look lovingly into one another's eyes as "father and son."
The ad for rings is intended for the Chinese market and it shows several young couples wearing rings. One of those couples is two men and another is two women.
Related: China bans gay couples from television
The video version of the ad appears to strongly imply that these couples are in love. The two men are biking together, putting their arms over each other's shoulders, and looking at their rings. The two women are dancing together, holding hands, and lying on the floor together.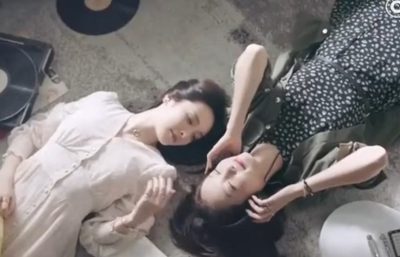 The ad has no voiceover, just asking at the end: "How far would you go for love?"
According to The Guardian, a static web version of the ad shows a picture of the two men with the text, "Father and son are also friends." Some social media users are calling the ad out for straight-washing the couple.
"They look three years apart in age at most," wrote one commenter on the app Weibo. "Also I've never heard of fathers and sons wearing matching rings."
Another Weibo user said they were "fine with two men wearing rings as a couple, but not so much with a father and son," according to CNN.
Another static ad shows two women – not the same two women as in the video ad – and a necklace with the text, "Mutual understanding beyond words. Witness our everlasting friendship."
In a statement earlier today, Cartier insisted that the two men are really just father and son. When the ad asks, "How far would you go for love?" Cartier says that was referring to "romantic, friendship, or family love."
"As such, one of the stories features the unique bond between a father and his son, enjoying a joyful and playful bike ride together, symbolizing the journey of life when there will be moments of parting ways," the statement said.
Homosexuality is not illegal in China, but LGBTQ people have few protections, and the government censors "abnormal sexual behaviors" in the media. Businesses – even foreign businesses like the French jeweler Cartier – tend to avoid raising the ire of the government.
"Some may believe [Cartier] is just trying to make some 'pink dollars,' but I'm inclined to be more positive in thinking that they are supporting gay rights in a way … by raising our visibility through this kind of ads," Yanzi Peng, who directs the China Rainbow Media Awards, told CNN.
But he said that "businesses should be more courageous and take another step forward."