A senior advisor to Donald Trump tweeted support for conversion therapy, linking an article that claims that conversion therapy can make gay and bisexual people straight.
Christian conservative activist and pundit Jenna Ellis was hired by Donald Trump earlier this year as a lawyer and a legal advisor to his 2020 reelection campaign. She already had a long history of opposing LGBTQ equality, including claiming that HIV among gay and bi men is "God's moral law and His supremacy" and testifying in favor of conversion therapy in front of a Colorado House committee.
Related: Bowen Yang from SNL was sent to conversion therapy as a teen
Ellis's views have apparently not softened since she took on her role in the Trump campaign. Yesterday, she retweeted an article that supports conversion therapy.
"No, sexual orientation is not immutable," the tweet said.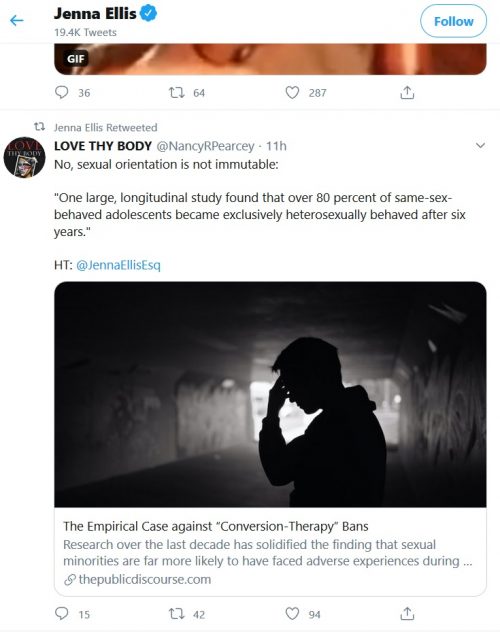 The linked article is by New West Community Church pastor Paul Dirks and argues against Bill C-8 in Canada, which would create the world's "most progressive and comprehensive" LGBTQ conversion therapy ban. The law would ban profiting from conversion therapy, ban family members from forcing children and adults into conversion therapy, and ban sending people out of the country for conversion therapy.
It's the same conversion therapy ban that Harry Potter creator J.K. Rowling showed her opposition to several weeks ago.
"The fact that many LGBT people have childhood trauma in their past argues that these experiences ought to legally be able to be explored in therapy," Dirks wrote. "This is especially the case for minors, a group that are often singled out as a particular reason for banning therapy related to sexual orientation or gender identity."
Of course, Canada's conversion therapy ban – or any conversion therapy ban currently in place – won't stop LGBTQ people from getting therapy for past trauma. Conversion therapy is an attempt to change a person's sexual orientation or gender identity, not any therapy at all for LGBTQ people.
The tweet's claim about a "large, longitudinal" study that found "over 80 percent of same-sex-behaved adolescents became exclusively heterosexually behaved after six years" refers to a 14-year-old study on puberty by Cornell University developmental psychologist Ritch Savin-Williams that is often cited by supporters of conversion therapy, even though the journal article was not about conversion therapy at all and, at most, referred to sexual fluidity.
In 2013, Savin-Williams wrote in another journal article that the most likely explanation for why young teens who reported being gay or bi but later identified as straight on the survey he was working with in 2006 was a combination of confusion about what the question about sexual orientation meant and "the existence of mischievous adolescents who played a 'jokester' role by reporting same-sex attraction when none was present."
Dirks also wrote in the article Ellis re-tweeted that, when it comes to high rates of LGBTQ youth homeless, "family dysfunction seems to be the culprit." For Dirks, this is evidence that bad parenting and childhood trauma make people LGBTQ, instead of the more likely "culprit": parents who kick out their children when they come out as LGBTQ or make life so hard for their LGBTQ children that they run away.
Ellis used to work for the James Dobson Family Institute, an anti-LGBTQ organization. She has spent years ranting against the "homosexual lifestyle."
After the 2016 Pulse shooting that left 49 people dead, Ellis worried that the deaths at the LGBTQ nightclub would be used to support "the LGBT agenda."
"I'm disappointed conservatives are acquiescing to the LGBT agenda," she wrote. "Let me be clear — the Orlando shooting was absolutely terrible and tragic. But the response to this tragedy should not be embracing and advocating for gay rights."
She has also called for a "national day of prayer for President Donald J. Trump" and tweeted recently that Black Lives Matter protestors may "try to cancel Christianity."