A woman who wanted to do her part to push Australia toward marriage equality through the creative use of Tinder has had her account suspended.
25-year-old Lizzy saw a lot of her friends encouraging people on Facebook to enroll to take part in the postal survey to help move Australia closer to parliamentary action on same-sex marriage, but realized it was mostly preaching to the choir.
Her roommate had an idea that, as the only single one in the household, she was left to implement: Use Tinder to do something about the 800,000 Australians missing from the electoral roll, half a million of whom are aged 18-39.
The response, as you might imagine, was mixed.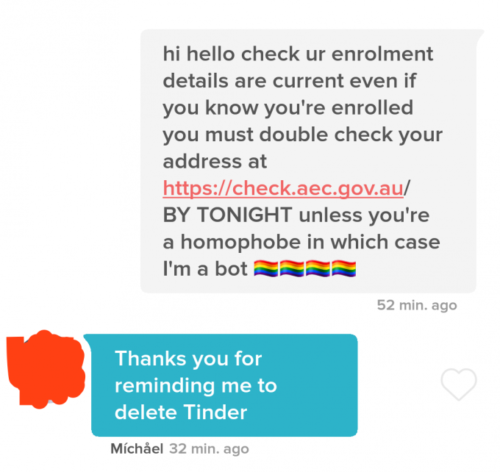 "While it took a while to get through everyone, I was actually pretty surprised at the response," Lizzy told Junkee. "I had a number of guys reply that they loved the idea and would send the message on, that they had already checked their details, or that they appreciated the reminder and the creative use of Tinder for a good cause."
Apparently enough people took less than kindly to the politicking and reported her, causing her to get a notification that her account was under review.
"It's actually pretty disappointing," Lizzy said. "Not only because men seem to be allowed to send everybody they match with the same sexually suggestive GIF or 'sup' while I can't send an administrative reminder about human rights, but also because I actually had a number of pretty cute progressive guys message me back."
"I think a few people actually did check and update their details as a result, so being banned, hopefully temporarily, is a small price to pay for progress I guess," she said.
Polls suggest the survey, which is non-binding, will fall in favor of marriage equality. If it does, parliament will take up the issue.