One month after fireworks flew as a far-right Christian mother rejected her gay son on a popular television show called Bride and Prejudice, Yvonne and her husband Geoff have stuck to their guns and refused to attend his same-sex wedding.
The program is set in Australia, where Chris lives with his newlywed husband Grant, as do his parents. The couple wed in Palm Springs, Calif., and just hours before the nuptials, Chris's aunt and uncle — who did make the trek to America for the wedding — broke the bad news to Chris.
And just to make it even more awkward, Chris's mum let him know herself, in the most cold, impersonal way imaginable: she sent him a video defending their decision, as BuzzFeed reported.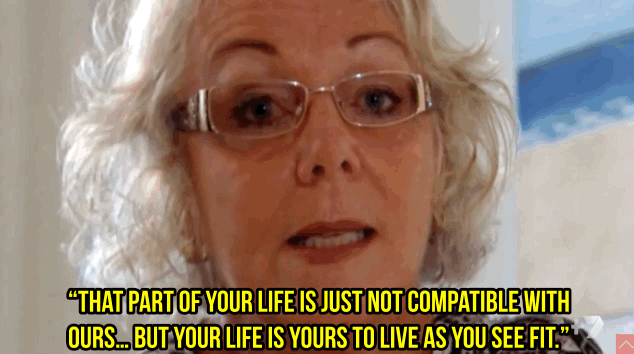 Here's what she said, and note how right off the bat she blames Chris's father, Geoff, for spurning his invitation — which included paid, roundtrip tickets from Australia to California.
Hi Chris, it's just Mum talking to you today because Dad actually found this all a little too overwhelming. Just as you are hurting, so are we. I'm really sorry if you thought you weren't loved or that we weren't proud of you when you were a young boy. I thought I knew you, I felt very close to you at that time, and I loved you, and I loved you very dearly… and I still do Chris. It wasn't until you were about 20-21 that we came to understand that you were starting to live a homosexual life. We tried to stay in your life as much as we could, considering our strong views on the subject.

I know a lot of people today think they're outdated and old fashioned, but they're something we value and hold dearly. We're pretty strong on how we feel about the situation and we also know what you want us to be able to give you – which is acceptance of your personal life choices – and Chris, we can't. But in saying that, we do want to know how well you're doing, and that you're well, and that you're ok. But for now, Chris you really are about to do something that we find really hard to accept, which is to have a wedding ceremony. I hold marriage very sacred so I can't give you that acceptance or be part of that part of your life. That part of your life is just not compatible with ours but your life is yours to live as you see fit.

We want you to know that we do love you, and we want you to keep well. And… yeah, that's really all I've got to say at this stage. I love you and keep well. Bye.
Viewer reaction to the mother's insult upon injury was fast and furious:
Poor Chris, he's such a lovely, gentle guy & his parents just keep ripping his heart to shreds… They don't deserve him. #brideandprejudice

— 🌷Sapphire 💕 🐘 (@Sapphire_Ann) March 13, 2017
That message was designed to hurt. It's not the act of a good parent or a good Christian. Love is love is love is love. #brideandprejudice

— Denise (@GrumpyBoat) March 13, 2017
But Grant took the high road in his own tweet:
And despite the heartbreaking news, Chris showed no animosity toward his parents and even thanked them at the reception:
Fuck, after all that Chris thanked his parents! The bigger man right there. Much love to him and Grant ❤ #BrideAndPrejudice

— Dean Nye (@Dean_Nye) March 13, 2017
Chris closed the show by going one step further, promising to support them even if they won't support him and his husband. But he acknowledged that support has its limits:
"I'll never cut myself off from my parents, and I'll always be there if they need me. But I'm not putting myself out there to be hurt by them anymore. I'm focusing on my family now, and my family is Grant".