Mayor Jess Herbst is out, proud, and the worst kept secret in tiny New Hope, Texas.
Herbst came out as transgender to her constituents in an open letter this week, but revealed in her blog that she came out to family and friends back in May and to her colleagues on the town council in November.
Herbst told LGBTQ Nation she presided over her first town council meeting as her true self Tuesday evening: "The meeting went wonderful last night. Everyone was very supportive."
On the day before Election Day, Herbst posted this:
 "I now spend almost all my time as myself and it feels so nice.

"When I think of all the years I worried, all the imagined problems I would face, how much I failed to understand real public reception, I can't believe how long I held myself back."
And last month, she provided more detail in this update:
"The last year has seen less and less Jeff. By early Summer 2016 Jeff was an appearance for work only. Late Summer I began coming out with my various employers( I am self employed and work for many different entities), and working as Jess. Before the new year rang in, Jess was open knowledge to everyone in my life and I have abandoned appearing as Jeff."
Herbst also revealed in an email to LGBTQ Nation that she is not going to legally change her male first name right now. "My town attorney has advised me against me changing my legal name until the next election due to complications with the election code."
The act of writing a letter to her neighbors about being trans in staunchly conservative Collin County, north of Dallas, triggered a story in the Texas Observer which then ricocheted not just across the Lone Star State but around the world.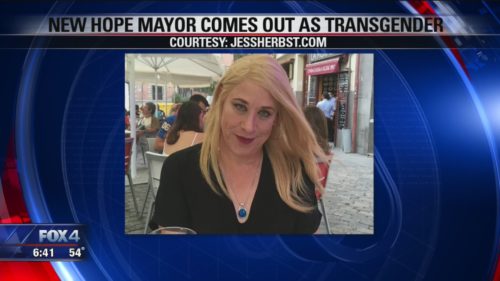 Herbst noted on her Facebook page that she wasn't contacted for that report, and corrected the record: although she is the first openly trans mayor in Texas, she was not elected; she was appointed mayor of the town of roughly 600, following the death of her predecessor.
Herbst, who remains married to her wife and has the support of their two daughters and now her extended family, revealed she has not lost her sense of humor in her transition, with a side-by-side "before and after" post on her social media:
As most trans men and women know, pronoun preference can be a struggle for friends and family after transition. Herbst notes in her blog that while she identifies as female and uses she/her/hers, she's comfortable with both, for now, and being patient with those who can't quite get the hang of it yet.
"For the people I have known for many years, there are tons of memories where the pronoun was always male and it will take much time to add the necessary new memories."
Watch a report from WFAA-TV on Herbst's coming out and read her letter to constituents after the break.