Since the 1960's, Jackson Heights in the borough of Queens has been a destination for immigrants to New York City from around the world. Michael Kimmelman in The New York Times called it "the most culturally diverse neighborhood in New York, if not on the planet."
One of the largest foreign-born populations is from Latin America and includes Hometown Hero Liaam Winslet, who was granted asylum in the U.S. after being persecuted in her native Ecuador for being trans.
Related:

Hometown Heroes come from all walks of life, live all over the country, and come from diverse backgrounds, working every day to make the world a better place for others – even if they aren't making headlines for it.
"It's a violent situation there," says Winslet, 35. "And then a dangerous situation for me because of my status. I needed to move from my country."
Get the Daily Brief

The news you care about, reported on by the people who care about you:
Winslet earned her asylum in 2013, "and then I continued my transition here in the U.S. I lived in New York, and then in Queens and continue to fight for the rights of my community and to support my sisters and my brothers."
That work carries on the legacy of Lorena Borjas, the acknowledged Trans Mother of the transgender community in the neighborhood, a magnet for women like Winslet who sought out Borjas' support.
In 2015, Winslet helped Borjas found the Colectivo Intercultural Transgrediendo, a play on the words "transgender" and "transgressive" that informs the group's unapologetically fierce attitude and activism "as an empowered community of TransGNB people in New York invested in promoting and defending our human rights."
"Sex work is work/Trabajo sexual es trabajo" announces a banner across the splash page on CITG's website, with a call to protest at "Slutwalk: Marcha de Lxs Putxs" on a Friday in September.
CITG calls itself a diverse community "fighting for the rights of different ethnicities and races, immigrants, impoverished and unemployed people, sex workers, people living with HIV, survivors of violence, and the forgotten."

"Together we fight against the repressive systems that make us invisible, marginalize us and do not recognize our fundamental rights over our own lives, our bodies, and our identities."
Protecting the rights of sex workers is central to the group's mission.
"Probably you go to submit an application for a job but the person says, 'No, you're transgender,'" says Winslet, who started sex work at 22 when other opportunities proved elusive.
"I went into sex work because New York is very expensive," she says. "New York is a very big city, but I need to pay my bills. I needed to survive in this big city."
"I lived this situation," she says.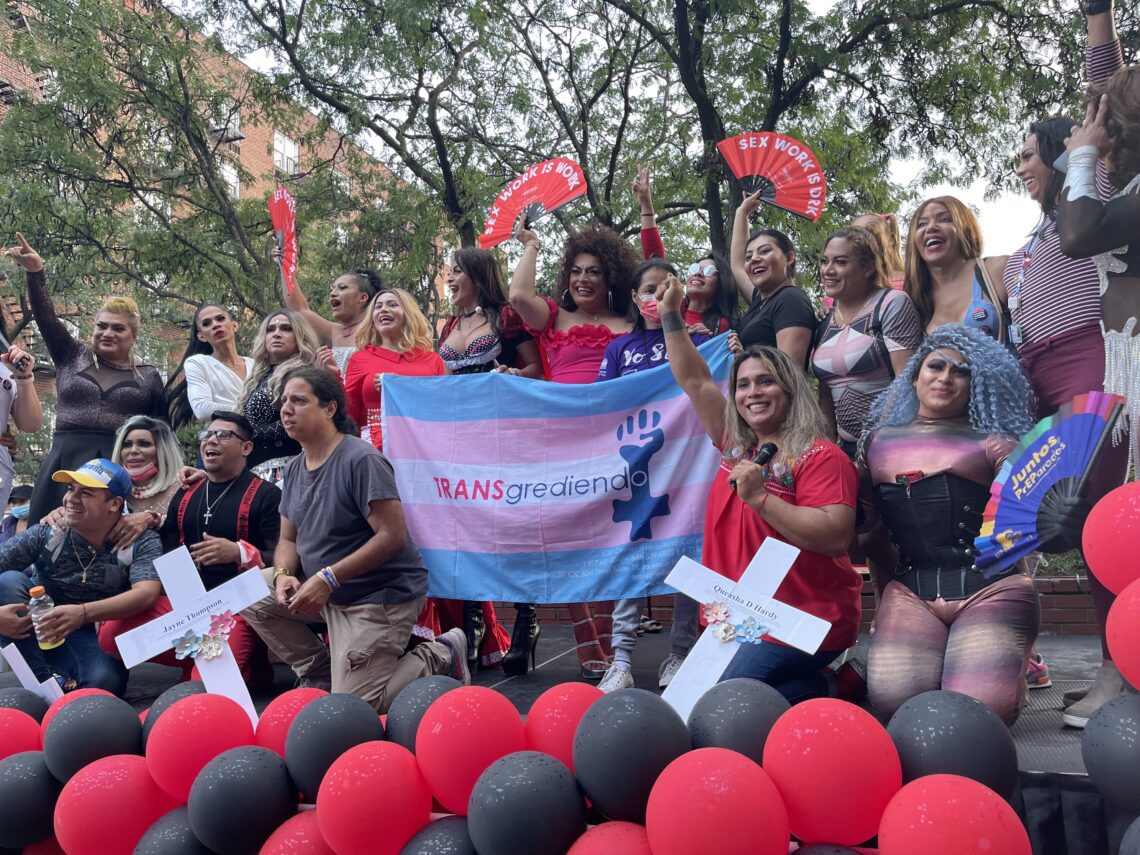 With Borjas, Winslet built an indispensable community organization with dozens of full-time and volunteer staff and several "proyectos" targeting their diverse clientele.
Sex Work Project 101 is an empowerment and leadership initiative for TransGNB sex workers, while the Legal AID Network Project provides support for immigration and legal issues and helps navigate gender marker changes. Health and wellness initiatives address gender-affirming care and HIV awareness, prevention, and treatment, and the Trans-Education Project guides clients to access the GED and ESL for free.
For members of the community experiencing fundamental deprivations, Free Closet/Free Clothes provides free clothing, coats and hygiene products to those in need, and the group's Food Pantry and Soup Kitchen supply fresh and free food; CITG serves over 150 meals to their TransGNB clients every week.
Winslet's collaboration with Borjas ended in 2020, when her 59-year-old co-founder died of complications from COVID-19 just weeks into the pandemic, alone in a hospital on Coney Island.
Winslet takes solace in the organization Borjas inspired and Winslet helped to build.
"I love my work, and to continue the legacy of my friend, my co-worker, my Trans Mother Lorena Borjas. It's very important to continue the fight for the rights of sex workers, for the transgender and Latinx community, and the brown community. It's very important to understand the sex worker and transgender community with respect to human rights."
Despite the daily struggles, Winslet says, "I continue. I continue my study. I continue to practice English. I continue supporting other sisters in the streets."
In her Hometown Hero nomination for Winslet, co-worker Erin Paredes wrote of CITG: "It has shown us that the power and strength of our voices and the defense of our rights is something that no one can take away from us. The world will not be able to erase the existence of Trans people nor will the struggle of our community."