On February 22nd, LGBTQ+ history was made in Peru. 
Led by trans women, hundreds of Peruvians marched through the busy streets of central Lima to demand justice. Billed as the "marcha contra los crimenes de odio" (the march against hate crimes), indignant activists took to the streets to commemorate the deaths of trans sex workers and demonstrate against the inaction of police.
Leyla Huerta is a trans-Peruvian activist with Féminas Peru, an NGO dedicated to empowering trans women. According to Huerta, in 2023 alone, six trans women were killed. Additionally, in December 2022, another trans woman was killed in the south of Lima. 
"[On Wednesday], we marched to the police offices in charge of investigating human trafficking and homicides," says Huerta. "We did this because of their inaction; they are not investigating the deaths of these trans women." 
According to multiple activists who spoke with LGBTQ Nation, although there have been smaller-scale marches in the past, this was, by far, the largest rally organized by trans women in the history of Peru. 
Despite the large showing at Wednesday's march, trans Peruvians will need more than protests to achieve justice. Indeed, according to Alberto de Belaúnde, former Peruvian congressman and the second openly-gay member of Congress, achieving justice will be an uphill battle.
"Unfortunately, it will be very difficult to get justice in these cases," de Belaúnde tells LGBTQ Nation. "The common denominator of these terrible hate crimes is impunity…To the typical barriers of access to justice that exists in Peru, we must add the prejudice that exists against the LGBTI community, especially trans women." 
During the march, protesters chanted for justice and held signs depicting the photos of the various women who had been killed.  Erika, Ale, Ruby, Priscila, Camila, Paris, Yuru. These names were yelled by hundred of marchers as they marched to police officers in Lima.
Without a police investigation into their deaths, it is difficult to ascertain exactly how these women were killed. However, many sex workers at the march and friends of the deceased believe they were killed by the mafia, who control the streets where prostitution is common. 
In a flyer handed out by the coalition organizing the march, they explain why they decided to march: "The extortionist mafias are killing us along with the government; far from giving us security recognition, [the government] is criminalizing us and fomenting hate against us."
Jorge Apolaya, a spokesperson from the Lima Pride March Collective, explains how the mafia in Peru oppresses and kills trans women working as sex workers in Lima:
"Many trans women in Peru do sex work as a means of survival. Right now it is almost impossible for a trans woman to go to a police station and report that they have been a victim of a crime…So the mafia can easily threaten them and extort them and prevent them from doing sex work….The state has a responsibility to protect its citizens, especially those who come from marginalized groups."  
Another complicating factor making these women more vulnerable is that many are not from Lima. Many are from the Amazonian regions in the north of Peru. They come to Peru seeking to transition and escape the more widespread and intense discrimination in their hometown. Being in the capital, far from their birthplace, these women are more vulnerable to extortion.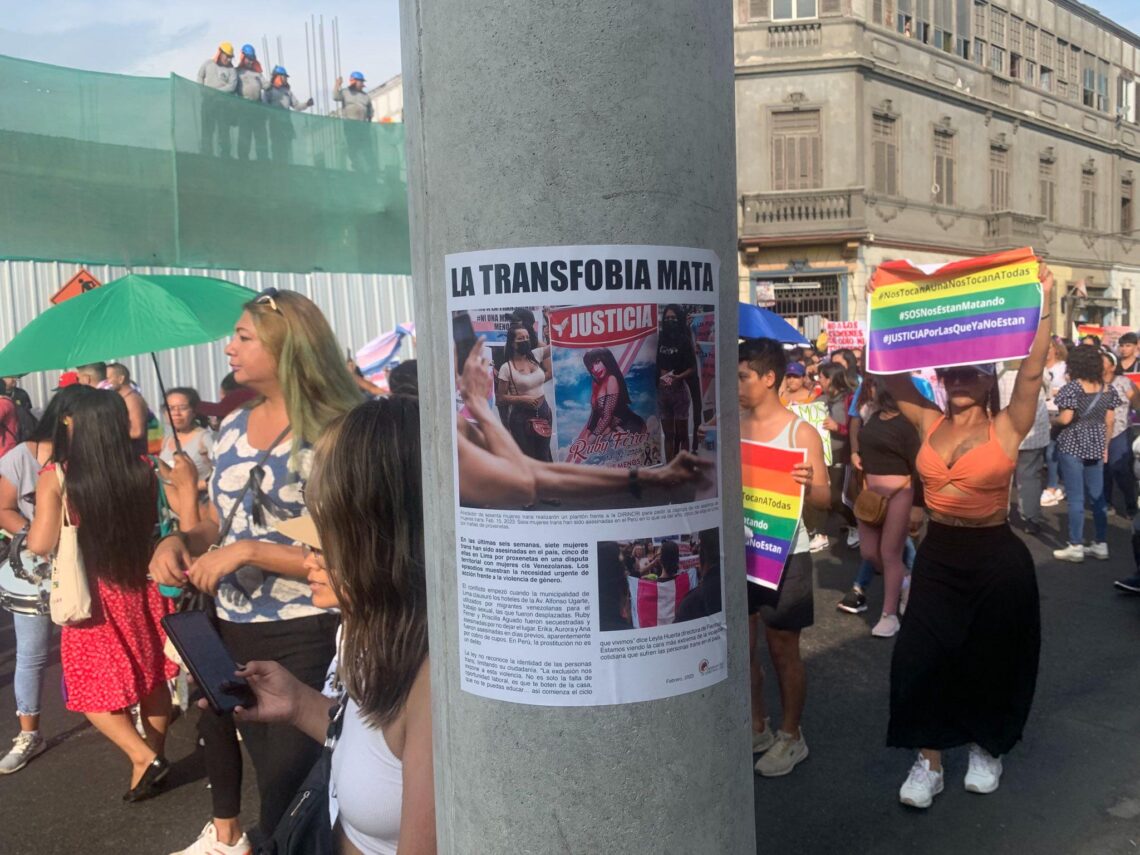 Due to the vulnerability of trans women in Lima, the coalition of NGOs and activists had a list of demands for the government. Among these demands are a law that recognizes sex work, a plan for the police to implement strategies to guarantee the safety of sex workers, and that Peru's "operators of justice" take swift action against the extortionists and "make them pay for their crimes."
Additionally, activists called for a law on gender identity. According to Lesly Quispe, a Peruvian trans activist, and the current Miss Trans Peru, this law can help transgender women in many aspects of society. 
"What we really need is a gender identity law," says Quispe. "With this law, we can access many rights. We can study without being victims of bullying, we can work without discrimination, and we can be treated fairly [in society].
There is an ongoing legal effort by some members of Congress to improve the Peruvian laws concerning LGBTQ+ people. 
Peru's first openly lesbian member of congress, Susel Paredes, was present at Wednesday's march. Recently she introduced legislation that seeks to change Peru's penal code. Paredes' bill would classify crimes committed based on gender identity as hate crimes, thereby increasing the penalty and time in jail for those convicted. 
If passed, Paredes' bill would undoubtedly be a welcome step for activists and sex workers alike. However, Peru still has a long way to go before trans people are accepted into society.