With the arrival of Black History Month, LGBTQ Nation spoke with Imani Woody, a recipient of AARP's Purpose Prize and an advocate for women, people of color and the LGBTQ+ community for over 25 years. Woody is the founder and CEO of Mary's House for Older Adults, a planned communal residence in the historically Black neighborhood of Fort Dupont in Washington, D.C.
She wastes no time getting to the struggles of older Americans.
"The generation that came out is going back in," insists the 70-year-old, "because it's hard to be old and gay at the same time."
Woody, who describes herself as old and gay ("an umbrella term," she says with a smile), has the research to back up her claim. A new report by the Williams Institute at the UCLA School of Law shows many LGBTQ+ older adults don't disclose their sexual orientation and gender identity for fear of stigma, "sometimes stemming from trauma and experiences of ostracization in medical systems as in the height of the HIV/AIDS epidemic during the late 1980s and early 1990s." It's one indication that many older LGBTQ+ folks don't feel comfortable sharing their sexual orientation or gender identity because of previous discrimination.
Woody cites the case of Marsha Wetzel, who was forced to enter a retirement home in Illinois after her partner of 30 years died. The couple held a commitment ceremony but never legally married, and Wetzel was evicted from their shared house. In a lawsuit prepared by Lambda Legal, Wetzel says she was spat on and called homophobic slurs by fellow residents at the retirement home, whom she says welcomed her until they learned she was a lesbian.
"Well, from there, it went from sugar to not sugar," says Woody. "She was ostracized, she was harassed, and the staff didn't do anything about it. So, the lawsuit was about the staff not protecting her, even to the point of physical abuse."
For decades, AARP has consistently supported the civil rights of the LGBTQ+ 50+ community through legal action, advocacy, and opposing discrimination. 
In 2021, AARP Foundation Senior Vice President for Litigation William Alvarado Rivera noted in an amicus brief that, "Governments have long denied LGBT couples the right to marry, despite their long history of loving, committed relationships. In addition, lifelong discrimination has harmed many LGBT older adults financially and increased their risk of economic insecurity in older age."
The Williams report and many others have noted additional disparities within the LGBTQ+ community. Black and Hispanic LGBTQ+ people across the age spectrum were less likely to be financially secure, had lower incomes, and had more instability in their access to food and housing.
To answer those issues, Woody has zeroed her attention in on housing insecurity.
Mary's House for Older Adults is a 15-unit communal residence to be built on the site of Woody's childhood home in Washington, D.C.'s predominantly Black Fort Dupont neighborhood. The residence is focused on low- and moderate-income LGBTQ+ affirming accommodation and is named after Woody's mother. Funded by public and private donations, Mary's House officially breaks ground in March.
"This is our mantra: you can bring your whole self to Mary's House. Your old self, your short self, your fat self, your White or Black self. And most definitely your same gender-loving self. Mary's House: Bring Your Whole Self. That's what we're doing. That's what we're building."
Woody has been at work improving lives for decades, serving as the former chair of SAGE Metro D.C., on the board at the Mautner Project for Lesbians, as a training specialist for AARP, and as a three-term appointee to the advisory board of the D.C. Office of LGBTQ Affairs.
Mary's House will join a growing number of LGBTQ+-affirming residences across the country, including the John C. Anderson Apartments in Philadelphia, Town Hall Apartments in Chicago, and Triangle Square in Los Angeles. What sets Mary's House apart is Woody's plan for a communal setting, which addresses the social isolation so many older Americans experience.
"It's about building community," she explains. "Everyone has their own bathroom and kitchenette with their bedroom, but it's a home, so there's a communal kitchen, and there's a communal dining room. There's a communal hydrotherapy tub and there's a communal library and quiet room. It's not an apartment where you can close up and no one sees you. There's someone there every day to say, 'Hi, Mister Greg, what's happening today?' Right? So, I'm gonna look you in the eyes, as my grandmother would say, and see how well you are."
As Woody prepares for a spring groundbreaking, she's been at work on another initiative key to addressing social isolation with community building, called the Villages.
Woody explains that as aging in place has become a popular alternative to retirement communities for many older Americans, homeowners have banded together to share the costs of upkeep like housekeeping and landscaping, building community in the process. There are 13 Village organizations across D.C.
"So I wanted one for gay folks," she says. "We need it. Social isolation is so big for us, but we're not in one space. We're not only in Brookland or Capitol Hill, or Anacostia. We're all over the place. So, can we have a virtual village? Which is what we decided to do."
Instead of gardening and housework, the Mary's House Village program focuses on addressing basic needs through "friendly caller" outreach. While similar programs run by government agencies enroll older people to receive check-in calls, Woody thinks a personal touch is vital to their Village program's success.
"Our niche is that it would have to be a friend of yours, or someone you knew, like six degrees," says Woody. With a state agency, "You say, 'Oh yeah, I'm fine,' but to your friend, you'll say, 'You know what? I need to get to the store, I think,' or 'I wasn't able to pick up my prescription,' or 'You know, I need some gas or food,' or whatever the deal is."
Woody says Mary's House is a marquee project for D.C. Mayor Muriel Bowser (D). "She realizes that elders need a place to be, and she's looking for alternative housing. We have a housing crisis across our nation, let alone our city. An affordable housing crisis, right? And so this is one of the ways that she's showing that we can make a difference for our elders — our citizens — who are LGBTQ/SGL, same gender-loving."
Lower income levels for Black, Hispanic, and multiracial LGBTQ+ older Americans are one factor in the housing crisis revealed in the Williams Institute report. "When you talk about the lack of generational wealth and how far-reaching that is — if you start with enslaved people, and the ability of the government to legislate your rights, not to be able to get home, all of that through generations — that is the reason why, it stands to reason, that poverty still plays a part," Woody says.
She points out that a lack of generational wealth means a greater reliance on social services, which comes with discrimination issues. "We're talking about women, in particular Black women, and in particular elders, depending on Social Security. If you depend on Social Security, you're penalized a little bit in the money that you could have made because of the lack of generational wealth, but so too because of caregiving, in terms of staying home, being a parent, caring for children, caring for parents, just being a caregiver and out of the workforce."
The Williams report also indicated that while older LGBTQ+ Americans had the highest rates of COVID-19 vaccination among all demographic groups, they also had the highest rates of self-reported anxiety and depression.
Says Woody: "It's like a trauma, or PSTD, because these older folks went through HIV/AIDS and the lack of vaccine, and the whole process was mirroring the way that the AIDS epidemic originally started out. For elders, they were told HIV was a gay disease, then for COVID, 'Old people can get it and you need to keep them in the house because they're susceptible.' So that was trauma among older people, that 'Wow, we've been here before.'"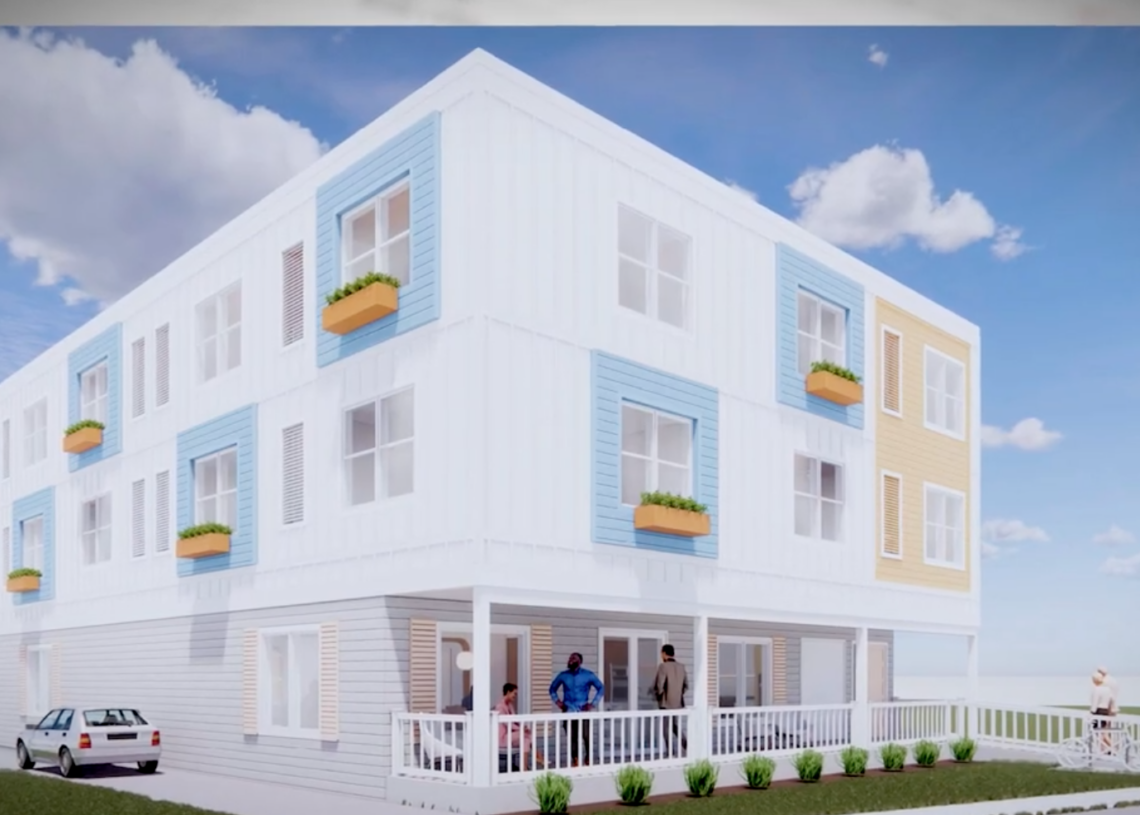 For Woody, all of these factors — HIV/AIDS history, COVID trauma, social isolation, homophobia, and discrimination of all kinds — are facts of life to be reckoned with and overcome by building community, with Mary's House at the forefront.
"It's about building relationships, building family, family of choice, logical and biological family," she points out. "We've tried to build — we are building — family communities, one person, one phone call at a time, right? And to try to make the world a better place, so that you don't have to go back into the closet."