Allyship is so important in raising awareness of issues affecting LGBTQ people and helping the community feel supported.
Let's take a moment to appreciate the celebrities who had the backs of LGBTQ people this past year.
Related: Over 20 million Americans identify as LGBTQ people
Get the Daily Brief

The news you care about, reported on by the people who care about you:
Jamie Lee Curtis
Golden Globe winner and all-around icon Jamie Lee Curtis revealed this year that her 25-year-old daughter is transgender. She was full of nothing but love and support for her youngest as she so proudly introduced the world to Ruby. The computer gaming editor is also marrying her fiancé next year, and Jamie's husband Curtis plans to officiate the wedding.
The Knives Out star says her daughter coming out as trans and living her truth helped challenge "old ideas" about gender, helping her realize that life is in "constant metamorphosis."
Jamie has been a proud LGBTQ ally for a long time, and told People that her daughter's transition made her "a grateful student" as she learns "new terminology and words." She admitted she will make mistakes along the way, but hopes sharing their family's story publicly will help others.
"If one person reads this, sees a picture of Ruby and me and says, "I feel free to say this is who I am," then it's worth it," she said.
Rupert Grint
Harry Potter alum Rupert Grint stood up for the trans community last year following J.K. Rowling's comments about gender and sex, and he brought that allyship into 2021.
In June 2020, he released a statement in support of the community after the author voiced her opinions in multiple online posts that defended ideas suggesting changing one's biological sex threatens her own gender identity. 
Speaking out about why he did that, Rupert explained to Esquire that, while he is thankful for the opportunity the writer gave him, he doesn't necessarily have to agree with every opinion she has.
"I am hugely grateful for everything that she's done. I think that she's extremely talented, and I mean, clearly, her works are genius. But yeah, I think also you can have huge respect for someone and still disagree with things like that."
He added that he felt he had a responsibility to speak out in support of the trans community, whom he said is "a valuable group that I think need standing up for."
"I think to stay silent would have spoke. Sometimes, silence is even louder. I felt like I had to because I think it was important to," he said.
The actor – who played Ron Weasley – acknowledged that he isn't "an authority on the subject," but his decision to speak up came "out of kindness and just respecting people," which is the best form of magic if you ask us.
Selena Gomez
Selena Gomez paid tribute to the LGBTQ community this year by thanking them for launching her music career back in 2009.
Her second single "Naturally" was really the catalyst for her global fame, and Selena herself understands the influence LGBTQ folk had on getting her music heard by the masses when she was most known for being a Disney star.
She said the song – which went 4x platinum – was championed by queer folk before anyone else.
"I remember when it was released, it truly started getting played in gay bars before anywhere else. I would hear from older friends that they heard it when they went out. I was so jealous that I was too young to be out and dancing to it with everyone," she shared.
When asked about her support for the LGBTQ community, Selena said she wants her LGTBQ fans to "hear in my music the importance of self-love and the strength that comes through vulnerability."
"The LGBTQ+ community has been there for me and I don't take them for granted. Growing up in Texas, I remember when I was a kid, my mother had a group of gay friends and I loved being around them. There was no talk about anyone being 'different.' It was all pure and genuine love for one another and I'll never forget that."
Victoria Beckham
Posh Spice has never made a secret of her support for the LGBTQ community, and this year she joined forces with her former bandmates to raise money for homeless LGBTQ youth.
In honor of Pride, the fashion designer created t-shirts that read, "Proud and Wannabe your lover" in rainbow metallic writing, referencing one of the Spice Girls' biggest hits.
Posting about the collection on Instagram, she wrote: "Pride to me is a celebration of being completely yourself and this year's t-shirt is a reminder of that. The Spice Girls really championed accepting yourself and others, being kind, having fun and just living your best life!"
Sharing that the LGBTQ community is so close to her heart, she announced that 100% of proceeds from the shirts would go to the charity A.K.T. to aid their work in combatting LGBTQ youth homelessness. 
As well as the special Wannabe tee, Victoria has released a leather pouch embellished with the words: "Proud and Wannabe Your Lover."
Harry Styles
Harry Styles is known for making his concerts safe, inclusive spaces for all fans to be themselves, and he's showing no signs of that changing.
In 2021, his Love On Tour show finally took to the road after being postponed due to the pandemic. While on stage, he was frequently seen dancing with rainbow, lesbian, bisexual, transgender, pansexual and Black Lives Matter flags. He also gave several speeches that encouraged audience members to do what makes them happiest and to be their truest selves.
One of his most powerful moments, however, was when he helped a gay fan come out to her mom.
A fan named McKinley attended his show in Milwaukee with a sign that read: "My mom is in section 201. Help me come out?"
The "Watermelon Sugar" hitmaker said: "What would you like me to tell your mother?" before shouting "Lisa, she's gay!" to her mom and the thousands of cheering fans in the venue.
McKinley said his loving act "meant the world" to her, and he's someone who "feels like safety" to her.
Mom Lisa was also emotional afterward and shared: "I feel really blessed and very honored to have been in that moment. It's very rare that you get to have these once-in-a-lifetime experiences, so I'm very honored and blessed that I was able to be a part of it."
Hailee Steinfeld 
The LGBTQ community has truly taken Hailee Steinfeld into their hearts following her portrayal of Emily Dickinson in Apple TV's series, Dickinson, and that kind of response was everything Hailee wanted.
Proving herself to be a kind and supportive ally early this year, the singer said she felt a "huge responsibility" when portraying Emily's queerness on-screen, all she wanted was for LGBTQ people to feel "seen."
"I definitely feel a responsibility to do the relationship between Sue and Emily justice, and the representation justice," she said, when reflecting on Emily's passionate relationship with her sister-in-law.
"I love the fact that this relationship is such a huge part of our show. I love that the theme of being seen and understood is what overrides everything at the end of the day, no matter who it is that you love."
She went on to express her hopes for the LGBTQ community to hold the series dear to their hearts as it explores the "beautiful relationship."
"I hope that the LGBTQ community can watch this and feel accurately represented, truthfully represented, and I hope that they feel that there is and there should not be any shame in loving who you love, being who you really are."
The "Starving" singer also wants LGBTQ relationships to be "normal" in TV and film, saying queer romances are "no different than any other person or relationship, and it's equally as beautiful and touching as any other."
Zendaya 
Zendaya made hearts flutter earlier this year when she answered an interview question in the most perfect way.
When quizzed on what quality she most likes "in a man," the Euphoria actor instantly dismantled any ounce of heteronormativity by saying: "I most like in a person, how about that?"
But that's not all, as the most recently revealed her passion project would be creating a queer love story between two Black girls.
She said she understands the importance of showing joy for marginalized communities and, while she doesn't necessarily have a plan for where her career might go in the future, she has an interest in becoming a director.
In particular, the Emmy winner wants to bring "a simple love story about two Black girls" to the screen.
Talking about what the project might look like, she said: "Something simple and beautiful, that leaves you happy and wanting to fall in love yourself. I would love a coming-of-age story where awkward and funny things happen, just like when any other young person is trying to figure out who they are.
"Our existence is broad and expansive and beautiful, and to see all the different emotional colors of what it means to be a young Black girl, I would like to see that, because I don't think I've seen many depictions of it."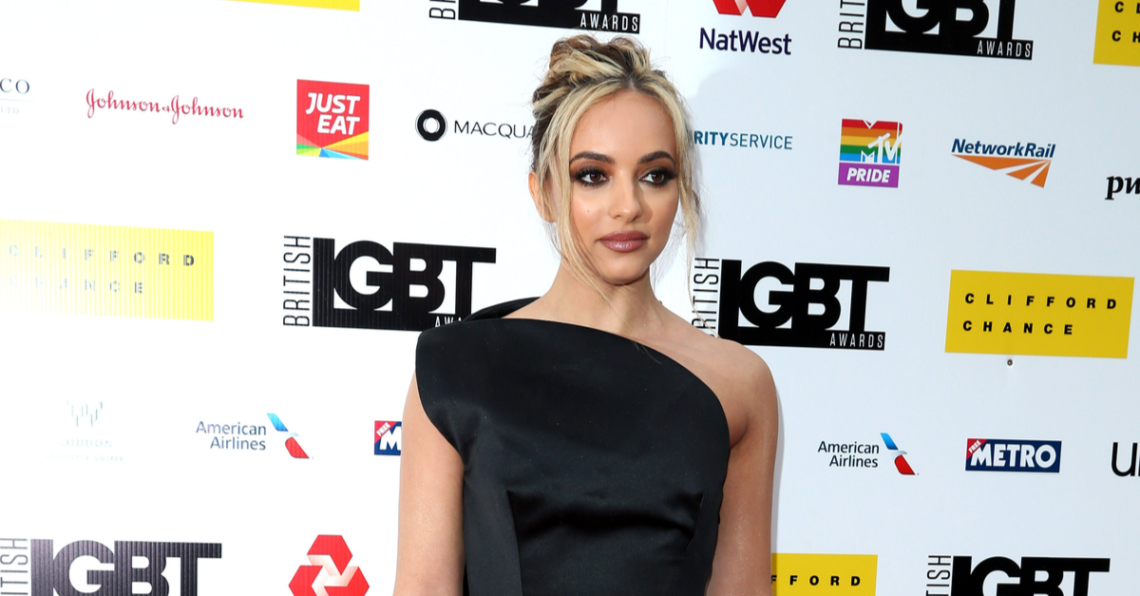 Jade Thirlwall
Little Mix's Jade is a longstanding ally who repeatedly uses her platform to offer education and stand up for the community. In 2021 in particular, she marched with UK Black Pride, worked with LGBTQ charity Stonewall and platformed queer performers in Little Mix music videos.
Jade also proves herself to be a true ally by recognizing when she gets it wrong. Following the release of the group's "Confetti" music video, she was confronted with the fact that, although the video was incredibly inclusive, the girls hadn't brought in any actual drag kings. She understood that fans had every right to be frustrated, apologized, and vowed to do better moving forwards with more knowledge.
In an article for MetroUK during Pride Month, Jade mentioned the importance of not making her allyship performative or opportunistic, but rather constantly learning and evolving, and making a conscious effort to speak alongside the community, not for them. She continuously shows up for the community and champions important causes, which has a major impact on her young fanbase.