Georgia, where we're living for several months, is one of the most homophobic countries in Eastern Europe. But one man, Giorgi Tabagari, is hoping to change that.
"Let's hope it doesn't get me killed," Tabagari tells us, only half-joking, at our first meeting at Success, one of Tbilisi's two gay bars.
Related: This church is going to perform 400 straight marriages to protest homosexuality
Tabagari, a slight, dark-haired man with oversized round glasses and an infectious smile, is the co-founder of Tbilisi Pride, which has been fighting for LGBTQ rights and visibility for the past two years. Tbilisi is Georgia's largest city, and Tabagari is something like a Georgian version of Harvey Milk.
The LGBTQ community has been trying to hold a summer Pride event since 2012, but all previous efforts have been plagued by threats of violence (and sometimes actual violence, like in 2013, when priests led a mob of 10,000 to attack a small group of LGBTQ activists, who were holding a small, impromptu rally). 
"The [Georgian Orthodox] church has been the main actor in organizing anti-LGBTQ protests," Tabagari says. "Especially the radical flank of it, the Orthodox Parents Union. They were particularly aggressive on May 17, 2013. Ever since, they've opposed every attempt of ours to have access to freedom of assembly."
This year was no different. One prominent opponent declared "this celebration of perversion" will take place "over our dead bodies." 
With more threats from the Georgian Orthodox Church, and ongoing tensions with Russia, Tbilisi Pride finally cancelled the June events earlier this year too. It doesn't help that they have no confidence that the Georgian authorities will protect their safety. Former Prime Minister Mamuka Bakhtadze, Tabagari says, wouldn't even enforce the country's existing LGBTQ protections, which only exist due to pressure from the EU, which Georgia hopes to eventually join. 
Even after Pride was cancelled, millionaire businessman Levan Vasadze organized vigilantes to "patrol" the city, trying to prevent another rally. The government all but looked the other way.
Tbilisi eventually held a small rally anyway, but Tabagari is frustrated — with the government even more than Vasadze.
"They have failed Tbilisi Pride," Tabagari says. "They have left us literally in the hands of pogroms, the aggressive groups who were marching in the streets and witch-hunting."
"We were helpless. There was no police protection when we went out into the streets to march. And these guys are still unpunished. It creates the whole sense of impunity that these guys can get away with aggression when they attack us, or they oppress us, or take away the public spaces from us. Once the state gives this kind of signals to the radical groups, the whole system goes wrong."
A lifelong queer activist, Tabagari holds a MA degree in EU International Relations and spent ten years living and working in seven different countries, before returning to Georgia with one simple goal: to make his home country a more tolerant place for its LGBTQ citizens. 
But it hasn't been easy.
"The comments on social media and the mainstream media are horrible," he admits in a second interview with us.
"I received death threats on my mobile phone. Which was very real because it was [specific]: 'We know what scooter you are riding, we know where you live, we know where you hang out.' It gets into you. And we have people who are murdered. We've had three transgender people murdered in the past year. And no one has been as vocal on this issue as I have been, and I became on the top list of hated people."
He pauses, scratching the head of his beloved new puppy, Shio, and says, "If somebody kills me now, probably half of [Georgian] society will be happy."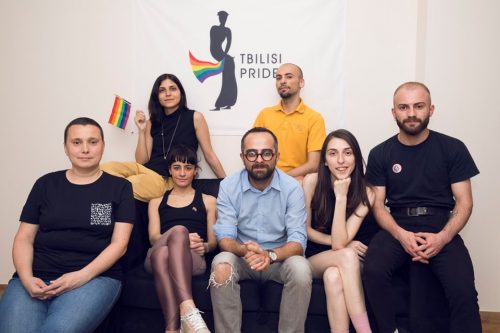 Since June, Tabagari and his fellow activists have kept a deliberately low profile. But that's easier said than done, since he's frequently noticed on the street, due to his many interviews. People often whisper and point.
"I returned here with the idea that I wanted to participate in changes in the country," he explains. "As optimistic and idealistic it might sound, I still believe in the things I do. I think about the consequences that in the short-term perspective that, even though it's a lot of trouble for me and other people, I know that it's going to pay off in the time coming. That keeps me moving. And we have a strong team. But it's tough."
Some of the criticism he's received has even come from the LGBTQ community and its allies.
"We would get even from our supporters, 'Aw, it isn't really the right time,'" he says. "But it's never the right time."
Far-right politicians, he says, will always take advantage of the controversy. "The church is going to use this to [try to] rehabilitate from their damaged reputation [from recent scandals]. This is unavoidable. We have been conceding year after year. It was never time for LGBT people to be public and visible. It would always cause trouble and outrage.
"This is the time," he says firmly.
In the Western world, where LGBTQ rights and protections are now widespread, there's sometimes a sense that these victories were inevitable, and that they can't be reversed.
It's not true, of course. These rights exist due to the blood, sweat, and tears of passionate activists like Harvey Milk. In Georgia, if LGBTQ rights are ever installed, and existing ones enforced, it'll because of people like Giorgi Tabagari.
Over the past two years of our travels, we've met some extraordinary people. In Italy, we talked with Emmanuel, an immigrant from Africa who nearly drowned trying to cross the Mediterranean in search of a better life. And while visiting the U.S. earlier this year, we met Benny and Bella Schepsman, two Holocaust survivors in their 90s.
Tabagari is another such person. He's a true inspiration.
Brent Hartinger is the author of the gay teen classic Geography Club, which was adapted as a feature film, and Michael Jensen is the former editor of AfterElton.com. Visit them at BrentAndMichaelAreGoingPlaces.com, or on Instagram, Facebook, or Twitter.