An Australian beer is facing major backlash after a conservative Christian organization produced a video where the beer appears.
The video, made to celebrate Bible Society Australia's 200 years as an organization, shows two Members of Parliament discussing marriage equality and stressing that opposing a minority's rights does not make someone a bad person. They appear drinking Coopers Light Premium beer in the ad entitled "Keeping it Light."
The Bible Society said it partnered with Coopers "to reach even more Australians with God's word."
Coopers also issued commemorative cans and put Bible quotations on their cases of beer to celebrate the Bible Society's 200-year anniversary.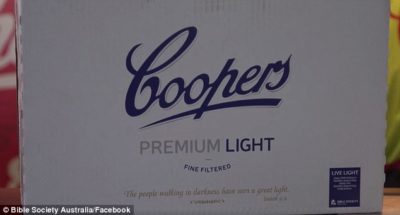 The response was severe from some bars in Fitzroy, a suburb with a gay neighborhood near Melbourne. "Sircuit and Mollies, like beer companies, have choices. I have made mine," Sircuit nightclub and Mollie's Bar and Diner general manager Chris Driscoll said, announcing that Cooper's would no longer be served at those establishments.
The 86, also in Fitzroy, also said that they would no longer be serving Coopers. "May they decline into obscurity," a message on Facebook read.
Several other bars, including the Hollywood Hotel and the Bendigo Hotel, have stopped serving Coopers.
.
Some consumers also joined in the boycott of Coopers.
A Change.org petition was started as well, which has over 1600 signatures as of this writing.
In their first statement after the controversy appeared, Coopers appeared to support the video.
"With regards to the 'Keeping it Light' video from the Bible Society featuring Andrew Hastie and Tim Wilson, this is a light hearted but balanced debate about an important topic within Australia. Coopers isn't trying to push religious messages or change your beliefs by celebrating 200 years of charitable work undertaken by the Bible Society, in fact, over the years we have produced a number of different celebratory cans to recognise the historical achievements of a vast array of different organisations."
The beer company later put out a statement to distance themselves from the Bible Society. "We want you to know that Coopers did not give permission for our Premium Light beer to feature in, or 'sponsor' the Bible Society's 'Keeping it Light' video."
For their part, the Bible Society also says that Coopers had nothing to do with the video. A spokesperson told the Daily Mail, "Coopers has definitely not paid any money or donated any money towards the video. It was produced solely by Bible Society Australia."
But this is the first time the nonprofit has tried to distance Coopers from the ad campaign. In a press release from last week, the Bible Society said, "Turning 200 this year, Bible Society Australia has teamed up with Coopers Brewery for the launch of a commemorative Coopers Premium Light beer…. Coopers Foundation have been strong supporters of Bible Society work."
Responding to the controversy, the Bible Society issued another press release on the topic: "Twitter has been a-flutter with talk about the Bible and what Australians can – and can't – talk about in public. There have been media reports that try to shame this person or that person for what they've said."
The two Members of Parliament who appeared in the video were Tim Wilson and Andrew Hastie. Wilson is openly gay, and both are members of the center-right Liberal Party. It's one of the two major parties in Australia, along with the Labor Party.
The Liberal Party is opposed to same-sex marriage, and marriage equality is not yet legal in Australia.