Billy Porter is runway royalty. Since rising to fame on Pose, he's stormed the Oscars in a binary-breaking tuxedo ball gown, rocked a red suit exploding with pink tulle at the Tonys, and served Egyptian deity realness at the Met Gala. His looks are never just clothing — they're full creative productions, directed by his personal stylist Sam Ratelle. 
Actually, scratch that, says Ratelle: Stylist isn't the right word.
"The fashion really isn't as important to me as the overall picture," he explained. "What excites me about the clothing is the theatrical aspect of telling the story through it. I think that's what makes me different, is there has to be an element for me that captures attention and that entertains."
Anyone who's kept up with Porter's looks knows that he doesn't simply show up on the red carpet in a gold bodysuit: That bodysuit has wings, and  he's carried in on a palanquin by six brawny "servants," each in a gold ensemble of their own.

Ratelle is the man behind the magic.
"He put Billy out there," said Miss J Alexander, former America's Next Top Model judge, catwalk coach and friend of Ratelle. "Any time a man can put a man in a ballgown on a red carpet, he has my vote. And Sam has my vote."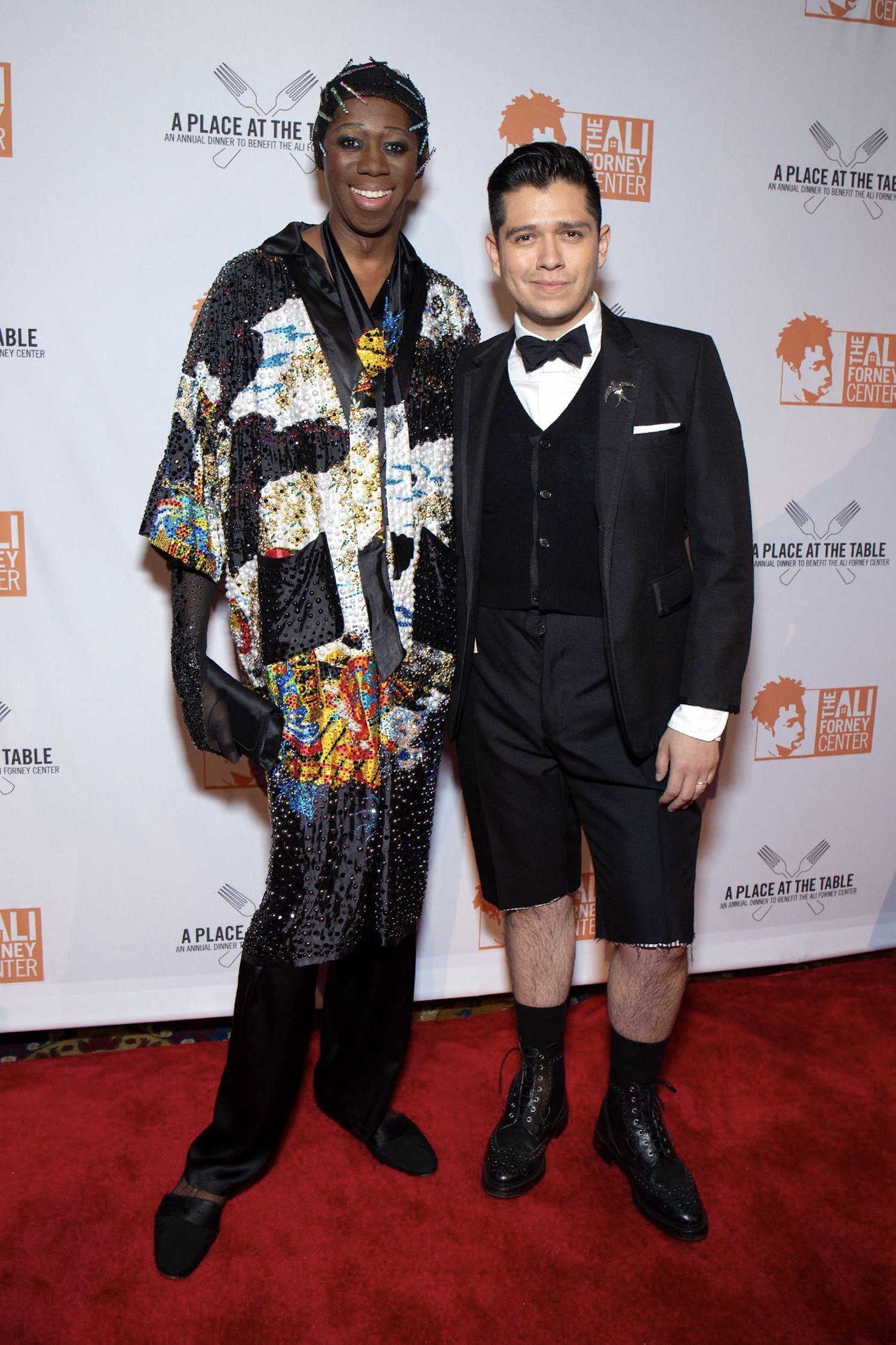 Yet for all the glamor he produces, the 33-year-old hasn't had a charmed life. His family kicked him out when he was a teenager because of his sexuality, making him one of the nearly half a million young LGBTQ Americans facing homelessness every year.
His story began in Tegucigalpa, Honduras: Before he was born, Ratelle's older sister got sick and his mother, a single mom, turned to Branhamism, a controversial Christian sect that adheres to faith healing.
Ratelle's sister got better, and his mother was a devout follower from then on. But Ratelle says he was raised within what he and many others consider a cult.

Ratelle immigrated with his mother and sister from Honduras to Miami in the mid-'90s, when he was 8 years old. The family later moved to Houston, where they continued to follow Branhamism.
"It's quite extremist," he said. "You're not allowed to have access to secular music. You're not allowed to watch television, can't eat certain things like Lucky Charms or eggs, can't really congregate with people who aren't in this cult. You can't have access to the Internet, music — joy, in a way. And these things also extend into their wardrobe."
Followers of Branhamism dress modestly: Women must wear dresses that cover them from the neck down and aren't allowed to get haircuts. (Ratelle said his mother and sister both had hair that dragged on the floor).

Ratelle wasn't allowed to wear T-shirts or shorts growing up, he recalled.
"In a way, fashion, for me, became this dream of aspiration, of having these things that were forbidden for me," he said. "And the more forbidden they were, the more I wanted them."
The sect also saw homosexuality as "probably one of the most disgusting, horrible sins that a person could potentially commit," he said.
For Ratelle, who said he's always known he was gay, this made it an even more dangerous environment. Even before he came out, he said, he was targeted for being too "feminine."
"Eventually, it started becoming an issue at church, and people were just demonizing me constantly because, apparently, I was a demon or I was possessed by demons," Ratelle said. "They'd do the thing where they pick you out of the audience to go up in the front, get prayed on in front of thousands of people and exorcised," he said. "I endured that for years and years and years and years."
When Ratelle entered high school, he said, he realized his own agency and stopped attending church.
"I said, 'I'm not going back there. You can beat me all you want, you can throw me on the street — I'm not going back to that place where they treat me horribly, they attack my self-esteem and my self-worth and who I am,'" he said. "'That's it. You're gonna have to figure it out.'"
The church tried to pull him back in, Ratelle said, but he wasn't budging. In fact he embraced his newfound freedom, acting "more flamboyant, maybe a little bit more gay." 
But his sexuality was a still secret from his family — Ratelle said he was certain his mother would never accept his being gay. He wrote everything down in a diary, which he kept as a project for English class.
Eventually Ratelle's sister discovered his diary and shared it with their mother.
"One day I came home from a friend's house and all my belongings were on our front lawn, and I was thrown out into the street," Ratelle said. "I think I was probably 16 years old."
From then on, Ratelle was in and out of homelessness. He'd find temporary housing in unlikely places — with his sister, who then kicked him out for bringing home a DVD of Jesus Christ Superstar; in a friends' dorm room at Sam Houston State University in Huntsville, Texas.
Ratelle enrolled as a student at the school himself but was eventually booted out because he was an undocumented immigrant.
After three years of this cycle, Ratelle, then 19, moved to New York City and into an apartment with a boyfriend of just a few months. When the two split up, Ratelle was left alone on the unfamiliar streets of New York.
"I slept on the street and in Central Park for, like, five days," he said. "Homeless people were trying to attack me … I was like, 'I gotta go somewhere.'"
But finding a place to stay wasn't easy: Ratelle tried to stay at a shelter for homeless youth, but found he wasn't safe.
"I was definitely targeted as an LGBTQ person," he said. "They beat me up, stole all my things and left me on the street."
That shelter directed him to one founded specifically for LGBTQ youth: the Ali Forney Center, or AFC, the largest center helping and housing LGBTQ homeless youth in the United States.
"Ali Forney works to provide LGBTQ youth who've been rejected by their families safe and affirming shelter and services to help them overcome the trauma of family rejection, and the tools they need to rebuild their lives," said AFC executive director Alexander Roque.
A study from the University of Chicago estimated that LGBTQ youth are 120 percent more likely to experience homelessness than their cisgender and straight peers, often because they are rejected by their families.
For Ratelle, AFC wasn't just a place to live: It became his family.
"They would go above and beyond to make sure that when it was Thanksgiving, we would have a meal. When it was Christmas, we would always have gifts," he said. "It was nice to have a place to call home."
The AFC placed Ratelle in emergency housing for a month, then moved him to a transitional space for a year. That stability allowed Ratelle to break into the world of fashion publicity and styling — he was noticed by another stylist while working in PR at retailer Club Monaco, and from there, he quickly rose in the ranks of the industry. Ratelle started his career, saved money and got back on his feet, thanks in large part to the AFC's care.
"It was this family, this aspect of parenting that I would have never been able to have," Ratelle said. "I realized at that time, I could go home to Houston to live this horrible life with my mother and these people, or I could stay here and follow my dreams and do what I need to do. And that was the right choice and the better choice for me.
"I look at myself now, 14 years later, and now I'm on their board of directors," he said. "I'm able to now help other LGBTQ people who are homeless have a better life. It's really sweet and full circle."
Beyond working in high fashion, he's developing "A New City," a Broadway musical based on his life.
Ratelle also reconnected with his mother, who now lives in an assisted living facility in New Mexico for elders with schizophrenia and dementia.
Though she is still a follower of Branhamism, she recently apologized for what she put him through, Ratelle said, something that he "never thought would happen."
"I somehow feel like now, because of what she's going through, she's able to be more open. Before if you spoke to her about homosexuality she would cover her ears and throw herself on the floor," he said. "A lot of it is an aspect of education, you know? She was a single mother. I think she tried to do her best, and so we're able to atone that a little bit."
Ratelle says that, even more than food, shelter and other necessities, AFC helped him by providing emotional support, enabling him to cultivate his talents and giving him the confidence to thrive.
"You know, I'm a superstar," he said. "But if I had not believed that through this, I would have never gotten out, because nobody was telling me that. Nobody was seeing that. It's important for us to have organizations that are able to provide that kind of support."
But Roque credits Ratelle with doing the hard work.
"We had nothing to do with Sam's success other than his stability, giving him the runway, the foundation, the support, the safety that he needed to recover from the harm that he went through on his own and rebuild his life."
Now, Ratelle is a rising star in his industry, living in an Upper West Side apartment with his husband, Ryan — who's also Ratelle's publicist and the co-founder of their agency, RRR Creative. 
"You've got to appreciate the creativity that goes into the work of creating a look for a red carpet that may last one night, may last four or five hours," said Miss J of Ratelle's work. "King Tutankhamen, honey, for the Met Gala? Really? That gold, all the madness, you know, feathers and capes and hats with moving beaded trim — I mean, come on, child. That's a lot."
Among Ratelle's other celebrity clients are Nico Tortorella, Michael Urie, Victor Garber and Donna Murphy.
"Someone like Sam and so many of the young people who've been in our care over nearly 20 years of work really exemplify our goal—to help heal so that young people can live their full potential," said Roque. 
Ratelle made it out of homelessness, but it's still an epidemic in America for LGBTQ youth. According to advocacy group True Colors United, there are over 1.6 million LGBTQ youth experiencing homelessness in the U.S. Supporting them should be the responsibility of every queer adult, Roque said.
"From your desk, from your home, from your computer, you can support homeless youth by being a visible ally," he said. "You can support homeless youth by disrupting conversations of homophobia and transphobia at the dinner table. You can support homeless youth by affirming for them that there's nothing wrong with who they are."
Ratelle agrees, insisting the more attention drawn to LGBTQ youth homelessness, the more support the kids will get — and the more chances they will have to be a superstar in their own right.
"All we can do is continue to create visibility and awareness, just like we're doing in places like the Ali Forney Center," he said. "If we can create some fuss and disrupt things, that's where we're going to change it."
Jude Cramer is a writer at INTO Magazine