When Skye Adrian moved from Jamaica to the United States in 2015, he dreamed of being a pilot. At 19, he entered the country on a student visa and began studying aviation at the Vaughn College of Aeronautics and Technology in Queens, New York.
"The image of America that I had was very America's Next Top Model, Law & Order: SVU," Skye told LGBTQ Nation. "When I got here, I quickly realized how inaccessible many things were."

Skye moved in with his parents, who were already living in the U.S. They helped support him financially, but his home life deteriorated quickly once he came out.
"Me being gay was … I'm not going to say my parents weren't tolerant, but I certainly wasn't comfortable being myself — especially around my brother, who was not supportive," Skye said. "I literally came home one day and realized I couldn't stay there anymore. At that point, I didn't realize I was homeless but that's exactly what it became."
He turned to dating apps, arranging hookups with men in exchange for a place to crash.
"Obviously, that was not working out," Skye said. "Like, what if I didn't want to do that? It was so awkward and stressful." 
Skye's story is not unique: Although less than 10 percent of young Americans identify as LGBTQ, more than 40 percent of young people experiencing homelessness identify as LGBTQ. Homelessness disproportionately affects young LGBTQ adults of color, like Skye, and especially transgender and gender non-conforming youth. 
Zachary Cohen is director of development for New York City's Ali Forney Center (AFC), the largest organization in the U.S. dedicated to serving LGBTQ youth experiencing homelessness. 
According to Cohen, 90 percent of AFC's clients are people of color, and almost all of them — 97 percent — live below the federal poverty level. 
"You can imagine the compounding levels of inequity for queer young people of color," Cohen told LGBTQ Nation. "It's just further compounding needs."
Although acceptance of LGBTQ people in the U.S. is trending upward, the vast majority of AFC's clients became homeless because of their sexual orientation or gender identity, Cohen said, "including your traditional 'kicking a kid out because they're queer,' or a living environment that's just too hostile."
Skye lacked financial resources and was forced to drop out of school, which meant he was violating his student visa. When he began working with AFC, his life started to turn around, he said. 
AFC set Skye up with stable housing and hired him to work in its youth advocacy program, which allowed him to stay in the U.S. The organization also assigned him a case manager, who helped Skye make a timeline and plot steps toward financial independence.
"I felt like I was very connected to what I needed to do," he said. "My case manager was really helpful. Even if I didn't need them for every step, I could still rely on them for accountability and help navigating the system."
How These Services Empower LGBTQ Youth
When Skye looked into different shelters in New York, he selected AFC, he said, because he thought he'd feel safer in a space specifically serving LGBTQ people. Sexual minorities can face discrimination, harassment, violence and even sexual assault at other facilities.
AFC operates 17 sites around the city, including the Bea Arthur Residence, an 18-bed transitional residence in the East Village that opened in 2018 after the Golden Girls star left the organization $300,000 in her will.
AFC serves about 2,000 homeless youth and young adults each year, nearly half of whom come to its drop-in center in Harlem from out of state. 
"The drop-in center operates like an Ikea," Cohen explained. "We serve four meals a day. These kids, who are living in the streets, know they can get a warm meal, take a shower, and do their laundry there. And while they're doing their laundry, we have an hour-and-a-half to get them to maybe engage in one of our services — like counseling, art therapy, or open discussions."
Clients like Skye, who relied on AFC's transitional supportive housing program for a place to live, work with staff to set goals, whether that's getting a permanent job, furthering their education, or putting funds aside to secure a home of their own.
Many, like Skye, are also employed by AFC.
"I capitalized on my experience," he said. "They wanted to do a youth-advocacy program … I said, 'Let me do it.' I spoke with other young people about what they thought could make these services better."
The highlight of that whole experience, Skye said, "was realizing I really care about other young people."
He also credited AFC with providing him with a documentable source of income to help him stay in the country.
"They found unconventional ways to compensate me and also make sure that compensation could actually help me," he said. "Sometimes, groups will be like, 'Oh, we're going to give you a stipend or a gift card.' And that's great but not really helpful for bigger things."

Today, Skye works on his art and photography. Although he's no longer studying to become a pilot, he is just as passionate about his work as a peer navigation program manager at the Coalition for Homeless Youth. 
The career pivot, he said, was inspired by his life and the care he received at AFC.
"I never want anyone to have the experience I had," he said. "Never should you be sexually exploited to have a safe place to crash, especially when all of these services are available."
Skye keeps an art studio in Harlem, the first apartment he's ever rented on his own. It's a milestone that is difficult to overstate for a young man who has experienced homelessness.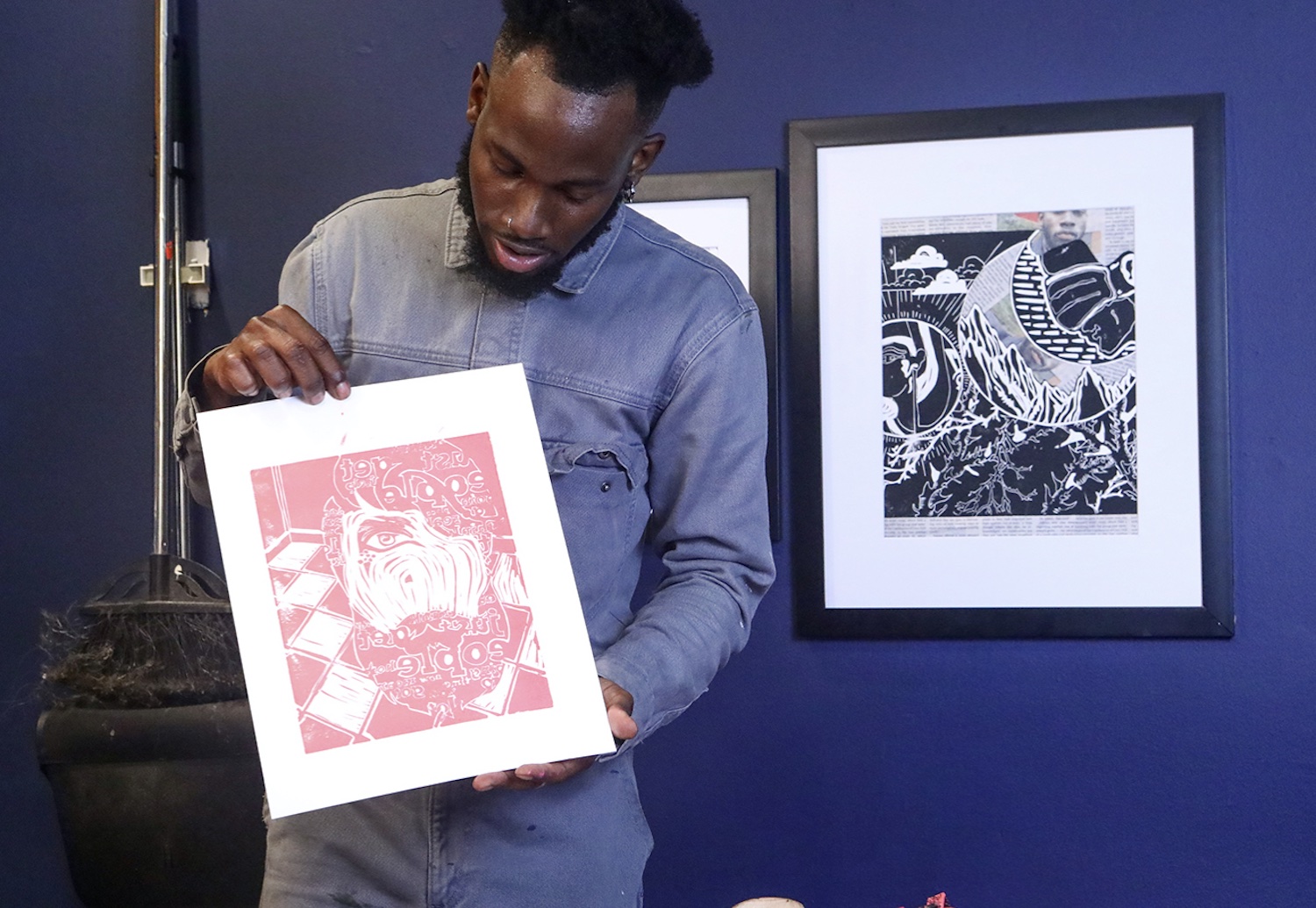 "I do have a room in Brooklyn I'm renting with a friend, but I can't give this studio up," he said with a laugh. 
Skye knows he's lucky to have been employed throughout the pandemic: More than 90 percent of AFC's clients lost their jobs during the lockdown, Cohen said, and 70 percent were forced to delay furthering their education. 
That's a significant obstacle in itself since 90 percent of AFC's clients arrive without a high-school diploma or equivalent. 
"For homeless LGBTQ youth, work and school are a huge part of recovery from trauma and family rejection," Cohen said. "Without the ability to build momentum and track independence, it's retraumatizing for these youth to be unable to move forward on their paths."
Carving Out Safe Spaces for Homeless Youth

Sabrina, who asked that only her first name be used, can relate to Skye's journey: Growing up queer in Savannah, Georgia, she said she endured years of homophobic verbal and psychological abuse from her parents. When Sabrina was a closeted teen, they would taunt her with anti-gay slurs because of how she looked and acted—their derision worsened once she came out.
"Culturally, Savannah is very old money," the 22-year-old told LGBTQ Nation. "I was a disappointment to them because I was unwilling to fit into their perfect family portrait."
After Sabrina developed a drug problem as a teen, her parents sent her to a residential treatment facility in downtown Atlanta. But once she turned 18 and aged out of the program, her parents refused to let her return home, rendering her homeless.

"I was too old for foster care. I was alone and didn't have any legal documents," she said.  
A counselor at Sabrina's facility told her about CHRIS180, an Atlanta nonprofit that provides mental health counseling, life-skills development, and housing services to youth experiencing homelessness across Georgia. (The group's name is an acronym for the organization's key values: Creativity, Honor, Respect, Integrity, and Safety.)

Celebrating its 40th year, CHRIS180 has been praised for its inclusiveness, with mandatory training for staff and advocacy work on behalf of LGBTQ youth in foster care.
After touring the organization's facilities in 2018, Sabrina quickly applied to live in the Summit Trail Apartments, an LGBTQ-friendly supportive housing project for young adults in southeast Atlanta. 
The building has space for 44 people, including 24 single apartments and separate units for clients who have children.
In addition to receiving housing, residents are paired with a life coach and focus on career planning, educational opportunities, personal well-being, and functioning in a community.
CHRIS180 provided Sabrina with basic life necessities and the agency's social workers helped her navigate bureaucratic hurdles. 
"They helped me obtain documents when I came out of my parents' guardianship," she said. "They also paid for driving lessons so I could get my driver's license."
Sabrina was also able to access therapy, which she said was invaluable after growing up in such a hostile home environment.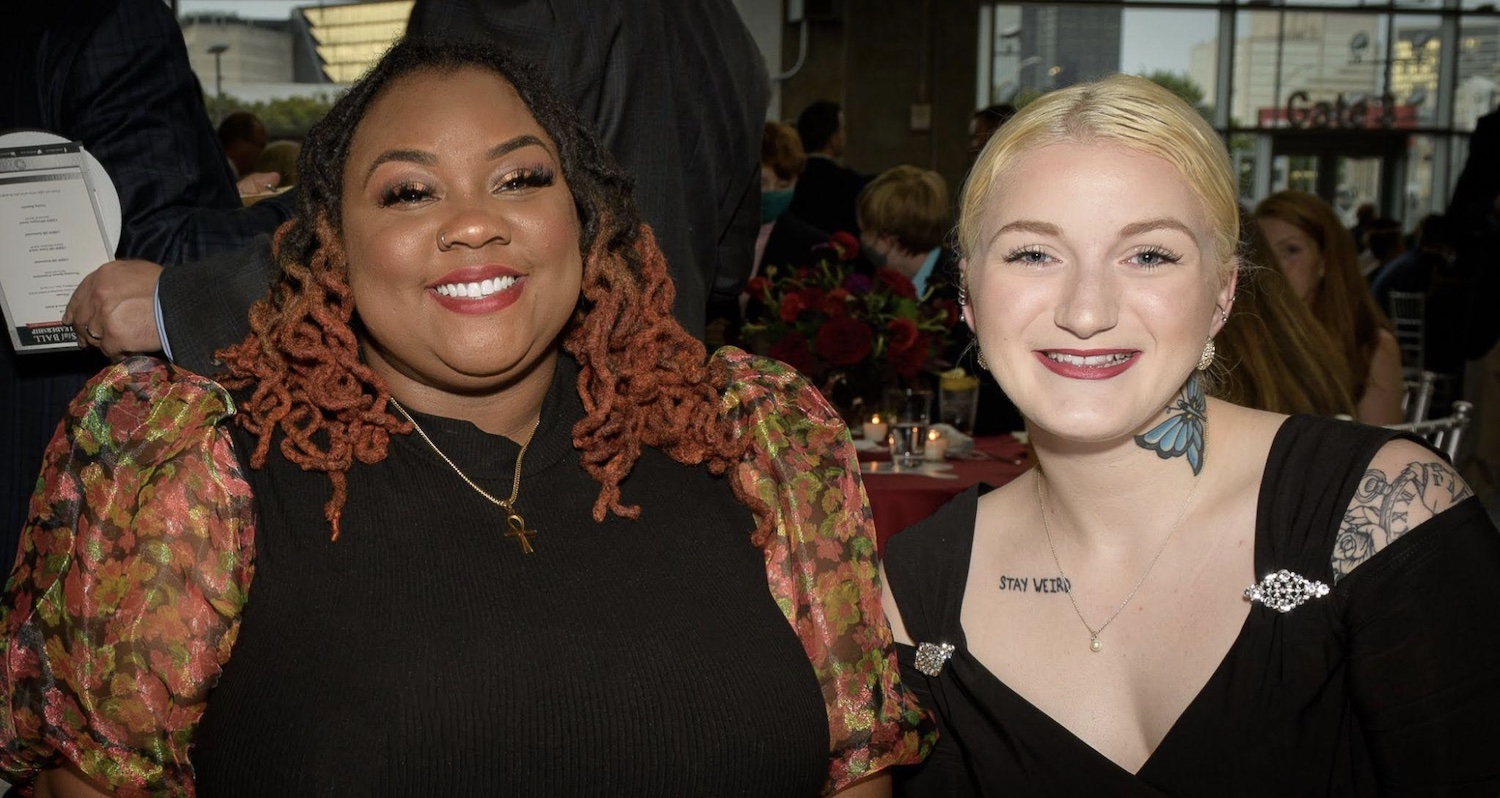 "I didn't believe in myself when I first moved out here," she said. "I felt so alone. Being able to know that I have the ability to [obtain documents and health care] really helped — especially pushing with school."
Summit Trail is aimed at helping people 17 to 24 prepare for self-sufficiency after foster care.
"One thing we realized is, when they age out of foster care, what happens next?" Chaundra Luckett, CHRIS180's chief marketing officer, told LGBTQ Nation. "So we created a specialized home where they're able to receive therapy services and find a job."

The organization works with clients throughout the region who are either unwelcome or uncomfortable at other housing programs because of their gender identity or sexual orientation. 
CHRIS180 also helps clients gain workplace skills and improves the atmosphere they enter in the real world with cultural-competency training.
"A lot of people step into this work and have no experience, either by way of their lived experience or work that they've done previously," Luckett said. "So we offer that as a training course for our staff and external people. You also get that training in our new employee orientation."
Today, Sabrina works at a restaurant in downtown Atlanta while she is studying to become a medical assistant. She lost her job in April 2020 because of the pandemic but was rehired in November. 
She also got married on Halloween 2020 in a small ceremony. 
"My wife and I live here together at Summit Trail," Sabrina said. "They're very open and friendly with us."
Like Skye, Sabrina is giving back to the organization that has helped her: When she's not waiting tables or studying, she works as a peer specialist at CHRIS180's drop-in center, connecting with young people struggling with depression, addiction, and other issues.
"At the end of the day, especially with younger kids or adolescents, they don't want to talk to an older figure or therapist," she said. "Half of the time, they feel like they're not being heard."
Sabrina said it's been rewarding to see people in situations like she was in "paint themselves in a better light." 

"It's nice to see someone who feels like there's something wrong with them come to terms with who they are," she said. "I feel like if I had me back in the day, it would've been easier."
Getting the Word Out
When Santana Lucha, a 21-year-old trans-feminine and nonbinary person, applied for the Youth Housing Initiative at Chicago's Center on Halsted last spring, they had nowhere else to go. 
Santana had been living with their mother in Chicago, but when their father was released from prison and rejoined the family, Santana said they felt very unwelcome.
"They had different ideas of who I was going to be," Santana told LGBTQ Nation. "I decided to leave for my own safety. It was kind of a whirlwind."
After a brief stint living with their ex, Santana went to the emergency room just to avoid sleeping on the street. While there, Santana was connected with a case worker from the Center on Halsted's Youth Housing Initiative, which offers transitional housing for LGBTQ people ages 18 to 24.
Up to eight clients live in two apartments in Chicago's Greater Grand Crossing neighborhood. They are immersed in the community through volunteering, gardening, poetry readings, performing arts, and workforce development opportunities with companies like Dorchester Industries, a group that creates furnishings and other goods using overlooked materials.
The program is only in its second year, but has quickly reached capacity and already "graduated" its first client, according to case manager Tiambriss Glass-Kuntu.
"At our one-year point, we had our first participant who'd moved in successfully graduate from the program and secure her own housing," Glass-Kuntu told LGBTQ Nation.  
Santana joined the program in July and says that in the short time, their life has already changed immensely. 
"Prior to coming here, I did not have a high school diploma or GED," they said. "Within a month, I was enrolled in a program they found for me [and] now I'm starting on that road."
The initiative uses a holistic approach, Glass-Kuntu said, which empowers clients by providing stable housing and other resources, including educational support and mental and physical health care.
"Pretty much all of our young people are receiving therapy services," she said. "And they're either in school or they're working." 
Once they're able to secure stable employment — like Santana, who now works a service job — clients can begin investing in their future. 
"Through the initiative's savings program, you're required to put aside 30 percent of your paycheck so you have something when you leave," Santana said. "Hopefully, it's enough for a down payment on an apartment or something of that nature."
Although they described the program as "super-independent," Santana is very close with the other six clients, all of whom are transgender or nonbinary. (A third of all transgender people have experienced homelessness at some point in their life, according to the National Law Center on Homelessness & Poverty.)
"I get along really well with my roommate," Santana said, "and we all do the most for each other. It's nice, too, because I know all of us have backgrounds where we didn't really have anyone there for us. It's refreshing to be around people who all want to help."
Still, eight slots is not a lot, and Santana wishes there were more programs available to Chicago's unhoused queer youth. They also want people to have a better understanding of the myriad reasons young LGBTQ people experience homelessness in the first place.
"People think that homeless youth are hopped up on drugs and stuff, and that's not always the case," Santana said. "These are often just normal children whose parents are not supportive. It's just the situation they're in. I think if more people knew how to help, they would help."
Petitioning for Additional Resources
Michele, who asked that only her first name be used, had a tumultuous relationship with her family for years. When she was 16, her mother's fiancé made advances on her. 
"I went into foster care first," the 26-year-old Philadelphian told LGBTQ Nation. "I was in a shelter before they found a group home for me, and I bounced from group home to group home until I was 19."
After Michele aged out of the foster care system she was in and out of unsafe housing situations, including a harrowing tenure at an unsanitary apartment with a landlord she described as "shady." 
"He was sneaking in through the upstairs bathroom to come into the house and harass us as tenants," the 26-year-old Philadelphian told LGBTQ Nation. "We had to withhold rent because we didn't have any hot water or gas. We called the cops over and over again."
In 2018, Michele, who has a disability, tried to move into an apartment with a cousin, but the plan was sabotaged by her mom. 
"She called my cousin and said I would probably overstay my welcome," Michele said. "It really messed with my mental health."

The situation exacerbated Michele's existing depression and, after a suicide attempt, she went into the hospital.
According to a 2019 report from The Trevor Project, LGBTQ youth who experienced housing instability reported attempting suicide at three times the rate of those who had not. Advocacy group True Colors United also found that LGBTQ homeless youth experience worse mental and physical health issues, a disparity even more dramatic for transgender and gender non-conforming youth.

Unable to return home, Michele ended up in a homeless shelter before finally being referred to the Gloria Casarez Residence in North Philadelphia. Run by Project HOME, the residence is a permanent supportive housing program for young adults experiencing homelessness — the first program of its kind in the state.
About 1,000 young adults age out of Pennsylvania's foster care system each year, according to the Pennsylvania State Resource Family Association, constituting one of the state's fastest-growing homeless populations. If national estimates hold true, a significant proportion are LGBTQ.
As someone who identifies as bisexual, Michele said she loved the program's emphasis on queer inclusion and community building. "It was a perfect fit," she said. 
She was accepted into the Gloria Casarez Residence in 2018, and has lived there since. Her case manager helped her score an internship, and she's working to eventually obtain housing of her own.
In her spare time, she enjoys writing poetry, listening to music, and playing video games. Michele credited the services she's received from the Gloria Casarez Residence and Project HOME for opening her eyes. 
"You need to know your rights, and it has empowered me to say, 'Hey, this is not right. We deserve more,'" she said.
Still, she said the services offered to people who are unhoused need improvement. For one thing, resources tailored to homeless people with disabilities — let alone LGBTQ people with disabilities, like her — are few and far between. 
She's hit some roadblocks because she receives disability payments from the state. That income is slightly too high to qualify for certain housing but still too low to secure a rental without a guarantor.
"A lot of places want a certain amount of income and because it's fixed, you really can't do much," she said.
There's also the question of what happens when a young adult experiencing homelessness is too old to qualify for a youth-oriented facility like the Gloria Casarez Residence, which, according to the eligibility requirements, only accepts applicants who are 23 or under at the time of move-in.
Michele has looked into state-funded programs, but the demand for safe, affordable housing is much higher than the number of openings. 
Skye first went to AFC in New York when he was 19. At the time, clients became ineligible to receive services aimed at runaway and homeless youth at age 21. Skye felt like he was "in a race" to secure housing before he aged out.
Galvanized by that experience, he and other advocates successfully petitioned to raise the maximum age to 24 in New York State.

"Now, they can go to Ali Forney Center and not feel like they're going to be separated from younger people," Skye said. "They're on the same waiting lists, in the same systems."
Skye, Michele, Sabrina and Santana all agree that finding affirming housing and support services within their communities was critical to putting them on the path to success as young people.
An advocate himself, Skye says the next frontier of LGBTQ homeless activism will focus on a different group entirely: Adults, especially those past their mid-20s. 
"If you're an adult, it's harder to get services," he said. 
Many programs for LGBTQ adults also require participants to quantify their level of housing, so people who are couch-surfing might not receive the same level of care as those deemed "critically homeless," or literally on the street.
"If you're homeless, you're homeless," Skye said. "You shouldn't have to prove it to get help."
Sam Manzella is an associate editor at Logo TV.