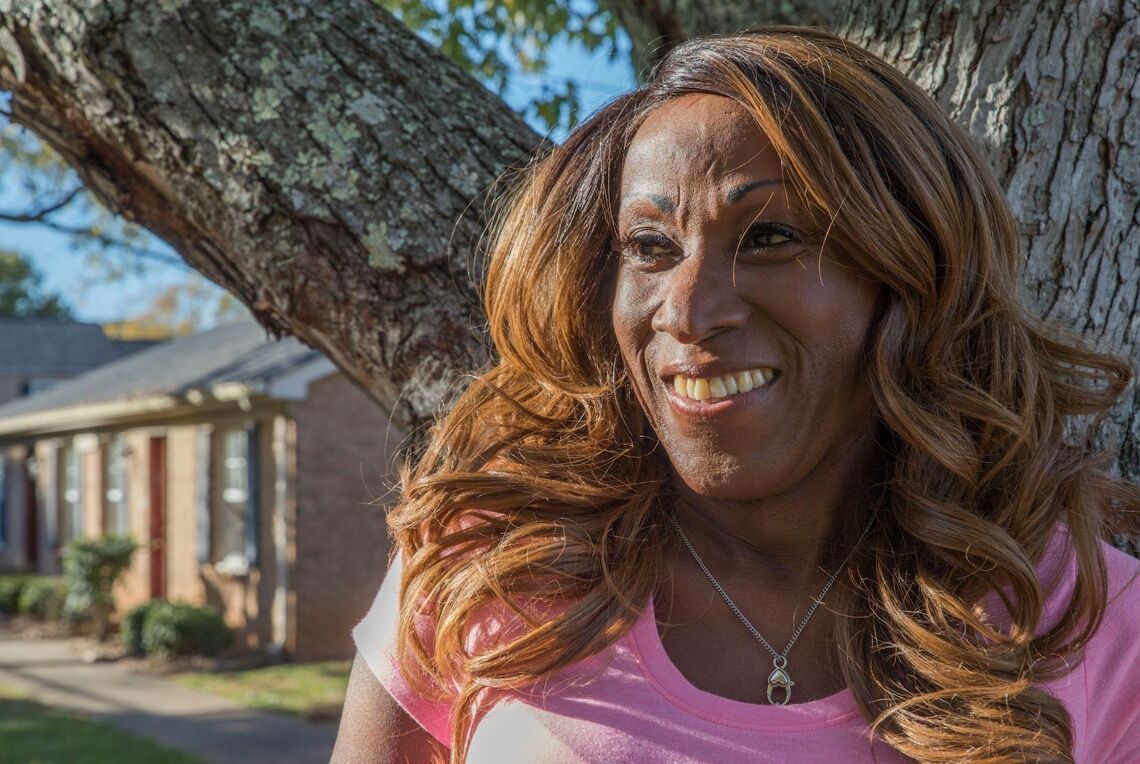 Rev. Debra Hopkins is the CEO of There's Still Hope, a nonprofit she founded in 2018 to provide temporary shelter, food, hygiene products, and access to counseling for transgender adults.
Hopkins said she felt moved by a duty to help trans people like herself.
In 2007, Hopkins was working as a pastor at ​​New Life Christian Fellowship in Huntsville, Alabama, leading a ministry primarily focused on homeless women and children.
On her way home from a late night at the office, she was surrounded by a half-dozen police cars, arrested, and charged with robbing a bank, assault with a deadly weapon, and fleeing the scene of a crime.
Hopkins had her first panic attack in the back of the police cruiser on her way to jail.
Throughout her trial, Hopkins maintained her innocence. But as she awaited the verdict while incarcerated in a men's jail, she grew increasingly concerned for her safety. Hopkins said she was subjected to physical, mental, and sexual abuse by inmates and guards.
The charges were dropped for lack of evidence — Hopkins had simply been in the wrong place at the wrong time. But the damage had been done: The trauma of the experience resulted in Hopkins attempting to take her life several times.
Her life and reputation in ruins, she found herself homeless and struggling to survive on the streets of Charlotte, North Carolina.
When she went to a women's shelter, Hopkins said, she was told by the director that her presence was making some people "very uncomfortable" and she would need to consent to a strip search "to determine if you belong here or not."
"I asked them, 'Have you ever asked anyone else who has come through these doors to do a strip search?' And she said 'No,'" Hopkins remembered. "I looked at her and I said, 'There's nothing about me that should cause any concern. I have not created any disturbance. I help clean up, I leave to go look for work and I don't create any problems with anyone else.'"
Still, Hopkins was told she would have to be searched, so she left the shelter.
After a third suicide attempt, she was referred to Monarch, a trauma-informed care organization she credited with helping her with mental and physical health issues, including complications from diabetes. It also helped her regain the stability she needed to find work and begin building her life anew.
She was even eventually able to regain her ministerial work so that she could help others avoid the traumatic situation that befell her.
Today, she's more engaged in her mission than ever: Because of the high demand in recent years,There's Still Hope has evolved into a transitional housing program.
Lesbian, gay, bisexual, transgender, and queer Americans are vastly overrepresented in the criminal justice system — arrested, incarcerated, and placed on parole at significantly higher rates than their straight, cisgender peers.
The problem starts early, with young LGBTQ people caught up in the juvenile justice system, often fueled by rejection at home or being shuttled through foster care: An estimated 20 percent of young people in juvenile facilities are LGBTQ, according to a 2021 report from the Prison Policy Initiative (PPI), compared with 6 percent in the general population.
The cycle continues into adulthood: According to PPI's analysis of 2019 data from the National Survey on Drug Use and Health, gays and lesbians were more than twice as likely to have been arrested in the past year than their straight peers.
Lesbian and bisexual women, in particular, were more than four times as likely to have been arrested in the past year than straight women, PPI found, and gay and bisexual men were 1.35 times as likely.
And when it comes to sentencing, gay, lesbian, and bisexual adults are incarcerated three times more often than the general population (1,882 per 100,000 compared with 612 per 100,000) and face prison terms that are significantly longer, according to the study.
LGBT inmates are often put in segregation or solitary confinement, in many cases to protect them from attacks by other inmates. But the psychological impact of isolation can be devastating. Some 85 percent of LGBTQ incarcerated people had experienced solitary confinement, according to a 2015 Black and Pink survey, which found LGBTQ inmates of color were twice as likely to face solitary confinement.
Black and Pink, a prison abolitionist organization that supports LGBTQ prisoners, made many recommendations in the study, including establishing safer housing for queer prisoners — ideally with other LGBTQ inmates — and providing affirming books in all prison libraries. In addition, because gay, lesbian, and transgender inmates are likely to have less support in the outside world, the organization encourages permitting prisoners to correspond with one another through letters and email.
The American Civil Liberties Union also works to ensure that LGBTQ people and those living with HIV/AIDS are treated fairly by prison officials.
In 2016, the ACLU worked to get the Kentucky Department of Corrections to lift its ban on materials that "promoted homosexuality" in the Eastern Kentucky Correctional Complex, a minimum and medium security prison in West Liberty. According to the civil rights group, officials routinely confiscated material including mainstream magazines – more than a dozen times in one four-month period.
William Sharp, legal director for the ACLU of Kentucky, called the discriminatory practice "precisely what the First Amendment is designed to prevent."
Because of the civil rights organization's efforts, the state Department of Corrections implemented substantial changes to the regulations governing prisoner mail.
"Gay people are entitled to equal dignity, inside and outside of our nation's prisons," said Ria Tabacco Mar, director of the ACLU's Women's Rights Project, who collaborated on the investigation. "This policy change is a positive step forward for prisoners in Kentucky, and we appreciate the commissioner's decision."
In some cases, gay men are still haunted by the specter of discriminatory bans on homosexual sex that were ruled unconstitutional nearly two decades ago.
The U.S. Supreme Court struck down sodomy laws nationwide in 2003's Lawrence v. Texas, but individuals convicted of consensual sodomy before that decision must still register as sex offenders in Idaho, South Carolina and Mississippi.
It's a burden that can cost them housing, employment opportunities, and in some cases, even personal relationships.
"I'm outraged that in 2021 that we have what is essentially a registry of gay sex," attorney Matt Strugar, who is working to get a client vindicated in Idaho, told NBC News.
Nowhere is the issue of overrepresentation in the justice system more evident than among transgender women: more than one in five (21 percent) have been incarcerated during their lifetimes, according to the National Transgender Discrimination Survey published in 2011.
For Black trans women, the percentage leaps to nearly one in two (47 percent), compared with 0.5 percent of all women who have been to prison, according to a 2003 Department of Justice report.
Nearly 5,000 transgender people are incarcerated in state prisons across the United States, according to a 2020 NBC News report. But only a handful are assigned to facilities based on their lived gender identity: The vast majority were housed by the gender assigned at birth, leaving them vulnerable to harassment, violence, and sexual assault.
Dee Farmer, a 56-year-old Black transgender woman, lived that experience. She recalled feeling isolated as a child growing up in Baltimore in the late 1960s and the 1970s. Instead of hanging out with friends, she spent most of her time studying or cooking and cleaning.
"I was always perceived as a gay child," Farmer said. "I didn't play with other children — even within my family — and definitely not within school."
While she was a good student, Farmer faced harassment from classmates, who would "throw rocks and stuff at me or chase me home and fight me."
That abusive environment, she said, led her to drop out of school and become involved in criminal behavior.
She sought other queer people in what she described as the "bottom borough of the inner city."
Like her, many were victims of various forms of discrimination.
"They were all involved in some type of activity that they described as survival work," Farmer said. "Maybe stealing, or sex work, or selling drugs. I never felt comfortable doing any of those things, so writing [bad] checks and [committing credit card fraud], where you had to use some sort of intellect, became my way of life."
But it was a way of life that caught up with her, and she paid a severe price: In 1986, Farmer was sentenced to 20 years in prison for credit card fraud.
Though she presented as female, Farmer was housed in a men's correctional facility, where she was eventually assaulted by another inmate.
Officials knew what was going on, Farmer said, and they should have worked harder to ensure her safety.
Farmer filed a federal lawsuit, arguing her Eighth Amendment protection against cruel and unusual punishment had been violated when she was housed in the general population with male prisoners and exposed to sexual and physical violence.
"I didn't have legal representation, and many people didn't believe in the argument that I was making," she said. "But it made common sense to me."
Farmer said she suffered from major depression throughout her incarceration, worsened by spending significant periods of time in segregation.
"So I did what I usually do when I'm depressed, which is sleep," she recalled. "But when I woke up I felt motivated, and so I would work on my case."
Eventually, the American Civil Liberties Union agreed to take Farmer's case. While lower courts ruled guards couldn't be held responsible for allowing her to be assaulted, the ACLU appealed all the way to the Supreme Court.
In 1994, Farmer v. Brennan made history, as the first time a trangsender plaintiff went before the nation's highest court. It was also the first time the Supreme Court directly addressed sexual assault in prison.
In a unanimous opinion, the justices ruled that prisoners had a right to be protected from sexual violence and that Farmer's suit against the warden and other prison officials for "deliberate indifference" to her risk of harm could continue.
"To actually find out [that the case had legal grounds before the Supreme Court] was just thrilling and exciting, but then after it sunk in, it was like, 'This is great, but there's just so much more to be done,'" Farmer recalled. "This is just like the tip of the iceberg as to the problems that transgender inmates suffer, and prisoners in general suffer.
"And so the burden was — it felt lifted when the decision came out, but a month later I still felt the burden of all my sisters and brothers in prison."
Since then, the case has been cited in tens of thousands of court decisions and was a crucial factor in the 2003 passage of the Prison Rape Elimination Act (PREA).
Farmer "changed the legal landscape for prison assault cases," said Chase Strangio, deputy director for transgender justice with the ACLU's LGBT & HIV Project.
"So much has changed, at least in part, because Dee decided to fight the injustice of what happened to her," Strangio added. "But 20 years later, much work remains."
Jeff Taylor is a freelance journalist based in North Carolina.