From the very start, the project of HBO's documentary series We're Here has been to show small town communities the human side of drag. The series follows RuPaul's Drag Race alums Bob the Drag Queen, Eureka O'Hara, and Shangela as they crisscross the nation nurturing and mentoring everyday people as they dip their toes into the world of drag performance for the very first time. Their interactions are often heartbreaking and inspiring, illuminating the struggles of queer people living in small towns and the discrimination they face.
In an exclusive interview with LGBTQ Nation, Bob and Executive producers Stephen Warren and Johnnie Ingram talk about the outright hostility they felt filming the new season.
As everyone involved is quick to note, each show season has presented unique challenges. Filming on Season 1 was cut short in 2020 due to the pandemic, while in Season 2, the cast and crew, like so many others in the entertainment industry, had to navigate new safety precautions to prevent the spread of COVID-19. And in both seasons, the production frequently faced anti-LGBTQ pushback and occasional outright hostility from the communities in which they filmed.
Get the Daily Brief

The news you care about, reported on by the people who care about you:
But Season 3 was different. Shortly after production started this spring, reports of protests at drag shows and all-ages Pride events proliferated in the media. Seemingly overnight, drag queens became a favorite punching bag for Republican politicians, right-wing commentators, and anti-LGBTQ extremists.
"I wish I could say that I'm shocked to see it happening. But I'm not shocked," Bob told LGBTQ Nation. "Economics doesn't trickle down, but bullsh*t does. And when people at the top are spewing hatred and horrible, horrible rhetoric…why would you be shocked that it trickles down to every part of our community?"
Executive producer Stephen Warren, who co-created the series with executive producer Johnnie Ingram, recalled the resistance the cast and crew faced filming the pilot episode two years ago during the 2020 presidential campaign. "There was a truck with a Trump flag and people screaming at us as they walked by. And that threw us," Warren remembered. "That is nothing—nothing—compared to what we started to feel [this season]."
In town after town, the show faced hostility from people who seemed newly emboldened by the hateful rhetoric proliferating online from Twitter accounts like Libs of TikTok and Republican politicians looking to score cheap political points at the expense of the LGBTQ community. In Utah, police received what ultimately turned out to be a bogus threat of a mass shooting at the drag show they put on for every episode.
"The protests were way more intense," Warren says. "The protests were not just behind our backs. This year there was a huge difference."
"We experienced full-on macro aggressions," says Bob. "There were towns where the city council tried to have us run out of town completely—to shut our entire show down. There were towns where people threatened us with gun violence just for existing. And then we had towns where there was just no opposition at all. Because we travel far and wide."
"This season we had to have additional security, not just at the regular drag event. We had to have security guards dressed in regular clothes always near our production." Ingram explains. "In Granbury, Texas, there were threats to our drag show, so we had to beef up our security for that particular drag event."
Filming what would become the Season 3 premiere in Granbury was especially difficult for everyone involved. "I've said, if I never go back to Granbury, Texas, it'll be too soon," Bob says. "That place was wild. It was the first time I was like, These people really hate us. They do not want us here. I would have left if it was up to me."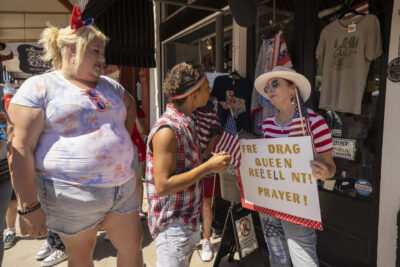 Warren says that a week before the show arrived in Texas, a local ultra-right-wing podcast began ginning up hostility, spreading a rumor that the queens would be participating in Granbury's Fourth of July parade—something that was never in the works. "We get to the town and already many of the people that we met were hostile. Because they thought we were trying to pollute them," Warren recalls.
Producers were forced to relocate a planned drag story hour event at a local queer-friendly coffee shop after people called, threatening to forcibly remove the children who were planning to attend with their mothers. "Not their children," Warren notes. "They were going to forcibly remove them, and they were potentially armed."
"People are more vocal now than ever because they feel vindicated to be able to be vocal. People feel supported in their negative opinions, and there's a lot of fear being thrown around about children," says Eureka. "Which, again, has constantly tormented the queer community. And it's heartbreaking that at the root of everything, people forget that we have families too. We have hearts too. We don't want to hurt children. Some of us have raised children. Me and Shangela specifically, we are huge influences in our brothers and sisters' children's lives. Our nieces and nephews, if it wasn't for us doing what we do, may not be as supported as they are, may not have a chance for success. I'm a queer person, and if it wasn't for what I get to do, how I make money, I wouldn't be able to help them thrive."
For Ingram and Warren, seeing drag queens become the targets of dehumanizing rhetoric has been devastating. But, they say, the current political climate reinforces their show's importance.
"We created this show to show this human connection between people that wouldn't normally connect," Ingram explains. "We're saying in this season that drag is love. It's a warm hug. We have an uphill battle on our hands showing what that love is. But we stand up and squash the hate with love—the love from our community, the love from these drag performers, the love we put into the wardrobe, the celebration, the people that celebrate onstage their own personal journeys for the first time. Standing up to the hate with love fearlessly and fiercely is all we can continue to do. That is the only way forward."
"This season is so important," Warren insists. "It's by far and away the most important season we've done, because everyone's always asking 'What can I do?' And it's not until you feel the connection with somebody that I think you can make substantive change."
"People share these memes on social media, but when you really sit with a human and you listen to their story and you watch them shine, that is what we really need to do," Ingram adds. "From our whole experience, there's a lot more people that are on the right side of history than there are these loud obnoxious people. We definitely outnumber the hate."