A Catholic hospital group in Illinois and Michigan has adopted a new fertility policy that explicitly discriminates against same-sex couples.
Illinois-based OSF HealthCare, owned by the Sisters of the Third Order of St. Francis, a Roman Catholic organization based in Peoria, IL, changed language in its fertility treatment policy to explicitly refer to opposite sex-couples only. Employees in same-sex relationships would not be covered.
BlueCross BlueShield of Illinois administers the hospital group's health care plan.
Under the new policy, OSF HealthCare, which operates 15 hospitals and 132 other facilities in Illinois and Michigan, redefines infertility as "the inability for a married couple of opposite sex spouses to conceive" and states its coverage aims to assist "married opposite sex spouses" in their efforts to have a child.
LGBTQ advocates say it's one of the first instances in the United States of an employer explicitly excluding workers from health coverage not because of objections to a particular treatment or service but because of the employee's sexual orientation.
The policy could be illegal under federal laws prohibiting discrimination based on sexual orientation.
In 2020, the U.S. Supreme Court ruled in Bostock v. Clayton that discrimination based on sexual orientation by an employer was a violation Title VII of the 1964 Civil Rights Act.
Attorney Noel León, who represents LGBTQ patients suing Aetna Inc. over fertility coverage, said OSF HealthCare's "explicit" policy language was a first.
According to León, established law does allow exemptions for religious-school employees, but exemptions for church-affiliated hospitals are new ground and could be "a tricky area."
A statement from the hospital group asserted, "The employee benefits we provide are driven by the OSF Mission and are in full compliance with the Ethical and Religious Directives for Catholic Health Care Services as well as state and federal laws, including the Religious Freedom and Restoration Act."
The Biden administration has taken steps to prohibit discrimination against the LGBTQ community, including an executive order last month that expands protections through federal programs.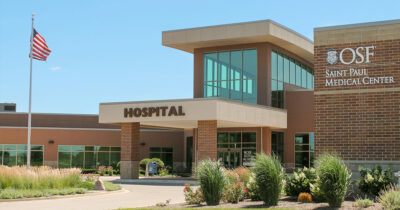 Last year, U.S. Citizenship and Immigration Services updated its policies so that children born through assisted reproductive technology are considered born in wedlock, a major advance for same-sex married couples who use in vitro fertilization or surrogacy to have a child.
Jennifer Pizer, a lawyer with Lambda Legal, says the language in the OSF policy is unusual, but "not a new problem."
"There are many faith-based institutions that provide services to the public supported by taxpayer funding, and yet wish to discriminate against some of the people they hire and some of the people that they serve," Pizer said.