If you have just started to explore the world of kink with your partner, then BDSM quotes are a great way to get inspired and segue into play from regular vanilla sex.
Whether you're a kink vet or your only exposure to the scene is Fifty Shades Of Grey, there's a lot to learn from these sexy BDSM quotes! Use these in the bedroom, and you'll be all tied up in no time.
Related: '50 Shades' author teases new erotic BDSM novel featuring two gay men
Get the Daily Brief

The news you care about, reported on by the people who care about you:
BDSM Love Quotes
There is an underlying judgment of BDSM as if it's something dirty or depraved, but it can also be a way for people to connect, get intimate, and express their love for each other – as you'll see in the quotes below.
"Right on the edge of fear was where trust could grow." – Cherise Sinclair, Breaking Free
It takes a lot to trust someone else with your pain or your pleasure, so it's no surprise that BDSM connections can sometimes flourish into loving relationships. Imagine being so understood by your partner that they know your limits and can push them (with your consent, of course) – this is why BDSM is so powerful and intoxicating.
"When a man truly loves a woman, she becomes his weakness. When a woman truly loves a man, he becomes her strength. This is called Exchange of Power." – Unknown
This quote encapsulates what it means to be in a hetero power exchange relationship, although keep in mind that it's not always the husband taking charge. In BDSM, the dominant projects strength and control, but there's still a responsibility to care for the submissive's needs and well-being. Meanwhile, the submissive finds strength in being able to let go of control, embrace their desires, and trust someone else to provide.
21 Horny BDSM Love Quotes About D/S Relationships To Make You Purr https://t.co/vRcWN93g31#MotivationalQuotes #MovieQuotes #WisdomQuotes pic.twitter.com/T10GKHbXgy

— Daily Quotes (@dailyquotespic) March 6, 2020
Dom And Sub Quotes
Looking for Dom sub quotes to get you into the right headspace? Keep these quotes in mind to give you that extra boost of confidence next time you're in the bedroom.
"You are the evil scientist of your desires." – Ignacio Rivera
There are no rules in BDSM except for the ones you set with your partner, so you get to play however you want. You get to be creative in how you play, and the success of the scene is ultimately up to you.
Another way of looking at this quote is that you don't stumble your way into sexual satisfaction – you have to work on it and create the scenes, relationships, and connections you want with your partner/s.
"Her secret desire is to be ravished, lovingly forced open in unbearable pleasure, and taken fully open to love by a man of deep spiritual wisdom, strength, humor, sensitivity, and integrity." – David Deida, Love and Fear
This is a quote all about all the qualities a sub is looking for. This partner has to be worthy of respect and submission. – after all, domination is not just about being served, it's about being worthy of service.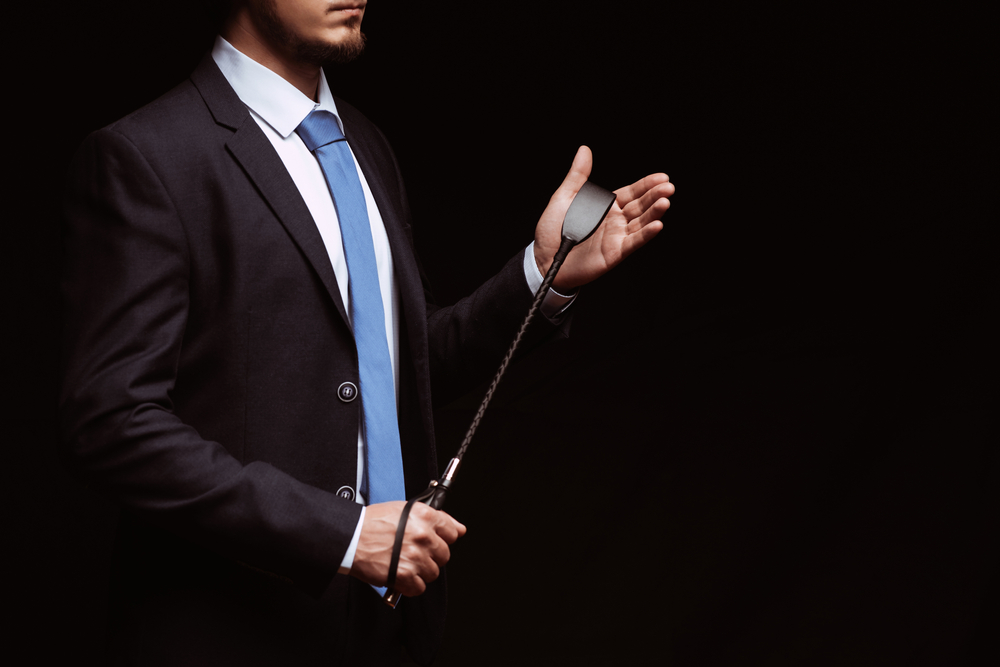 "Why are you so determined to keep your wild silently inside you? Let it breathe. Give it a voice. Let it roll out of you on the wide-open waves. Set it free." – Jeanette LeBlanc, Raging Rhetoric
This quote speaks to the shame we all feel when we are discussing anything taboo. BDSM can be a little wild and intimidating to try, but it can also be liberating to give in to what your body wants.
"The girl was eighty percent kitten and twenty percent lioness, and he considered it his mission to make her roar." – Kitty French
Part of the fun is the push and pull between you and your partner. Yes, the submissive partner is often passive, but a good dom introduces new experiences and challenges their sub. BDSM can also put you in touch with an inner strength that you didn't know existed but was actually there all along!
 

View this post on Instagram

 
"The collar represented something of big importance to her. He knew she saw it as losing who she was. He saw it as her trusting him enough to let him be in charge." – Starla Kaye
Collars and chains can be a little scary at first, after all, you don't want to actually hurt your partner. But the trappings of BDSM are essential to get into the roles and the mindset you need for the scene. They don't have to be expensive, they are just something to enhance the scene.
"The number one job of the dominant is to continually seduce consent from the bottom." – Joseph Bean
This is one of the best quotes about BDSM because it makes it clear that consent is KING. After all, with great power comes great responsibility.
While some people expect submissives to say "yes" to everything, a good dom knows that consent should be freely given and can be withdrawn at any time. This is why it's important to check in before, during, and after a scene to see if everyone is still having a good time.
In fact, contrary to popular belief, it's not the dominant that's really in charge. The submissive has equal (if not a bigger) say in how the scene goes down, and it's typically their needs that get catered to at the moment. Plus, subs (as well as doms) can choose to stop the scene at any time, giving them the ultimate power.
Gay and Lesbian BDSM Quotes
Specifically gay and lesbian BDSM quotes are hard to come by as most literature in this genre is still dominated by heterosexual pairings. However, there are some authors to check out if you are looking for inspiration.
For lesbian fiction, Lorelei Elstrom has gotten rave reviews. Her novel Owning Regina is like Fifty Shades Of Grey, but for women who love women. For men who sleep with men, Hot Head by Damon Suede is highly rated on Good Reads.
BDSM Dom Quotes
Dominants in popular culture are often portrayed as either sadists or perfect partners who anticipate all their lover's needs, but dominants run the whole spectrum. What's important is to take charge – try these the next time you're dirty talking:
"Are you ready for everything I want to do to you?"
"Are you ready for tonight to get kinky?"
"I want to have my way with you tonight."
Use nicknames and give encouragement like "Good girl" or "Good boy"
BDSM Submissive Quotes
It's possible for someone to be the instigator of a BDSM scene but be a submissive. In this case, it can be a little difficult to get things going because you are leading from below (so to speak).
Here are some sexy submissive quotes to try in the bedroom:
"Have your way with me."
"You can do anything you want to me."
What can I do to please you?"
Final Thoughts
BDSM is all about an exchange of power, and that might be too intense for some people. But if you and your partner have decided to explore this very exciting world, BDSM quotes can give you insight into this dark and seductive world.
Related: Republicans & Democrats have vastly different sexual fantasies & the reason why is fascinating