This year was filled with so many beautiful moments: Children came out to accepting parents, brothers defended sisters from anti-LGBTQ hate, and fathers embraced makeup-loving sons.
It's easy to only focus on the challenges faced by the LGBTQ community, as there are many. But there is also so much joy. There are so many moments of love and acceptance that deserve to be recognized again and again.
Related: Positive coming out stories that will restore your faith in humanity
Get the Daily Brief

The news you care about, reported on by the people who care about you:
Here are nine of those moments from 2021 that will surely make you smile.
The man who gave a kidney to his husband
When Reid Alexander matched on Tinder with Rafael Díaz last year, he had no idea that the connection would lead to both a new husband and a new kidney.
At 17 years old, Alexander was diagnosed with Alport Syndrome, a disease that causes damage to the kidney's blood vessels and can also result in hearing loss and eye problems.
Díaz knew about Alexander's condition early on and had said from the start he was interested in finding out if he was a match.
"I was very sure that I [could] do it," Dìaz told People. "I just said, 'I want to. You are someone that I want, that I love, so I can do it for you.'"
As it turned out, he was a perfect match.
"I don't think there's anything that I can do that shows my appreciation," Alexander said. "It means so much because to me, he made the ultimate sacrifice. He gave me an organ so that I can live a better life [and] be healthy. And that's just so amazing."
The parents who couldn't have been happier when their daughter came out
In June, Sabrina Bailey came out to her supportive family with a lesbian pride flag cake. She recorded her parents' great reaction and posted the video to TikTok.
In the video, her parents walked into room and saw Bailey standing by the cake, which had a rainbow on top. "Yeah, it's supposed to look like the lesbian flag as part of my coming out to tell you guys that I'm gay," she tld them.
"Awesome!" her mother said and kissed her on the cheek. "Congratulations!"
The young woman started crying, and her mother comforted her, but then joked about why she had to come out at 10 p.m. at night.
"I didn't think you were going to be late," Bailey responded. Her dad then went in for a hug, before her mom jumped back in to express how much she loves kids who have two moms.
The lesbian mom behind Bernie Sanders' famous mittens
Sen. Bernie Sanders (I-VT) was one of the few attendees at the historic (but limited-attendance) inauguration of then-newly elected President Joe Biden. A shot of the 79-year-old — sitting legs-crossed, socially distanced from others, with a disposable mask and very large and distinct mittens on — went viral immediately.
The mittens he wore were an essential part of the viral moment, and they came from an elementary school teacher who is mothering a five-year old with her same-sex partner.
Jen Ellis made the "swittens" — as the large, hand-weaved wool mittens have become known — in 2016 as a gift for several people that worked at her daughter's preschool. One of those people was the preschool's owner Liza Driscoll, who is Sen. Sanders' daughter-in-law. Ellis made an extra pair for Driscoll to give to Sanders, and the rest is online history.
The father who walked in on his son wearing makeup
A heartwarming video went viral for showing a father embracing his son after he discovered his son putting on makeup.
The video began with a teenage boy putting on makeup while recording a video on his phone. When his father knocked on his bedroom door, the boy turned down the lights so his father wouldn't see his face.
When the father entered the room, he asked (in Spanish) what his son was doing. The son answered that he was making a video. The father then turned on the lights and saw his son in make-up.
The video's on-screen text read, "I was sooooo embarrassed."
"Is this what you want to do, Papa?" the father asked, calling his son the nickname, Papa. The son told his father to disregard it, looking away in embarrassment.
The father then reassured his son: "Because if this is what you want to do, you'll be okay. I'll be okay with you." He then hugged his son.
"I love you, Papa," the father continued. "I love you. If that makes you happy, do it. Do it, but do it good. OK, Papa. I'm always with you. I won't let you down in anything. Be happy."
The 9-year-old girl who stood up for LGBTQ people
An elder gay couple was shocked to receive a hateful letter from a grandmother after they appeared on their local TV station's during Pride coverage. But a heartwarming letter from a supportive nine-year-old girl lifted their spirits again.
A grandmother who saw the couple on TV wrote a letter saying that they disgusted her and her family so much that they lost their appetite.
"My grandson asked why that man had his hand around the other one," she complained. "A couple is a man and a women [sic], it always will be."
One member of the couple posted the letter to Facebook, where he called it "pathetic." That led to an outpouring of support in the comments and a handwritten letter from a nine-year-old girl.
"After reading your letter, I was in absolute shock!" the girl wrote. Her letter was posted to Facebook by the local organization No Outsiders. "How could someone be so rude?"
She said that the grandmother should "think about your feelings" and stressed that the couple should "feel proud to be gay and go on television to speak about LGBTQ+."
"Ignore what the negative people say about your relationship because they are wrong! They should say positive things about you two because you are amazing!" she wrote.
She drew a rainbow and then remembered to point out that "couple means two, not opposite genders."
The man who finally came out at 89
91-year-old Ken Felts spent most of his life in the closet. He knew was gay at age 12, but he grew up in a conservative Christian 1940s family and served in the U.S. Navy during the Korean war. He never felt free to be his true self.
At 89, Felts began battling cancer and decided to write a memoir. Stories of a man named Phillip he once loved came pouring out. He decided to tell his daughter about him. After finally sharing his truth with his daughter, Felts decided it was time to tell his friends. He meant to privately share his news with a select group on Facebook, but he accidentally posted it publicly.
Heartfelt messages came pouring in.
"I was getting messages from people all over about my coming out," he told CBS Denver. "It was almost all positive, very positive, over and over. 'Congratulations' and 'welcome' and things like that."
"It was a huge experience of freedom," he added. "I wasn't looking over my shoulder worried about who's wondering if I'm gay or not."
Despite having come out in 2020, the pandemic meant Felts had to wait until this year to finally celebrate Pride as an out and proud gay man.
The Halo video game announcer who stood up for trans rights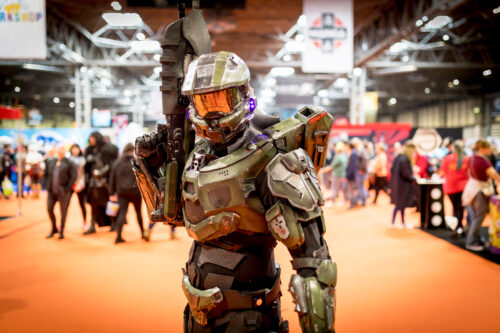 Over the summer, Jeff Steitzer, the 70-year-old voice announcer for the super popular Halo video game series, was asked to say "trans rights" in a Cameo video.
But instead of simply saying those two words, Steitzer went well beyond. He gave a full-throated endorsement of transgender civil rights and had an incredibly sweet message for the person who requested the video.
"I have to say, I've been around for a while," Steitzer said after admitting he's not used to getting requests beyond his trademark phrases. "And I've seen an awful lot. And the struggle of trans people reminds me so much of all the other struggles I've been a witness to over the many years that I have been alive."
"And now I see trans folks like yourself, who basically want nothing more than to enjoy the equality that everybody else aspires to," he continued. "And for which, I for one, think you should have."
"So, I am happy to say, 'Trans Rights,'" he added.
The gay couple who got engaged on a Pride flight
In March, a gay couple got engaged on a flight, and the other passengers loved it.
Passengers on Virgin Australia's first Pride Flight to Sydney – ahead of the city's Mardi Gras, its major LGBTQ celebration – got to bear witness to a sky-high proposal.
Chris Lai, who's Australian, said that he wanted to propose to his fiance Cedric Thiery on a plane because the couple has a "passion in flying and sky is home for me."
So he got on the flight's intercom and said, "Cedric, I am the person I am today because of you."
"On my 110th Virgin Australia flight and my first Pride Flight, I only have one question for you, Cedric," he said, before putting on his rainbow mask and carrying a ring to Thiery.
He got down on one knee and said, "Would you marry me?" Of course, Thiery said yes.
The other 120 passengers cheered as the men kissed through their masks.
The 12-year-old gamer who shut down LGTBQ haters
In September, a 12-year-old went viral in a pair of videos posted by his lesbian sister on TikTok. She stood behind him in the doorway while recording him.
The boy could be seen playing a video game while chatting with other players on a headset. When his friends said they don't like LGBTQ people, the young man was quick to react.
"You seriously have a problem with people being gay?" he asked one of the players. "So you're homophobic?" Play continued for a little bit as the other kid responds.
"So you just blatantly admit to being homophobic?" the boy said in response. "You realize that means I automatically don't like you? Because that's really fucked up." As the argument continued, the boy told the other players his sister is a lesbian.
"She's gay and you blatantly said you don't support gay people," he continued, driving his point home. "I genuinely do care, and I want to have this argument."
He went on in another video to try to explain that not all LGBTQ people are gay in his own 12-year-old way, but it didn't seem to convince the other players. In an interview with the Daily Dot, the TikTok user confirmed that the argument didn't have a happy ending. She said both her brother and the other kid ended up "pissed off."
Still, she was proud of her little brother for defending her. "It was really nice knowing that he listens," she said.