President Joe Biden has signed H.R. 49, the bill designating the site of the 2016 Pulse Nightclub shooting in Orlando, Florida as a national memorial, into law. Afterward, Biden commemorated Pride Month with remarks made alongside Secretary of Transportation Pete Buttigieg, the first publicly out person confirmed to a Cabinet position.
"Just over five years ago, the Pulse nightclub, a place of acceptance and joy, became a place of unspeakable pain and loss," Biden said at the signing ceremony, adding, "We'll never fully recover, but we'll remember."
Related: Five years have passed since the Pulse shooting. Change didn't come.
Get the Daily Brief

The news you care about, reported on by the people who care about you:
He said the bill would "enshrine in perpetuity… a monument to a loss that occurred there and absolute determination that we're going to deal with this every single, solitary day and make sure that we're not in a position to see this happen again."
President Biden also talked about his son Beau at both events, revealing that during his son Beau's lifetime, the younger Biden wanted to create a foundation for LGBTQ youth primarily focusing on transgender youth.
Biden added that when he visited Pulse immediately after the shooting, he wondered how he would have felt if, like other victims' families, he didn't know whether his own sons — Beau or Hunter — or other family members had been lost right after the shooting.
"I'm proud to lead the most pro-LGBTQ equality administration in U.S. history," Joe Biden said at the second event commemorating Pride Month from the White House's East Room. He mentioned that under his administration, 130 U.S. embassies around the world are currently flying Pride flags as "a symbol of our commitments of safety, dignity and opportunity for all."
He then highlighted his administration's efforts to expand civil rights for LGBTQ Americans, particularly by ensuring that sexual orientation and gender identity are covered under existing anti-discrimination law.
Nevertheless, Biden mentioned the fact that over half of states here still lack explicit LGBTQ anti-discrimination protections. He called on the Senate to pass the Equality Act, saying that it will also strengthen pre-existing civil rights protections for people of faith, people of color and people with disabilities.
Biden also denounced numerous anti-LGBTQ bills being introduced by Republicans in state legislatures. He called the bills some of the "ugliest most un-American laws" and "bullying disguised as legislation."
Biden then announced his recent appointment of Jessica Stern as the U.S. Special Envoy to Advance the Human Rights of LGBTQI+ Persons. He called Stern's role an important part of his administration's efforts to promote and protect human rights abroad.
In Secretary Buttigieg's comments in the East Room, he recalled seeing hate crime victim Matthew Shepard's face on television as a teen. Buttigieg learned shortly thereafter that being LGBTQ could cost someone their life and also prevent them from serving in the military or federal government.
He said that he, and so many before him, have had to choose "between service and love, between duty and self, my whole self."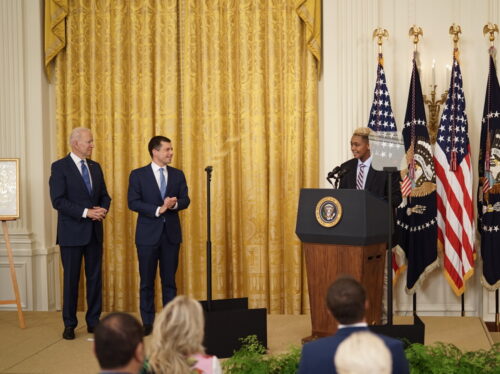 "Us even being here proves how much change is possible in America," Buttigieg said. "So many lives have been changed, saved by the sustained advocacy, the moral resolve, the political courage of countless LGBTQ+ leaders and allies, some elected, some invisible, some long gone, some in this room right now."
But despite advancements, Buttigieg said that "shocking acts of violence" like Pulse and anti-transgender bills in numerous states threaten to take LGBTQ rights backward. He praised the community for fighting anti-LGBTQ violence domestically and around the world, especially violence directed against transgender women of color.
"This is a matter of life and death, and supporting and celebrating our LGBTQ+ community is a matter of compassion and decency, and it's a matter of national character bearing on the question of whether this really can be a country of liberty and justice for all," he added.
During the Pride month commemoration, Ashton Mota, an Afro-Latino 16-year-old trans teenager from Lowell, Massachusetts, also spoke about the life-saving importance of families supporting their transgender children.
"It's simple: When children are loved, we thrive because of the love," Mota said.
"We are future software engineers, teachers, elected officials and changemakers. These are the stories we tell most people have never met someone who is transgender. When they meet us, see us and hear our stories, they realize we're just like all other young people."
At both the Pulse memorial bill signing and Pride commemoration, Biden was joined by First Lady Dr. Jill Biden, survivors of the Pulse shooting, victims' family members and members of the Florida congressional delegation.
Biden was also joined by Assistant Secretary of Health Dr. Rachel Levine, the first-ever transgender person confirmed by the Senate; Lieutenant Colonel Bree Fram, one of the highest-ranking openly trans military servicemembers; LGBTQ organizational leaders such as Human Rights Campaign President David Alphonso, GLAAD CEO Sarah Kate Ellis and PFLAG Executive Director Brian Bond; and congressional Equality Caucus members including out congress members Sen. Tammy Baldwin (D-WI), Rep. David Cicilline (D-RI) and others.
The resolution to turn the Pulse memorial into a national monument passed unanimously in both chambers of Congress in May and June of this year. The resolution was introduced by Sen. Rick Scott (R-FL). Scott served as Florida's Governor when the shooting occurred.
"This will give this hallowed ground the federal recognition it deserves, especially for those who lost everything," Rep. Darren Soto (D-FL) said when the bill was originally introduced in 2019. "This will give this hallowed ground the federal recognition it deserves, especially for those who lost everything."
The shooting at Pulse on June 12, 2016, saw 49 LGBTQ club patrons killed and 53 others wounded before police shot the gunman. It was the deadliest mass shooting in America at the time.
During the previous five years, the Senate refused to adopt a resolution while under the control of then-Majority Leader Mitch McConnell (R-KY). The resolution that Biden signed today said that no federal funds would be used to maintain the memorial.