A volcano in a remote location in Iceland began "quietly" erupting earlier this month, giving the area around it a consistent flow of lava for the first time in about 800 years.
For Sumarliði and Jónsi, that sounded like the perfect wedding venue.
Related: Cruel videographer walks out in middle of wedding to protest same-sex marriage

Get the Daily Brief

The news you care about, reported on by the people who care about you:
The Fagradalsfjall volcano is on the Southern peninsula of Iceland, and volcanic activity has gone on for past several weeks fissures. It is possible to safely visit the eruption area, but only at certain times and in a certain manner. There are no amenities near the location, no clear paths, and the wind has to blow in a certain direction or else visitors will be hit with gases from the eruption.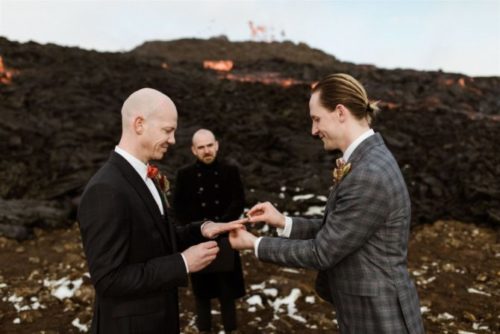 Sumarliði and Jónsi had scheduled their wedding for last year, but it got postponed due to the pandemic. This year, they saw the volcano as an opportunity to make their wedding more special.
"The whole idea was very last-minute as we then had four days to find suits, polish our rings, get Sumarliði's hair cut, and meet with Árni, the wedding officiant," they told Queerty.
They got in contact with wedding planners Pink Iceland, who helped them research the location.
"So we were well aware we were not in charge. Mother Nature is in charge," said Birna Hrönn Björnsdóttir of Pink Iceland. "So one of the security measures was to have a gas measurement type of thing with us at all times."
Then there was making the journey from where they live in downtown Reykjavik to the mountainous, most southwestern part of the island nation.
"The volcanic eruption site lies in a valley about 90 minutes from where we parked. So we hiked together in full hiking gear with trekking poles and the whole nine yards," they explained. "The hike was fun but we had to walk through a snowstorm most of the way which stressed Sumarliði out as he was terrified of freezing to death once he'd changed into his wedding suit."
When the small group made their way to an optimal site, they set up a small area, changed, and hoped for the conditions to improve.
And they did.
Birna shared, "We had the luxury of picking from three craters that were erupting when we got there. And almost immediately, as we chose the spot, after we had hiked for three or four hours, the sky kind of cleared and we got a blue sky."
"Something magical happened: the wind died down, it stopped snowing, and the sun came out," they recalled. The pair came together, and "as we were about to start the ceremony, a wall in the crater burst and a slow river of neon-orange lava flowed past us as we said our vows, exchanged our rings and got married."
"It was a beautiful, awe-inspiring, and yet terrifying experience to get married in front of this majestic wonder of mother nature."
It's a lovely conclusion to the couple's journey, after meeting on Tinder in 2015. They are no stranger to scenic moments — Jónsi proposed to Sumarliði at the Eiffel Tower in Paris on Bastille Day in 2017, right in front of an exuberant fireworks display.
This time, their joyous moment was not only beautifully documented, but was featured on the BBC in reporting of the ongoing volcanic activity.
See more of the photos as shared with LGBTQ Nation's sibling site Queerty.