Earlier today, LGBTQ Nation published a list of the top LGBTQ stories of 2020, selected based on what this publication's editorial team thought people 20 years from now would remember about this year.
But what if we just let the internet decide?
This post is for LGBTQ Nation's fans, a look behind-the-scenes: the 12 stories from 2020 that you all clicked on the most.
Get the Daily Brief

The news you care about, reported on by the people who care about you:
12. Black lesbian political powerhouse announced as Kamala Harris's chief of staff
Not everything published on this website is gloom and doom – Karine Jean-Pierre's appointment to a key Biden-Harris campaign position gave readers hope in 2020 for a better post-Trump future.
11. The sheriff fired her because she's a lesbian so she ran for his office. She demolished him.
Hamilton County, Ohio Sheriff-elect Charmaine McGuffey's story caught the nation's attention: first fired by her boss, she got revenge by running against him and unseating him in the Democratic primary this past April.
"The current sheriff and I got into a pretty serious disagreement about the practice of him not holding officers accountable for use of force and harassment of women, female officers, and female inmates," McGuffey told LGBTQ Nation. "He fired me. So after about a year or so of contemplating, I decided I can do a better job than him."
10. This gay guy's hilarious rant about small town Trump supporters is absolute perfection
A gay man called out the hypocrisy he saw in his small Texas town and… it was a mood.
9. GOP platform will call for ban on same-sex marriage & transgender military members
The GOP ended up not passing a platform at all this year, but the platform that could have been – if it weren't for the coronavirus pandemic – may have reiterated the party's opposition to LGBTQ equality.
8. Touching new Starbucks ad is about a trans teen changing his name
Sometimes people just want to see affirming representation in the media. And if it's a British Starbucks ad, then it's a British Starbucks ad.
7. Two Supreme Court justices say marriage equality decision should be overturned
Two Supreme Court justices – Clarence Thomas and Samuel Alito – issued an opinion in refusing to hear a case about how marriage equality somehow infringes on people's freedom of religion.
They didn't have to – the Supreme Court usually refuses to hear cases without saying anything at all. They chose to use the procedural opinion to let the country know that they're open to overturning marriage equality, laying out the odd argument that they want someone to present in court so that they can one day take away same-sex couples' right to marry.
6. Anthony Fauci calls out "extraordinary stigma" gays face while standing right in front of Mike Pence
A picture says a thousand words.
Anthony Fauci earned a name for himself in public health with his work during the AIDS epidemic, while Mike Pence also earned his reputation as a staunch anti-LGBTQ advocate when he recommended conversion therapy as a way of fighting HIV 20 years ago and mismanaged Indiana's biggest HIV outbreak in history.
The two men were both key to America's strategy during the COVID-19 pandemic, such as it was. While neither will come right out and say what they think of one another, we can always speculate.
5. Trump administration memo explains how to spot a transgender woman
The Trump administration rolled back and attacked transgender people in many ways in the past four years, but their attack on transgender people who need to stay at homeless shelters – during a pandemic and a major recession, no less – stood out for its sheer cruelty.
On top of that, Trump's Department of Housing and Urban Development published a memo explaining to homeless shelter staff how to tell the difference between a transgender and a cisgender woman in order to discriminate, much to LGBTQ people's horror. So many readers couldn't believe it that the famous fact-checking website Snopes even looked into it, rating LGBTQ Nation's article "True."
4. The sheriff fired her because she's a lesbian so she ran against him. She'll be the new sheriff now.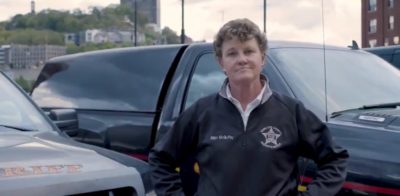 Our readers loved McGuffey's story when she won her primary in April, and then again when she won the general election in November.
3. Two trans women beat the snot out of men harassing them in a restaurant
The internet likes justice stories.
2. Trump administration asks Supreme Court to make it legal to ban same-sex couples from adopting
The Trump administration has been waging a multi-front war against queer parenting, and allowing foster and adoption agencies to discriminate against LGBTQ people was one of the fronts. The administration argued that agencies should get a religious exemption to anti-discrimination laws, even when they're the only agency in a state or region, even when such discrimination isn't in the best interests of children, and even when the agencies are receiving public money that no one is forcing them to take.
1. Pete Buttigieg & Liz Warren do the Time Warp with Tenacious D & Susan Sarandon
This was peak 2020. The internet just loved this video of celebrities and politicians singing along to the queer classic "Time Warp" just before the November elections.