The new book LOVING: A Photographic History of Men in Love portrays romantic love between men in hundreds of moving photographs taken between the 1850s and 1950s. Now, the authors are sharing some of the never-before-published photos exclusively with LGBTQ Nation this month along with their thoughts and the backstory behind each photo.
Taken when male partnerships were often illegal, the photos are from the collection of a married couple, Hugh Nini and Neal Treadwell, who over the past 20 years have meticulously accumulated over 2,800 snapshots, portraits, and group photos.
Related: Voting deadlines, registration & what's at stake for LGBTQ voters in 2020
Get the Daily Brief

The news you care about, reported on by the people who care about you:
The couple found them at flea markets, in shoe boxes, estate sales, family archives, old suitcases, and online auctions. Their collection now includes photos from all over the world.
The technology used consists of ambrotypes, daguerreotypes, glass negatives, tintypes, cabinet cards, photo postcards, photo strips, photomatics, and snapshots – over one hundred years of social history that reflect changing fashion, hairstyles, and societal norms, as well as the development of photography.
The men in LOVING shared a common desire to be seen and memorialize their stories despite the risks. Each image is an open demonstration of love, affection, and also bravery. The message here is as old as time, but from an unexpected, and heretofore silent, source.
Challenging boundaries, universal in reach, and overwhelming in impact, the photos speak to our spirit and resilience, our capacity for bliss, and our longing for the shared truths of love. It moves the conversation beyond old stereotypes and shifts the narrative to where it should have been all along: two people in love can be any two people, regardless of gender, orientation, or any other human-created divide.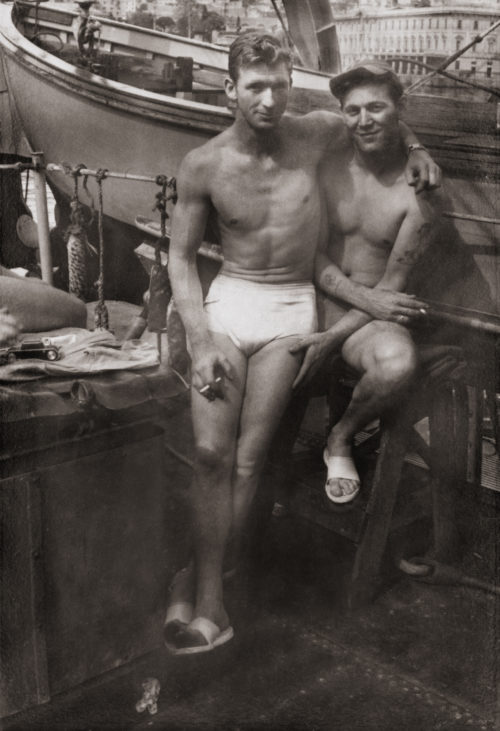 Photograph Undated
96 x 67
Provenance: US
Hugh and Neal: This photo of two sailors is one of about ten that we have of this couple.  The mischievous look in their eyes, their embrace, the hand placed gently on the thigh of the other, are all contextualized by the background of the ship that is a sailor's home.  We only know the name of the dark haired man and believe that this group of photos came from his album.  The other companion photos are equally romantic and playful. Two, in particular, would be great additions if there is going to be a followup military edition. They date from the early 1940s.