The 32nd annual Creating Change Conference took place this week in Dallas, Texas. It is the organized by the National LGBTQ Task Force as the "the foremost political, leadership, and skills-building conference for the LGBTQ social justice movement."
Yet, in one of the most important election seasons in recent history, only two candidates for President of the United States had representatives in attendance.
Related: Fox News host questions whether Pete Buttigieg is actually gay
Get the Daily Brief

The news you care about, reported on by the people who care about you:
Sean Kosofsky, a longtime activist and leader who's a former contributor to Bilerico, was in attendance. "I was surprised to only see 2 booths from presidential candidates; [Elizabeth] Warren and [Pete] Buttigieg," he told LGBTQ Nation.
"Warren has consistently demonstrated that she wants our community's support and many at the conference have been chatting about her commitment to murdered black trans women. " Kosofsky also told us.
"Team Warren knows the importance of meeting LGBTQ+ voters where they are. We were excited to hear from them at Creating Change in Dallas and share Elizabeth Warren's plans to protect and lift up the community," Warren's LGBTQ+ Outreach Director Daniel Lander. "Elizabeth is committed to ending the epidemic of violence targeting Black and Latina transgender women and fighting alongside the LGBTQ+ community for full rights and equality," they concluded.
Buttigieg's campaign was also prideful of their presence at the event. "We're proud to show our support for the Creating Change Conference and to continue to share Pete's vision for a country that is defined by belonging and not by exclusion," Buttigieg's campaign said in a statement.
Creating Change, which ran from January 15 through January 19, had several other moments worth documenting.
Kosofsky was partaking in Creating Change to celebrate America You Kill Me, a documentary on Jeff Montgomery, one of the founders of the Triangle Foundation – which eventually became Equality Michigan.
"He was the top expert on anti-LGBTQ hate violence and homicide," Kosofsky tells us. "During the Matthew Shepard and Scott Amedure trials, Montgomery was a primary voice to the public….Almost no orgs would publicly talk about [police] entrapment, and Jeff was a national leader fighting [it]. He sued cops and the city of Detroit and won."
Montgomery passed away on July 18, 2016 from an apparent heart attack.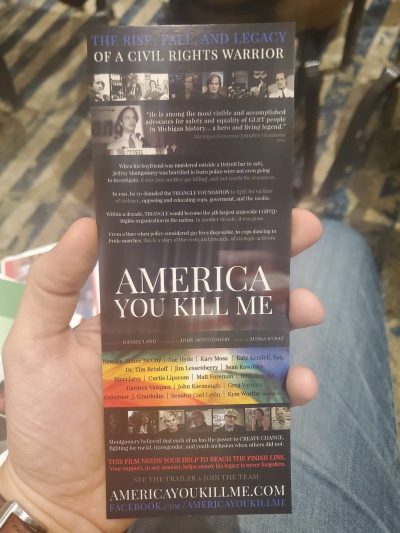 You can watch the first short film and learn more about Montgomery's impact at www.americayoukillme.com.
LGBTQ Nation contributor Katelyn Burns was also at Creating Change, taking part in a panel on LGBTQ advocacy in corporations – among other festivities.
Creating Change: Where DC queer people go to drink together and hang out.

— Katelyn Burns (@transscribe) January 19, 2020
Pose's Dyllon Burnside was in attendance this week as well.