The Unicode Consortium – the nonprofit organization that, among other things, decides what emoji will work on phones – has announced that the transgender flag as one of the 117 new emoji available in 2020.
LGBTQ people have been asking for the trans flag emoji for years. The Unicode Consortium had already approved many non-national flags like the U.N. flag and the pirate flag and the rainbow flag, but the trans flag was nowhere to be found.
Related: Experts say using emojis helps white people get laid more often
With the transgender flag available in new emoji expected on smartphones by September 2020, people can express their identity and their support for trans people in emoji form.
Tea Uglow, who is trans and works at Google, said on Twitter that it took four years of lobbying to get the trans flag emoji.
Today we concluded 4 years of lobbying to get a Trans flag emoji enshrined into unicode. I'm pretty psyched, which is appropriate as I'm at my pysch clinic right now, so apart from that, not much… 😁

— Tea Uglow 🏳️‍⚧️ (@teaelleu) January 29, 2020
In addition to the transgender flag, the consortium added the transgender symbol, which combines the Venus and Mars astrological symbols that are often used to refer to women and men, respectively, with an extra arrow and stroke.
Gender options are being opened up for several existing emoji, including the emoji for a woman in a wedding veil and a man in a tux. Women, men, and non-binary faces can now be used with both emoji.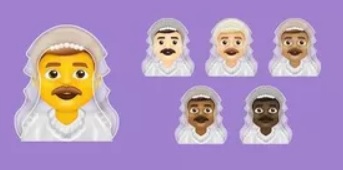 A new "feeding a baby with a bottle" emoji has been added, and it's available in all genders and skin tones.